My kids have learned how to do screen captures on my iPhone and now whenever they're playing with the phone, they're taking screenshots of what they're doing, be they games, checking my address book or just looking at a map. Cute, but darn annoying when my photo library is overrun with this stuff. Worse, it's tedious as hell to delete them, one by one, on the phone. Without resorting to my computer, is there any way to delete more than one picture or photograph at a time on the Apple iPhone 3GS?
What a great question to receive: my kids have a similar affliction! The older kids are obsessed with the wallpaper apps and spend hours just looking through the possibilities, while the youngest is a big fan of Cooking Mama and takes a screenshot every time she completes a recipe, whether she did well or not.
As you so eloquently put it, my photo library is also overrun (though I'd use the word "polluted", personally) with these images and it does drive me a bit crazy when I have to clean them out and clean up the photos on my iPhone.
Fortunately, there is a way to do mass deletions of your photo library (though i should point out up front that if there are any photos that iTunes has put on your phone with a sync, there's no way to delete it from the phone without using iTunes again).
The thing is, just about everyone just breezes past the point where you can do multiple-photo deletion without knowing it's an option. Here's where you go when you look at your photo library by tapping on "Photos" then selecting "Camera Roll":


See that arrow coming out of the square on the lower left corner? Tap on it.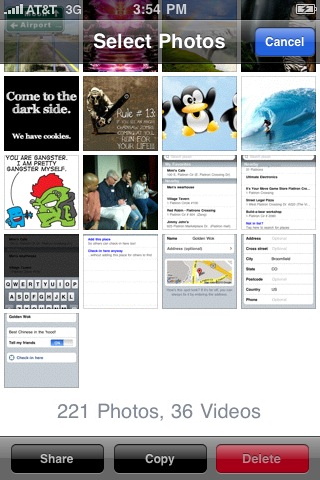 Ahhh… the joy of finding a pretty well hidden feature! Notice here that you can not only delete multiple photos, but you can also copy them (and then paste them into another app) or share them via either email or MMS. Cool.
Now tap on all the photos you want to delete:


Once you're ready – or are tired of tapping – then tap on the red "Delete" button…


If you're sure you want to delete the selected photos, simply click on "Delete Selected Photos" and you're done!
That's all there is to it. Pretty darn easy, after all.