Dave: How do I remove Keynote files i have loaded on iTunes, I am not able to delete them. The delete option in iTunes is inactive.
I am going to make the assumption that you're talking about Keynote on an iOS device, either an iPad or an iPhone, so I'm going to actually demonstrate both how to delete Keynote files you've moved into iTunes on your computer and how to delete Keynote files directly on an iOS device. In this case, an iPad 2.
What makes this confusing is that it seems the data files you can copy across with iTunes are odd birds that don't follow the same rules as regular app files. That is, you can delete a Keynote data file from iTunes on your computer, but it'll still hang around on your device, even after you sync the two with the expectation that removing it from iTunes also removes it from the device.
Let's start on the computer, because your question was about how to remove Keynote files from within iTunes. To do that, you need to know how to copy files in the first place, something explained here: Copy Keynote presentations onto your iPad.
You can't get to the place where the Keynote files are located in iTunes unless you have an iOS device connected, so plug in your iPad or iPhone. Now go to the "Apps" tab…


And move down to the File Sharing section, which is located below the list of Apps: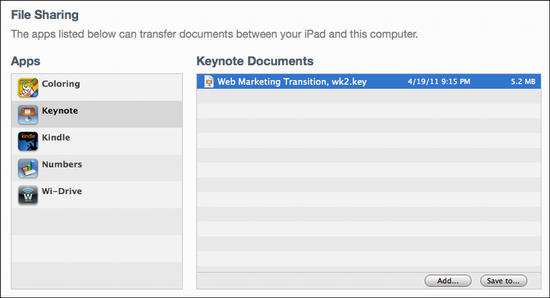 You've already noticed that there's an "Ad.." and a "Save to…" button, but no "Delete" button or "Edit" button. So, you ask, how the heck do you delete a presentation file once you're done with it?
A bit of experimentation reveals the answer: select the item to delete and press the "delete" key on your keyboard:



If you're sure you want to delete it from iTunes and, ostensibly, frmo your iPad, click on "Delete". Now sync your device by clicking on the "Apply" button…



And… the file still exists on the iPad.
Well, that's frustrating!
To remove it from the iPad itself — or an iPhone if that's the device of choice — you'll need to launch Keynote on the device and go to your document storage area. For me, it has a single presentation and the Apple "Getting Started" document:



Notice on the top right the "Edit" button. Tap on it (yeah, it's small in these screen captures). Tap it and the file icons will start jiggling, exactly as app icons jiggle if you're rearranging your screen…



Select the file you want to delete then look along the top edge to find the trash can icon:


Tap the trash can icon to delete the presentation:



And… it's gone!



Between the two approaches, you should be able to manage the files on your iOS device and within iTunes to your heart's content!