Hey Dave – I recently got an iMac. And have signed up on the Yahoo Instant Messenger (YIM). How can I delete someone on my list?
I have been running Yahoo Instant Messenger 3 beta and this documents how you can delete a contact from Yahoo Messenger.
First off, you'll want to ensure that you have your contacts window displayed and that you can see the contact you want to remove from your list. Then Control-Click on that person (that is, hold down the Control or Ctrl key on your keyboard and click) which will bring up the following contextual menu: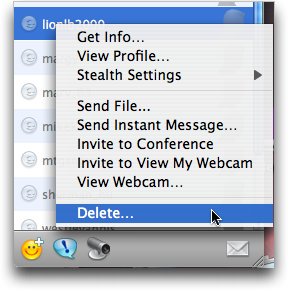 Choose "Delete…", as highlighted and… nothing happens! Hmmm… looks like this is an unimplemented feature in Yahoo Messenger, perhaps? It also produces no results if you try to choose
Contacts
–>
Delete…
so I'm not exactly sure what to advise if you're running 3.0 beta.
As an experiment, I backed up to Yahoo Messenger version 2.5.3 and tried the same thing. The menu is definitely different: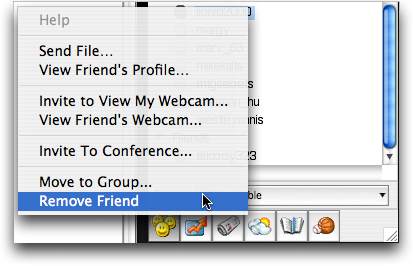 This time I need to choose
Remove Friend…
but this time, at least, it appears something's going to work:


Click "Delete" and, a second or two later, they're off my list.
So that's your answer. If you're running Yahoo Messenger 3 beta, it's time to backup and run 2.5.3 because there are still too many bugs.