I've been shopping for Christmas presents for my partner and realize that if she happens to start typing in a URL in the address bar and hits the first few letters of a site I visited, it'll offer up the site as a suggestion for autocompletion. That'll ruin the surprise! How do I get rid of these history tracks in MS Internet Explorer on Windows 8?
I'll give you the benefit of the doubt that your story is legit and you're not trying to cover your tracks so that you're discovered visiting inappropriate sites and/or similar sorts of online shenanigans. Fact is, if your spouse is really, really zealous, it's hard to completely wipe your tracks from a computer and the safest strategy is really just to use a computer that she'll never touch, like a colleagues system or one at a public Internet cafe. Then again, the latter poses new dangers in the shape of keystroke sniffers that could grab your passwords and credit card information.
Another possibility: Download a browser like Firefox, use it for your online shopping, then delete it from the system. Since browser history is per-browser, that would make it a lot harder for any but the most enthusiastic detective to track down your site visits.
Nonetheless, like all modern browsers, Microsoft's Internet Explorer has the ability for you to wipe out your browser visit history. But it also has some other neat ways to manage this that are worth mentioning.
First off, here's what you're probably seeing. I type in just the letters "vic", and… busted!

That makes it hard to be stealthy, for sure. Sure you can just hope she types so fast that she ignores these suggestions, but do you want to bank on that? Of course you don't!
Instead, move your cursor over where it says "Shift + Enter" and you'll see a neat hidden feature:
Click on the "x" and that particular site will be removed from the type-ahead Web site address suggestion system. Easy enough. But you still have to anticipate all the sites she might type in and actively remove them one-by-one. Tedious.
Instead, go to
Internet options
off the "gear" icon on the top right. It pops up a window with lots and lots and lots of different settings you can tweak: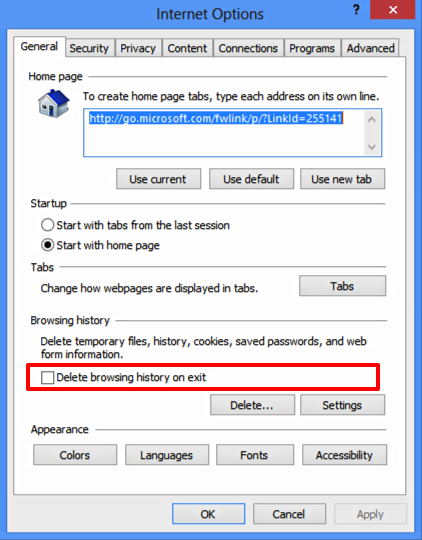 As I've highlighted, about 2/3 of the way down the "General" tab there's a checkbox for "Delete browsing history on exit". That might be a useful setting, especially during the holidays. Check it, click "Apply" and as long as you remember to quit the browser when you're done, not just go to a default window, you should be good.
But let's dig a bit further. Click on the "Settings" button just below the checkbox. Now another window pops up. Click on the "History" tab and…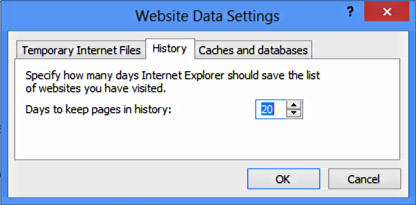 By default, Internet Explorer keeps 20 days of browsing history. Why 20 days? I have no idea. But if you'd rather have that be just a day or two — or zero days — here's where you can set it. Now if you forget to close the Web browser, it still won't show any history that's more than 24 hours old (and should respect that for Web site autocompletion too).
Back up and click on the "Delete…" button instead, and you'll find that there are a ton of different things you can axe:
Again, I have highlighted the one that's relevant to our discussion, "History".
What's the difference between the three? The lattermost option, Delete Browsing History, will delete it when you click the "Delete" button. The reduction in how much history is saved will happen when you restart the browser (I believe), and the checkbox "Delete history on quit" only happens when you quit the browser. Confusing? Yup. But that's why you have this tutorial, right?
Hope that works for you and gives you a better idea how to cover your digital tracks…