Our son traveled to NYC with my iPod Touch. I downloaded several apps for him. I'd like to delete them from the iPod for now, but maybe put them back on later since I paid for them. I'd also like to delete kids' programs, then put back on again when I see grandchildren. Is this possible? I'm thinking not possible, because when I downloaded free apps before, then deleted them when I purchased upgrades, they also disappeared from the Itunes list.
This is most definitely something that's supported by the iPhone / iPad / iOS system! In fact, it's how I retain my sanity with my devices: I have literally hundreds of apps in my iTunes app directory, but don't want them all on any of my devices, so my iPhone, iPod Touch and iPad each get a different subset.
The key to realize is that iTunes doesn't need to perfectly mirror what's on your iOS devices.
In fact, it's better to think of your iTunes account as a staging ground or repository, as it can also have movies, music, and even audiobooks that could be copied onto your iPhone / iPod, etc, but doesn't have to be.
What you'll find, though, is that any app that you buy on an iPhone / iPad, etc, will automatically be copied into iTunes the next time you sync, but that's a good thing.
Let me show you. When I plug in my iPhone 4, here's what I see in iTunes when I go to the "Apps" tab: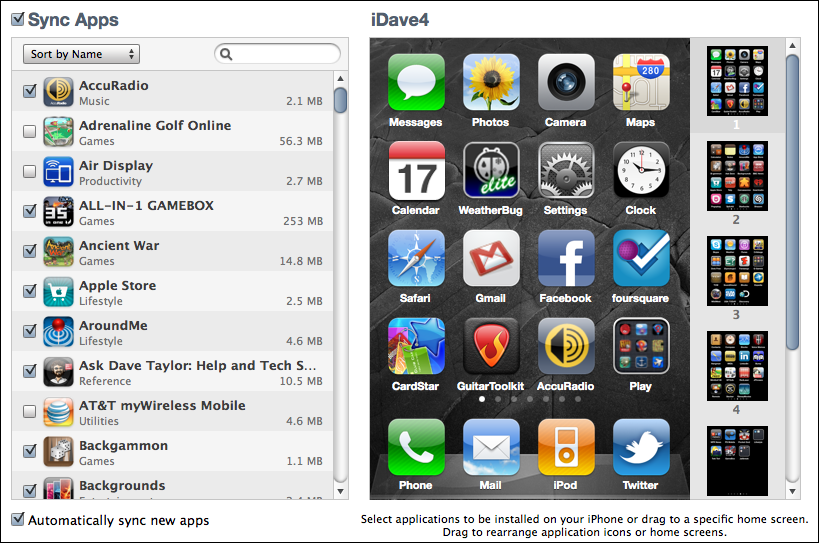 Let me zoom in a bit, since that's a pretty squished picture: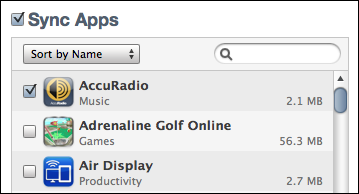 Can you see how some apps are checked ("AccuRadio") while others are not? All of the iPhone / iPod / iPad apps live on my Mac in iTunes, but only those that are checked actually move onto the device when synchronized.
New apps automatically show up too, btw, because on the bottom I have this checked:



This can be a bit weird when I buy an app on my iPad and it oozes its way onto my iPhone — and vice versa — but I like it. If I get hooked on an app or game, I want it on all my devices anyway.
I did want to show you one other thing too, and for this I'm going to pop onto my iPhone 4, though it'll hold true on any iOS device that lets you buy apps directly on the device…
What I want to show is that if you delete a paid app and then go to repurchase it again, the system recognizes and doesn't charge you again. Really.
To start, I'm going to delete an app that's a fave of mine:
Etymologic!
[iTunes link] Why is it a favorite? Because the database underlying the app is licensed content from my popular Web-based word game
Etymologic!
which I'm convinced is still the toughest word game on the net. 🙂
Anyway! As you know, tap and hold any application icon and you'll see 'em start to wiggle and little "X" spots show up:



When I tap the "X" on Etymologic! I then see: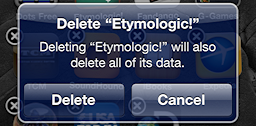 I'll tap on "Delete" and delete the app. Then I'm going to go back to the App Store and find
Etymologic!
[iTunes link] again: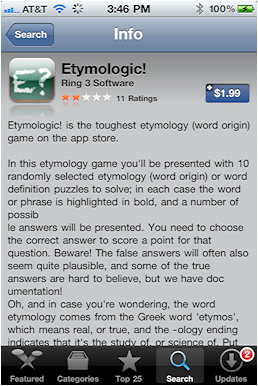 Tapping on the price turns that into a "Buy Now" button: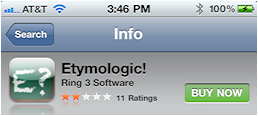 I tap on that and it asks for my iTunes account password. Scary: am I buying it again?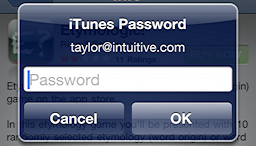 Password entered…. and… did I just buy another copy? After a few seconds, the good news: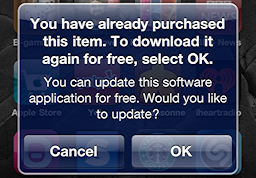 Phew! So there you go, in fact you can delete and add apps to your hearts content, knowing that once you buy the app, you'll never have to buy it again. More importantly, though, I would recommend that you get into the habit of having the apps in your iTunes library distinct from those on your iPod Touch / iPhone, etc.