Oh this drives me CRAZY! Someone's left a comment for me on my MySpace profile, a comment that's some terrible spam that I really hate, but I can't seem to delete it. Every time I click on the "Delete This Comment" link, the page refreshes, but the comment's still there! AUGH! How do I delete this $#@$#@ thing?
Welcome to the world of MySpace spammers. As MySpace has become a busier and busier online community, more people who you can either call "budding online entrepreneurs" if you're charitable, or filthy spammers if you're not (I'm guessing you'd choose the latter, somehow), are finding that they can dump comments that include links back to their profile or even their non-MySpace site with wild abandon. Better yet, fiddle with some fancy JavaScript and they can actually disable — or even hide — the delete comment link when you try to remove the offensive material.
This is a terrible situation, needless to say, and not something I like to see appear on the already chaotic wilds of MySpace. Fortunately, there's a way to delete any comment, regardless of how sneaky they've been with their coding snippets, and that's through something called safe mode.
Start out by logging in to your MySpace account and clicking on Edit Profile. On the top right you'll see the following choices: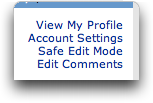 Click on
Safe Edit Mode
and don't be too freaked out when you're dropped into a "groups" editor:
You can see that there are three tabs along the top of this box. Click on
Comments
and you're now in safe mode, a mode where you can
see the HTML
that the commenters have included, rather than have your browser interpret it and mess things up: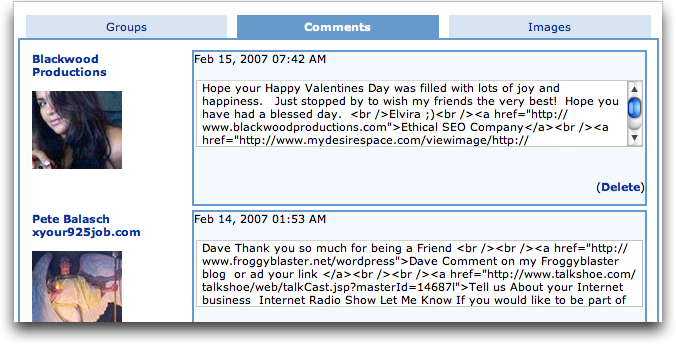 Ahhh… that should make you feel better. Now you can see what tricks people are doing, where they're linking, and generally know what's going on. Better yet, there's no way for them to mask the "Delete" link, so you can also delete with impunity, cleaning up your comments to reflect those from your friends and nothing else.
I really like this view because it's easier to understand who has left comments and what they say, without being distracted by all the crazy (and fun!) graphics and animations. I find that it's the best way to find duplicate comments from people too, which I don't like either. If they were different comments, that'd be great (Hi Tara!) but when it's the same comment dropped in by some program, well, that's pretty spammy in my book.
Anyway, I hope this helps you get a handle on the comment problem you have on MySpace. And don't forget to check out my own
MySpace profile
and explore the wealth of
MySpace help
offered here on this site too.
My thanks to Jay at Hook Up Your Myspace.com for reminding me of this great tip!.