I have and really like the GPS navigational system on my Toyota Highlander but am a bit baffled about something: it seems that my cellphone can't auto-pair with the bluetooth system in the car because it's no longer the #1 phone on the list, my wife's phone is in that slot somehow. Not good. How can I delete her cellphone so mine is #1 and the bluetooth system pairs automatically?
I'll have to assume that your Highlander has the same navsys device that I have in my 2008 Toyota Highlander too, in which case, you're right, it's darn tricky to figure out how to edit, change or reorder the list of paired phones in the bluetooth system. I realize it's tricky to create a usable interface with such a small amount of screen real estate and a fairly clunky touch interface, but still, why not an "edit" button when you're viewing the proper screen?
I'll also warn you up front that it's not too easy to get good photos of the navigational system screen. These should help you navigate through (as it were!) but, um, yes, those are my hands you can see reflected in the glass. At least you know I'm not an android with that skin tone, right?
Here we go! First step is to push on the "INFO" button below your navsys screen. You'll see these options show up: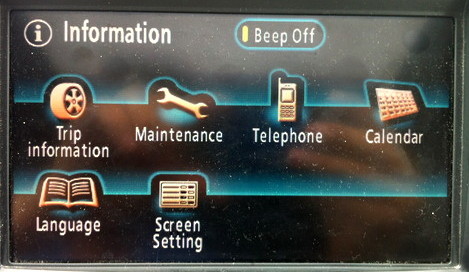 Tap on "Telephone", ingeniously enough…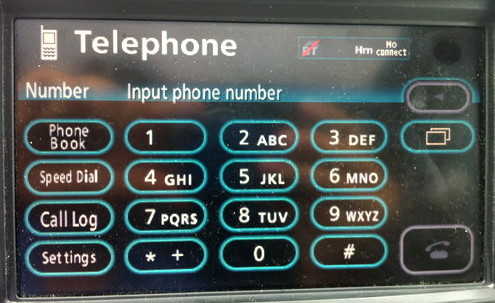 If you have no paired phone in range, you'll get the above screen with a warning "no paired device". Just wait a second or two and that warning will go away. Tap on "Settings" on the lower left…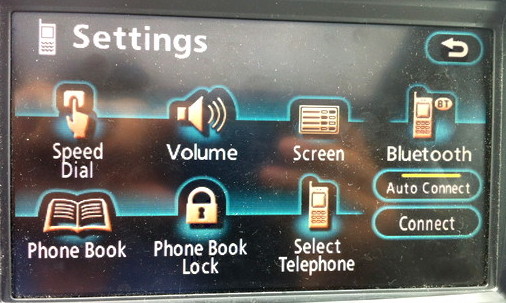 If you tap on "Select Telephone" you'll see both your phone and your wife's phone, but that won't let you reorder or delete either device. Not good. Instead, tap on the Bluetooth graphic (not "Auto Connect" or "Connect" below it)…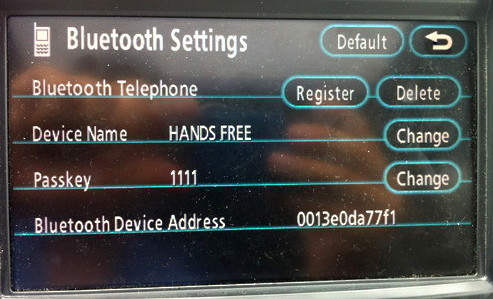 That last step was the secret. Now you can see that there's a "Delete" button, along with the ability to register a new phone, change the car's device name, etc. Tap on "Delete" and it'll show you all the cellphones it's ever paired with: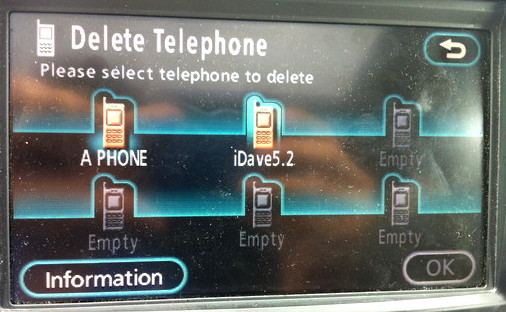 In this instance, I want to remove the mobile phone labelled "A PHONE". I tap on it to select it, then tap on "OK" on the lower right corner: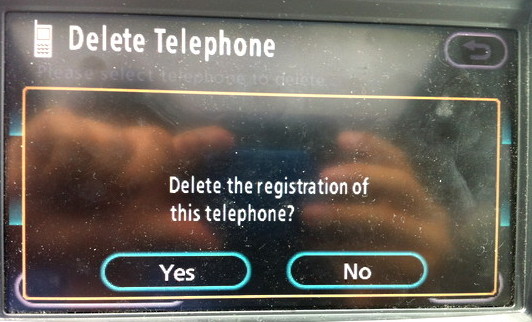 (here's where you can really see the reflection of me holding the camera in my hands. Cute, eh?)
Tap on "Yes" if you're okay deleting this phone's pairing data from the Toyota navigational system bluetooth registry.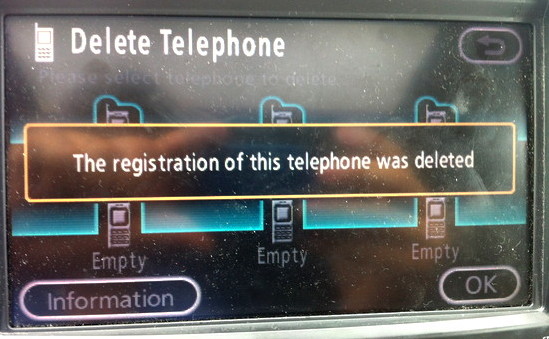 Done.
To confirm, go back and tap on "Seelct Telephone" to see what's shown. It should just be your phone and none others: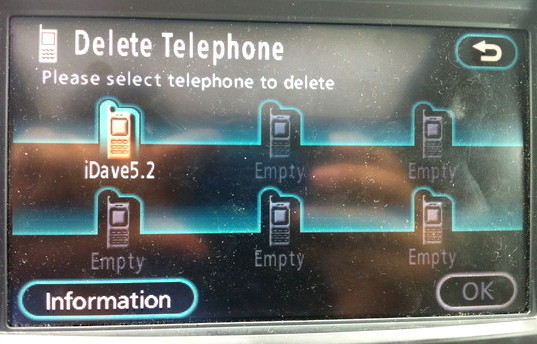 A bit tricky, but now your system should automatically pair your cellphone with your car and you're on your way!