I went a bit wild creating different user profiles in my Netflix account and want to just get back to a single profile. What's the easy way to delete user profiles from Netflix?
Ah yes, the old "too many Netflix accounts" problem. Just kidding. I know what you mean because my vision as a long-time Netflix subscriber is that I would set up a different profile for each and every member of my family then I wouldn't see recommendations for shows or movies that match their tastes and they wouldn't see mine. Good in theory, but unfortunately it ends up where everyone just signs in as me anyway and I get daft comedies and appalling teen fare on my own recommended list anyway.
While I would love to be able to get everyone to use their own profiles, it's probably smarter to just succumb to the inevitable and remove the extra account profiles, just as you need to do too. So here's how it's done…
First off, when you log in to your Netflix account and have multiple user profiles, you see a set of options:

I'll log in as, well, me. Everyone else does!
Now on the top right there's a menu with some setting options: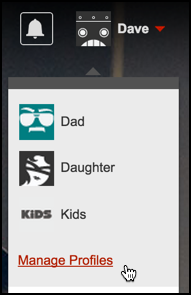 Choose "Manage Profiles", as highlighted.
Now you'll see a list of every profile and its settings:
I'll remove my Dad's account as a demonstration, but the steps are identical for any profile.
Click on "Edit".

You can see that the name can be changed, you can specify it's a child's account, you can limit what they can view ("Adults" is a menu of different content ratings) and, of course, you can click on the button you seek: "Delete Profile".
Click on that.
I do, so I click again on "Delete Profile".
Done. That's it. Easy enough.