I had to borrow a Toyota Prius from my dealer for a month while they were fixing my Toyota Sienna. I paired my phone and now it has my entire address book in the system! How can I delete it before I turn the car back in?
Glad to hear your dealer loaned you a car for a month, that's not a common story nowadays with car dealers, and a Prius? You got some great gas mileage, I'm sure! All Toyota vehicles have the same basic nav system – it varies by model year, of course – so if they're reasonably close, I can show you how to wipe all personal data from the Toyota navigational / entertainment system by demonstrating how to do it on a 2017 Toyota Prius Four system.
Your exact sequence might be slightly different depending on what year the Prius you drove was, but the basic concept should hold true for anything released in the last decade or so. And a Sienna. Had one of those years ago too. Nice, reliable mini-van. Very "soccer mom", if I may say so. 🙂
To start, you'll want to get to the APPS area on the Toyota Entune entertainment system. It will have a grid of buttons like this:
Tap on the "SETUP" button to proceed.
You'll get to another grid of buttons, but this time they let you fine tune – so to speak! – the configuration of your car, phone connection, voice navigational settings, and much more:
To wipe all your personal data, your next tap should be "GENERAL" to proceed.
Now you'll have a different interface to contend with, one that scrolls (the buttons above and below the scroll bar on the right side of the screen):
The scrolling feature can be confusing, actually, but the button on the lower right will move you "down" the list. Tap it twice to get to the last set of options, as shown: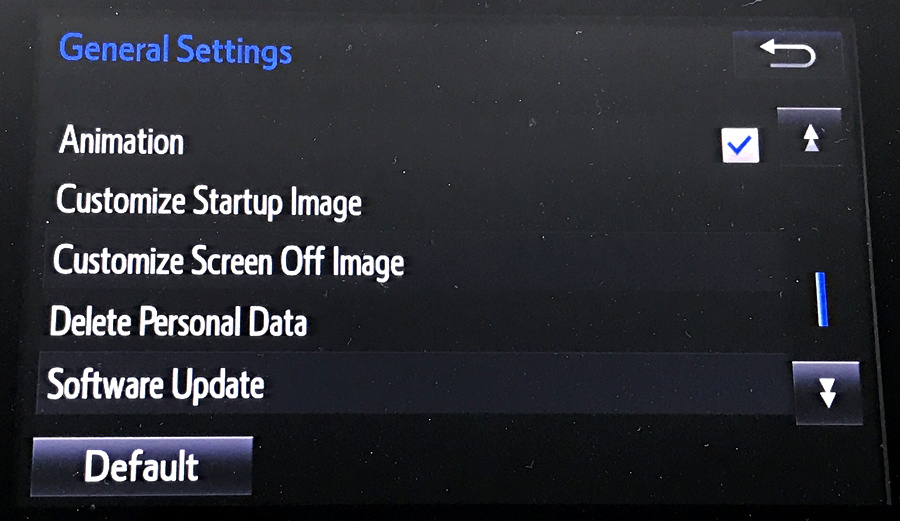 You can see what you want to choose near the bottom: Delete Personal Data. Tap on that to proceed and you'll get a screen full of warnings!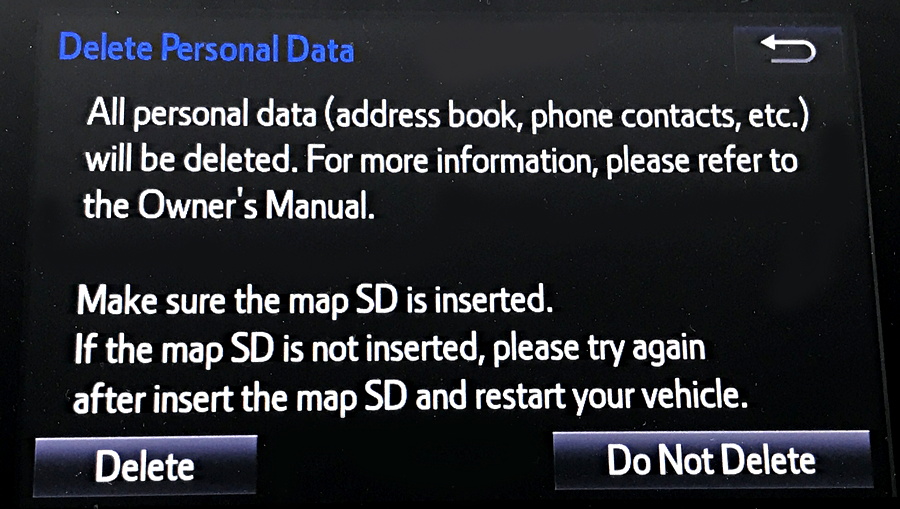 Not sure if you have the Map SD inserted? Then you probably do. Basically if your nav system has been working at all, you have the map data accessible. Most importantly, you do not want to turn off the car while this process is completing.
To proceed with a full Toyota Entune system wipe / delete, tap on the "DELETE" button on the lower left.
You sure you want to do this? In addition to deleting phone contacts, it also deletes favorite radio stations and all your addresses and destinations in the GPS navigational system too.
Yes? Cool. Okay, so tap on "Yes"…

After a minute or two, it'll go back to the main screen and it's done. Want to check? You can look at the phone book or recent call history, or you can just go to directions:
That's it. Done. Now you can return the Prius without a worry for your privacy!