Do the movies and TV episodes I download from Netflix take up space on my phone or tablet? And if so, how can I delete them?
Yes, content that you download onto your device take up storage space on that device. Not sure why you would think that isn't the case unless you misunderstand how cloud storage works. If it's "local" it's taking up space, whether it's photos you've taken, music you have when you're completely offline or, yes, movies or TV episodes from a service like Netflix.
The good news is that you realize that you can indeed download movies and other content from Netflix so you can enjoy it when you're not on wifi (you rarely want to stream video content from cellular unless you have a lot of bandwidth or unlimited data!). It's great for airplane rides or visits to areas where you know the hotel wireless connectivity is horrible: Pick what you want to watch — or binge watch! — and download it all beforehand.
When you're done. Delete it. Or wait until your iPhone, iPad or Android device complaints it's out of space and delete everything at once. You do have to manage it, though.
To start, here's the fast way to see what you can download. First, the usual home screen:
See the three horizontal lines on the top left? That's the so-called "hamburger menu" and you'll want to tap on it to get to the big menu of Netflix genres:
See the top choice? "Available for Download". That's the easy way to see what you can save onto your device and it avoids the frustration of finding a movie that you're dying to watch, just to find that it's not available for download.
But that's just a useful tip. To see what you've downloaded, you'll want to tap on the "Account" link in the lower right corner of the screen. It has your profile pic on it too! Here's what you'll see:
Ahhhh. You're beginning to see how Netflix has this all organized! Tap on the "My Downloads" link, the second from the top. Now you can see all of your downloads:
I have downloaded a bunch of movies and TV series, including the splendid Penny Dreadful and Marco Polo. With a series like Marco Polo you can tap on it to see an episode by episode guide, as shown:
Notice that the download sizes are shown and that it's about 200-250MB per hour of content. A two hour movie is around 500MB. Two movies or four hour-long TV episodes is 1GB. Suddenly, you are starting to see how these downloads really can consume lots of space!
See that "Edit" button on the top right? Tap on it on any screen that shows downloads and you can delete TV episodes or movies one by one, as needed:
Or if you are worried about space usage and want to save the hassle of going item by item, you can also delete everything at once by going to the "App Settings" area, where you'll see this menu:
Handy tip: Turn on Wi-Fi Only unless you have unlimited cellular, and you won't have to worry about accidentally eating up huge amounts of data with a movie download or two.
To delete everything tap on, well, "Delete All Downloads". Logical, really.
You'll be asked to confirm: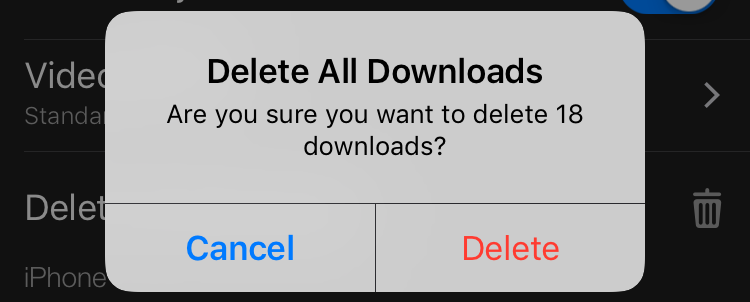 And once you've tapped on "Delete: to confirm that you want all your downloads removed, it's done. Now when you go to the "My Downloads" area it'll have nothing other than a link to the "Available for Downloads" area:
That's how it works. It's great that you can download movies and TV shows from Netflix to watch when you're offline, but it's definitely also important to manage that storage and delete whatever you've watched or have decided you're not going to watch. And, after all, you can always download things again if you change your mind.