Every so often one of my children wants to borrow my iPhone to do a search or two. Is there any quick way to delete my own recent Google searches before I hand it to them?
While Google goes through all sorts of effort to record and track everything you do, there are ways you can prune the proverbial tree and delete your recent searches on your iPhone. Of course, it's not necessarily malicious or nefarious that Google and Apple want to track what you're doing; mostly it's to contextualize your user experience so if you search for, say, "mustang" it can differentiate between someone interested in horses from someone interested in Ford motor vehicles.
Still, it can be a bit concerning to realize that every single search you've done on your iPhone is not only recorded on the phone itself, but also in your Google cloud profile too. Clearly, Google knows that people get upset about this, so there are a variety of tools that make erasing your tracks pretty dang easy. Not good enough? There are a number of alternative Web browsers for your iPhone and iOS 14 that offer different approaches to your search history tracking, like Firefox, DuckDuckGo, Brave, and Opera. Dig around in the app store to read about the differences between 'em all.
But you're using Google on your iPhone, like many of us. So what can you do? Let's check it out…
DELETE YOUR MOST RECENT GOOGLE SEARCHES ON THE IPHONE
A lot of people only see the Google search screen, but the actual "home" screen in the Google app includes news:
There's a search box, sure, but more importantly, there's a small icon on the top right that leads to your personal settings and privacy options for the Google app itself. Tap on your profile pic and a menu pops up:
You'll want to go to "Search history" on this screen, but before we tap on it, a sneak preview of what's coming to the Google Search app in a few weeks:
DELETE LAST 15 MINUTES GOOGLE SEARCH IPHONE!
Yes, check it out: "Delete last 15 minutes":
That'll be by far the fastest and easiest way to remove the last few searches you did, whether it's to protect yourself from curious children's eyes or any other reason. You do you, we'll help you cover your tracks. 🙂
MEANWHILE…
Since that's not actually available yet across the iOS world, let's do the somewhat more prosaic button "Search History" instead. Tap on that and…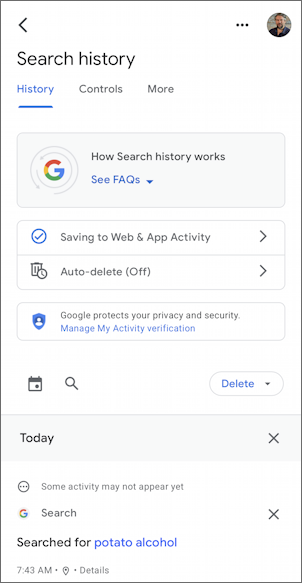 Notice at the very bottom that my last search was for "potato alcohol". Do you need to know why I did that search? No. Does it need to stay in my search history? Also no.
The way to delete your recent search history is to tap on the "Delete" button approximately halfway down the screen on the right. A set of choices pops up:
I think I'll go for "Delete today", with 'today' defined as midnight-to-midnight, so if it's 1am and you want to delete those searches from 11.30pm, you'll need a custom range or the level boss "Delete all time". I'm not worried about my searches from yesterday, however, so I'll just tap on "Delete today" and a confirmation appears: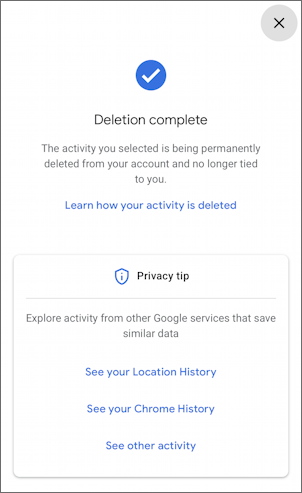 Huzzah! Done.
WHAT ABOUT AUTO-DELETING SEARCH HISTORY?
One option you might consider is having Google automatically delete your searches after a certain period of time. That way you don't have to worry about search queries you submitted five years ago resurfacing. That's done with the "Auto-Delete" option on the Search History screen. Tap on that and you'll see how to proceed:
I forget I hadn't enabled this so set my Google app to auto-delete search activity older than 6 months. Do I even need to go back that far? Maybe not, but at least it's a start for ensuring that you don't have an infinitely long search history, right? Now you can pop into your own Google app on your iPhone and set things up as desired too.
Pro Tip: I've been writing about the iPhone and iOS since the very first iPhone was released. Yes, I've owned every major iPhone model! I've also written quite a few iPhone help articles on a wide variety of topics, so please check 'em out while you're visiting. Thanks!