This is a bit confusing, but I subscribe to my Google Calendar through Apple Calendar (iCal) and there's a calendar that shows up, but I can't find or delete. What the heck? How can I get rid of it?
Curiously enough, I too have had this problem once I hooked up my Google Calendar to my Apple Calendar. The basic problem is that Apple Calendar (aka iCal) subscribes to all of your Google Calendar calendars en masse, without offering the ability for you to fine tune individual settings. Then again, I suppose both companies assume that you're going to use one, not both simultaneously, and let's be candid, the interoperability between the two is still pretty lacking, all these years later.
Be that as it may, I understand your problem and will show you step by step how to get rid of one of your Google Calendar calendars from your Apple Calendar list.
Years ago when I was using Google Calendar (aka Gcal) instead of iCal I apparently subscribed (in Gcal) to a list of holidays celebrated in Israel, along with another one of US holidays. When I subscribed to my Google Calendar data feed in Apple Calendar, I ended up with this:
To be clear, this is on the left side of the Apple Calendar program, just above the iCal calendars I have set up. As you can see, somehow it's four separate calendars! Most importantly, I can hide the entries from the Holidays in Israel calendar by unchecking the box, but it still shows up on the list of calendars. Not so good.
You might think that you can right-click and remove just this one sub-calendar…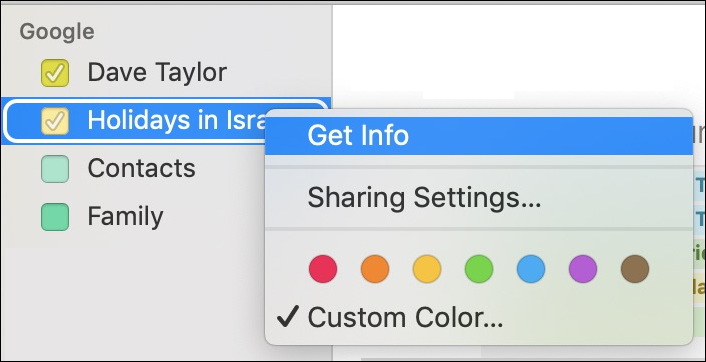 But the Get Info box is particularly unhelpful in this situation: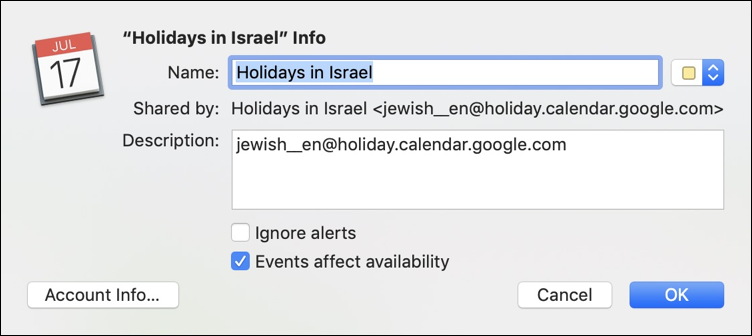 The only way to clear this particular Google Calendar from the Apple Calendar list is to actually make the change on the Google Calendar site.
So switch to your Web browser and log in to calendar.google.com. You'll see all your calendars. Now, interestingly, I don't even see "Holidays in Israel" as one of the calendars in my Google Calendar list. What the heck?
There aren't gremlins in the system, turns out that I have previously 'hidden' the calendar on the Google side. So how do I resurface it so I can unsubscribe? By going into Settings…
See that weird slashed zero icon? That means that Holidays in Israel is a "hidden" calendar. A click on it and I can access all the various settings for this calendar:
Scroll down a ways and, finally, the button I seek:
You'll notice that the way that the Holidays in Israel calendar shows up in Apple Calendar but doesn't in Google Calendar shows that there's no way to not unsubscribe if you want to remove it from iCal. Seems like it'd be an easy fix on Apple's side, but… so it goes.
Result: I'm going to just unsubscribe from Holidays in Israel entirely. A click on "Unsubscribe" and after a few seconds:

Another minute or two and, finally, in iCal, err, Apple Calendar, that calendar has completely vanished:
Mission accomplished! Phew, that was a tricky one, eh?
Pro Tip: I've been writing about Mac and Google tools for years. Please check out my Mac tutorials for more handy articles!