I was given a Toyota Corolla as a loaner for a few weeks while my car was being worked on, and have to turn it in and get my car back. Good! But I want to remove all the addresses I entered in the GPS navigational nav system. How do I delete all the previous destinations?
I hope you enjoyed the Toyota Corolla while your car was being repaired! I've driven them and they're nice little cars and have a lot of amenities, including the Toyota Entune navigational and entertainment system. As a long-time Toyota driver, I've been able to watch the generations of the GPS navigational system evolve and Entune Connect is pretty straightforward. Further, the designers anticipated just such a situation when you would want to delete all previous destinations you'd entered into the system.
To accomplish this task, find the Setup button on your dashboard and press it, then press "Nav" or "Navigation". You should end up here: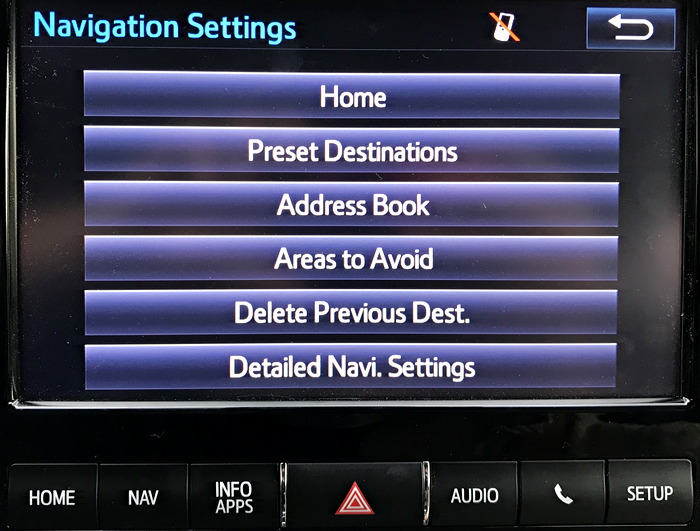 Notice the row of buttons below the screen in the above photo, and the "Setup" button on the far right!
From this point you want to tap on "Delete Previous Dest.", which shows you a list of your previous destinations that have been used with Toyota Entune Connect: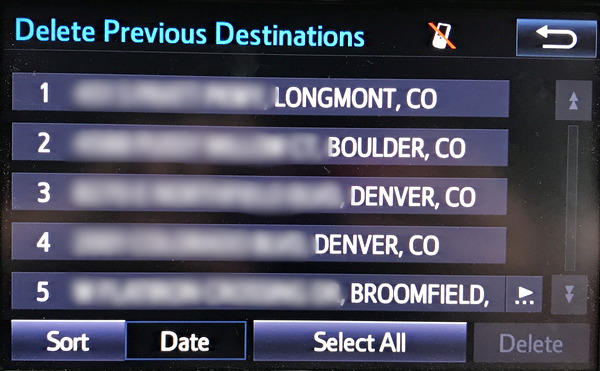 I've blurred them out for privacy reasons. Same reason you want to delete yours, actually!
You can sort by date or various other options, pick and choose individual entries or simply tap on "Select All" to proceed. To delete all addresses en masse, simply tap on "Select All".
They'll all change color and the "Delete" button becomes a possibility: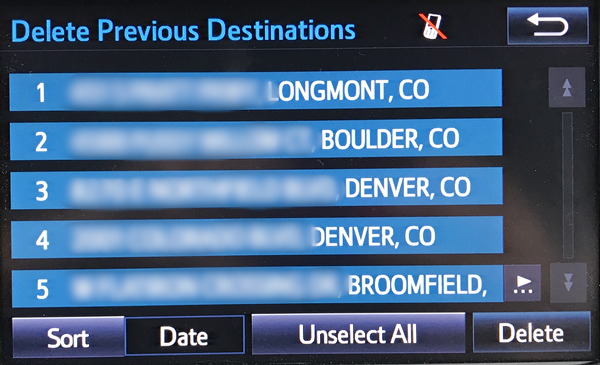 Everything should now be a brighter, lighter blue, indicating that it's been selected. Ready to proceed? Tap on "Delete" on your Toyota Entune Connect screen.
A confirmation will pop up:

Tap on "Yes" if you're sure you want to delete them all, or "No" to cancel. Particularly since you're clearing out a loaner car, you'll want to get rid of them all, so tap on "Yes".
After a moment or two they're all gone and you're dropped here: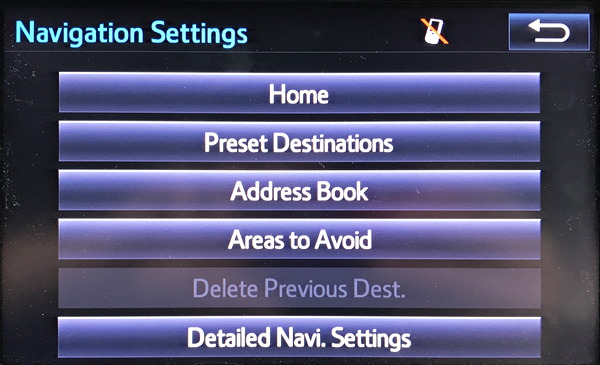 Here notice that you can't select "Delete Previous Dest." because there aren't any destinations in memory! That's what you want. Done. While you're at it, though, don't forget to unpair your bluetooth smartphone too, so that there aren't any call logs or other information that might end up lurking in the car's entertainment system.