I've been asked to help out with our company's business page on Facebook and have most figured out, except how do I delete obsolete posts and crass comments?
With over two billion active monthly users – yes billion "with a b" – every business probably needs some sort of presence on the hulking beast that is Facebook. Being on Facebook and having a good presence that creates engagement and energizes customers are two completely different things, of course, and while that's a bit beyond the scope of a single posting, there are some basics. One of the most important is: post good stuff and pay attention to the discussion.
I think that the majority of people are reasonable and smart in their comments and discussion but there's no question that there's an often too vocal minority that find being hostile, critical or downright rude is a fun hobby. There aren't really any companies that should have to endure that, however, and if you're an anger management coach, maybe it can offer a fun and sporadically ironic channel for demonstrating how to diffuse tension, but for most companies it's ungood. Double plus ungood, even.
Which is why one of the other key steps for running a good Facebook business page is to be ready to go at a moment's notice with the delete feature. Kind of like having James Bond on staff: terminate with extreme prejudice!
Let's start by looking at how to axe a dumb, rude or inappropriate comment (or, frankly, any comment you don't want on your page). Here's a test post on the AskDaveTaylor business page for our examination: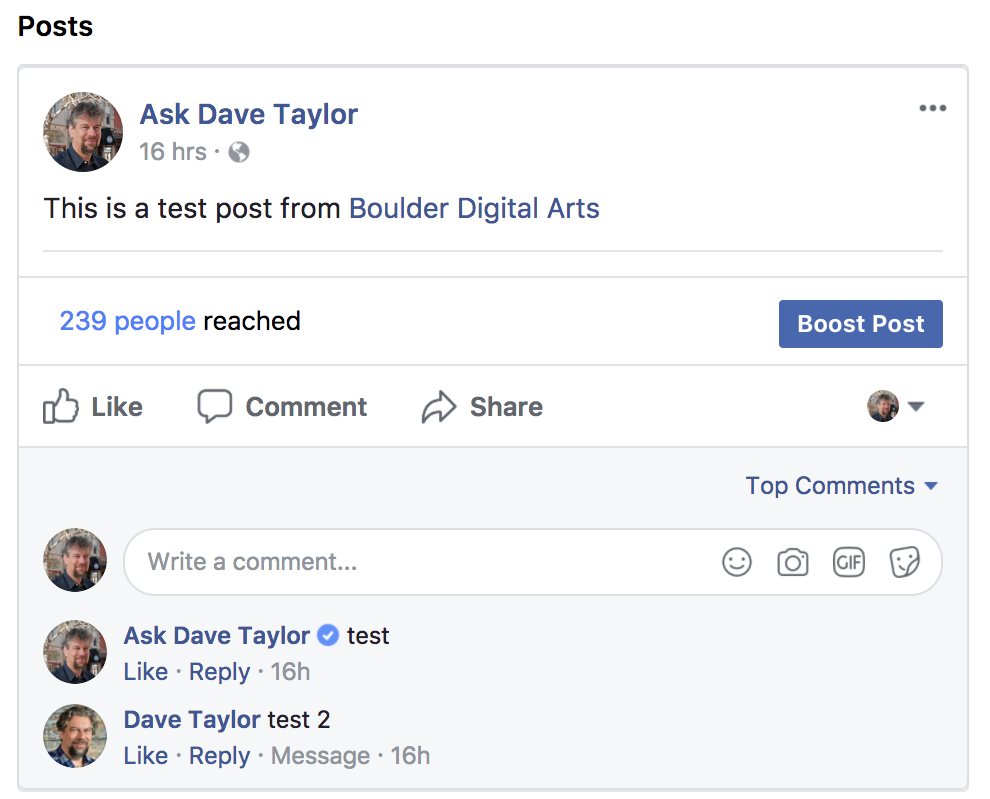 Notice that FB's giving us a little bit of stats here: 239 people have seen it and we've garnered two comments, both 16 hours old. That first one that says "test" is pretty far out of line, however. So let's delete it!
That's done by moving the cursor over to the top right of the invisible box that contains the comment. You don't have to get it exact – as soon as in you're in the right general area three dots show up. Move the cursor over them and a menu pops up:

Hide. What about delete? Bear with me and choose "Hide Comment" here. Lo and behold, more choices show up:
The hide feature is actually pretty slick: The person who posted the comment still sees it if they look, but it's hidden for most everyone else. There's no way they can know you've done that! But if that's not enough, you can Delete the comment, Report the comment if it's hate speech, threatening, spam or similar, or even Ban the user, which kicks them out of the page and won't let them sign up to be part of that community again.
I'm not going to pull out the big guns just yet with this Dave Taylor character and just click on "Delete". FB confirms:

Once deleted it's *poof* gone, never to return.
But what about if you want to delete an entire post? Maybe it was highlighting a product that you've just pulled from the catalog or a link to an interview with someone that the company had to let go because, well, the interview wasn't so professional? That's actually pretty easy to do if you look at the top right corner of a post. It's that same three dot "•••" button! This time, however, there are a ton of choices: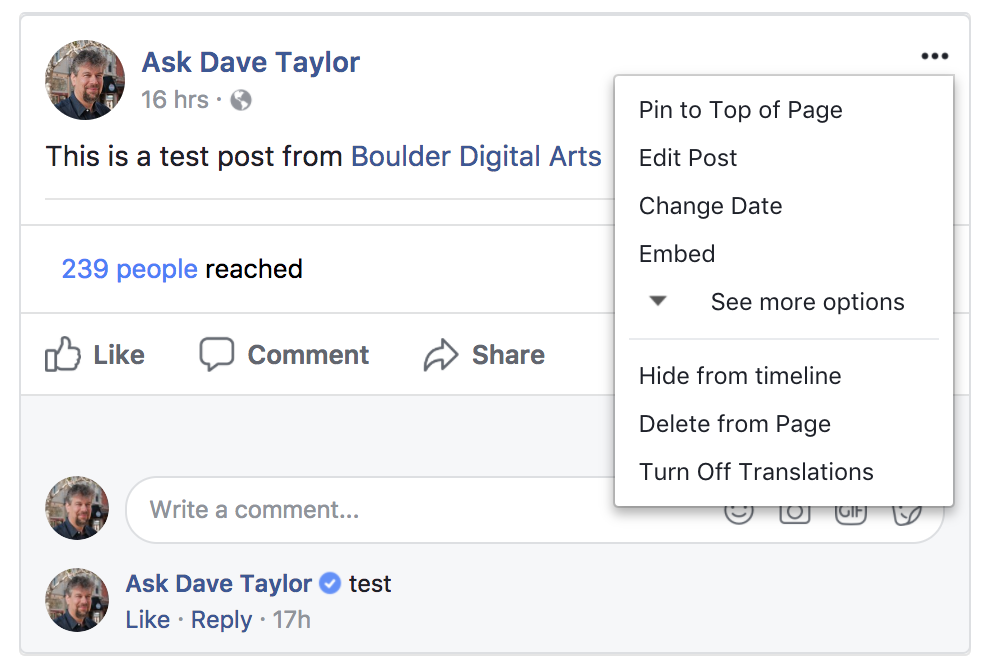 And that's not all, as they say in game shows. Click on "See more options" and the menu expands to even more choices:
As highlighted, simply choose "Delete from Page" and it'll again ask for confirmation:
Ready? You can probably figure out how to proceed from here. And good luck with your FB business page!
Pro Tip: While you're here, don't miss all my Facebook help and why not join my Facebook business page too. I promise not to delete your comments. Well, within reason 🙂