I have a couple of business pages on Facebook and have recently noticed that the tabs on the left side are out of date. A few don't work, and others are in the wrong order. How do I fix my Facebook business page tabs?
Facebook business pages have definitely gone through a bunch of changes and design updates over the last few years and it's no surprise that pages that have been around for more than a year or two would have something end up obsolete or broken. It's easy to focus on the main content and what pops up in the notifications area but there's more to a business page, right? 🙂
All the tabs — and by tabs we're really talking about the categories listed on the left side of a business page on Facebook, of course — are managed from the Settings area, slightly easier to find than most settings on Facebook. Fortunately.
Let's have a look, because you reminded me that I need to update the settings on the Ask Dave Taylor on Facebook page. And, um, you are a fan already, right?
To start, here's the first few entries on my own tabs list, so we're talking about the same thing: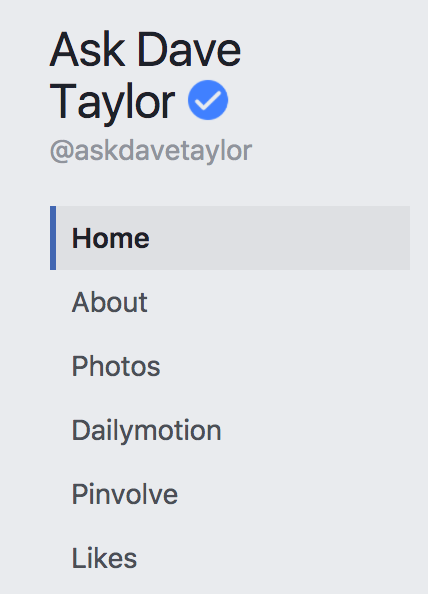 What I need to do is remove the "Dailymotion" tab because I'm not using that service any more and I don't even know what it'll yield if clicked! There's no tiny edit button, no good option if you right-click on it, but near the top right of a Facebook business page, there's a "Settings" link:
A click and you're in the zone. The overwhelm you with options zone. And there are a lot of different settings and tweaks you can make to a Facebook page! On the left are the major categories:
There are plenty more options, but you want "Edit Page", the second one on the list. Click on it and you'll see each and every tab:
First things first, let's get rid of that Dailymotion tab. That's done by clicking on the associated "Settings" button:
Turning it off is as easy as clicking on the "ON" slider. That's it. Click "Save" and it's gone.
But we're not done yet! To reorder tab entries, simply click and drag on the triple-horizontal line (aka "hamburger") button adjacent to an individual tab entry:
That's all there is to it. When you're done, go back to the home of your FB biz page and you'll see the new tabs in all their glory:
Nice. And definitely a better experience for visitors to our Facebook page.
Hope that helps you out!