I find Zoom really frustrating to use; every time I connect to a call either my microphone doesn't work at all or I'm muted and look like an idiot as someone has to remind me "you're muted!" How can I fix all of this on my PC?
Ever since it roared onto the scene early in 2020, Zoom has become a great tool for video chats, meetings, classes, and conferences. But it's also caused a huge amount of frustration for people too, where their camera won't work, the microphone doesn't hear them, they're muted, their video image looks awful, and so much more. Some of these problems can be addressed by thinking about your lighting (tip: light your face, not your keyboard), your background (plain and simple, and definitely not brighter than your face), and the ambient noise level around you (if you're in a noisy environment, get a headset with built-in mic). Others, however, are a bit more tricky to solve.
To start out, make sure that you have a webcam with a functional camera and microphone. Start with Settings on your Windows system. Once launched, search for "sound" and examine the settings to ensure that your microphone shows up and works with your PC. Now search for "microphone privacy settings", also in Settings, to ensure that you have granted Zoom permission to access your microphone. If you have camera issues, you might also check "camera privacy settings" to ensure Zoom has access to that too.
Great. With that basic set of access permissions covered, let's have a closer look at the Zoom program itself.
DEBUG AND FIX MICROPHONE AUDIO PROBLEMS IN ZOOM
Launch Zoom. You don't need an account, you don't need a meeting invitation, the program will fire up and be ready to proceed even if you just have it sitting on your PC, otherwise ignored except for actual meetings. It'll look like this (if you do log in, and yes, you can set up a free account so there's no $$ involved):
What most people don't realize is that from this view – without joining a meeting or chat – you can actually access all the settings and get everything to your liking before you join the call. Simply click on the gear icon on the top right, just below your profile pic. A window with lots of settings and preferences pops up.
Click on "Audio" on the left side and here's what you'll see: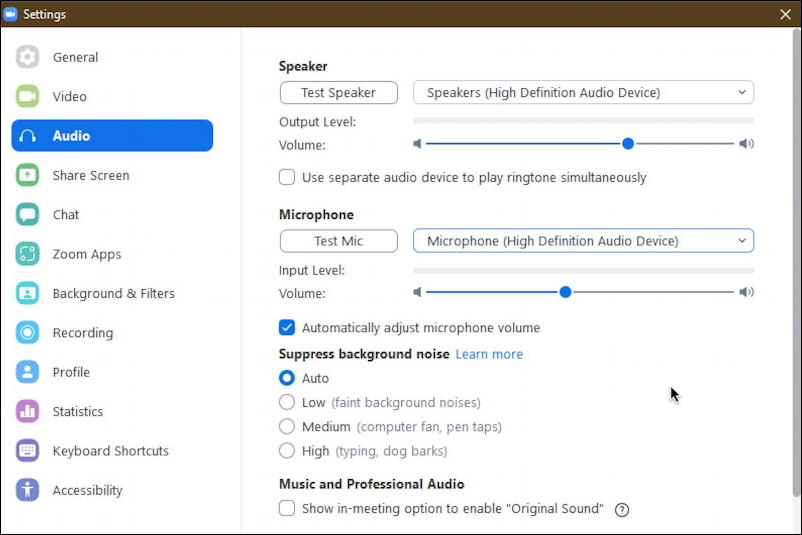 Here's where you can check to ensure that your speakers can play audio and your microphone can capture audio. Choose the correct devices from the pop-up menus (by default they use the system input and output settings), then test the speaker by clicking on the "Test Speaker" button. You should hear some audio!
You can also test the microphone by clicking on, you guessed it, the "Test Mic" button. Now talk and see if it records properly. Also, while you're talking, pay attention to the "Input Level" bar too: At your normal speaking volume it should not display red or orange, but be solidly into the green on the right side of the bar. If it isn't, use the "Volume" slider (the one in the Microphone area) to adjust it, then test the new microphone settings.
There's a really important setting in this area too, so scroll down on the right side until you get to this group of options:
As I've highlighted, the setting "Mute my microphone when joining a meeting" is one that probably causes more frustration than any other setting in Zoom. I highly encourage you to UNCHECK this option.
Note: Meetings can be set up so that people default to muted when they join, which will override this setting.
You might also check "Automatically join audio by computer when joining a meeting" too if you're sure you'll never use your phone for the audio component of a meeting.
That's should set you up with audio on your Zoom calls in the future. Remember that when you're in a Zoom meeting, you can always see if you're muted on the lower left:

You can also click on the tiny upwards triangle adjacent to the Mute button (if you're muted it says "Unmute", but if you have a live mic, it says "Mute") to quick access these settings: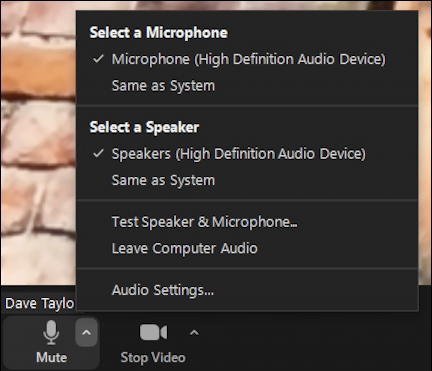 This also serves as a good confirmation that your speaker and microphone are set to your actual device. You can also go back to the full audio settings with the "Audio Settings…" entry at the bottom of that menu, of course.
DEBUG AND FIX VIDEO WEBCAM PROBLEMS IN ZOOM
But what about if it's the camera you're having problems with? Well, there are lots of settings for that too, but don't forget that you need to light your face and simplify (and possibly darken) your background for best results. Go back to the big Settings window and this time click on "Video".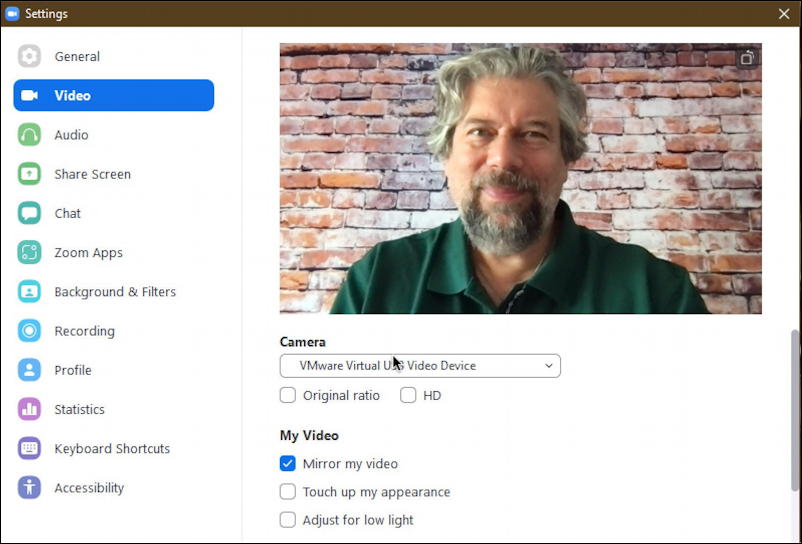 If it's working well, you should see yourself in the inset window. Check your lighting! If not, check the options in the pop-up menu to ensure your camera is present and an option. If it isn't go back to system settings and ensure that you have granted Zoom access to your camera.
I also recommend using higher resolution video if possible, so check the box adjacent to "HD" (which stands for "high definition").
As with audio, scroll down just a bit on the right side because there are a few more settings to consider: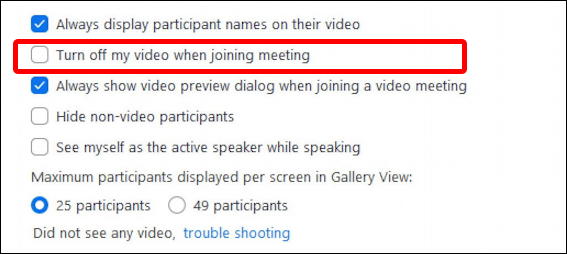 If you prefer being off-camera when you join a meeting and manually turning on the camera as needed, check the box "Turn off my video when joining meeting". Or leave it unchecked if you don't mind being live on camera from the get go. You can also lower your Zoom stress level by leaving "See myself as the active speaker while speaking" unchecked. Don't worry, you look great! 🙂
WHAT ABOUT ZOOM VIDEO BACKGROUNDS
While we're in Settings, choose "Background & Filters" for just a moment: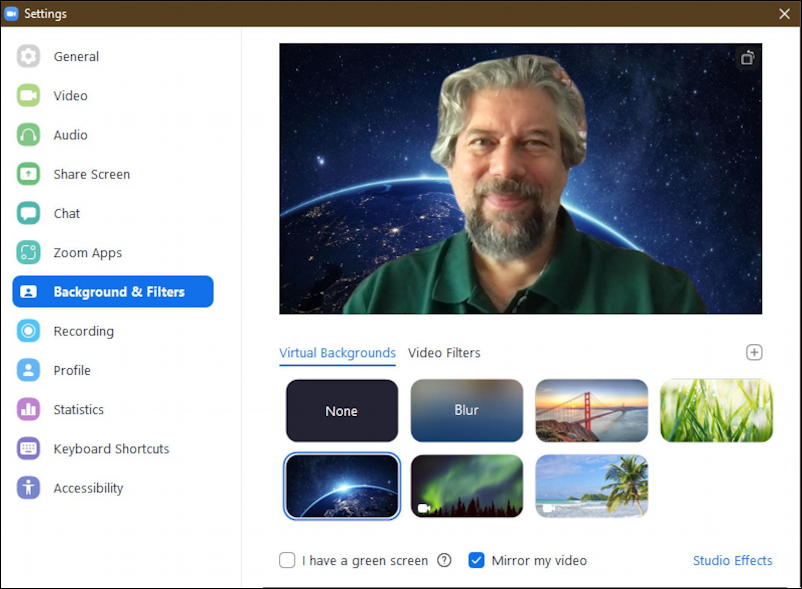 You can choose various virtual backgrounds – I've chosen Earth from Space – or you can try "Blur" to blur out your messy background, but by default, I suggest that "None" is your best setting. Then you can change it as you enter a meeting. This way you don't have some silly Pokemon background for a serious business meeting or a corporate office background when you join up with your possé for virtual Friday night drinks!
Tip: I have a more extensive tutorial on Zoom virtual backgrounds. Please check it out: How to Use Virtual Backgrounds on Zoom Calls.
As with audio, you can also access video settings – and turn your camera on and off – from the toolbar while you're in a meeting too: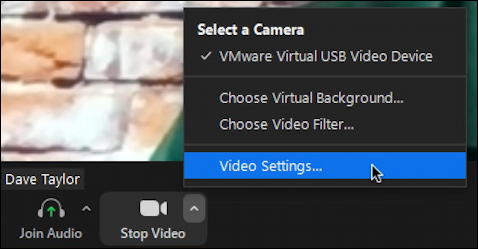 Notice also the "Join Audio" on the left too; which indicates that my microphone and speaker have disconnected from Zoom. That's easily fixed by clicking on "Join Audio" if that happens to you, just FYI.
That should get you up and running in Zoom with all the audio and video settings to your liking. Go Zoom!
Pro Tip: I've been writing about how to get things done online forever. Please check out my extensive computer help library for lots more tutorials while you're here, and definitely don't miss my Zoom help area too!