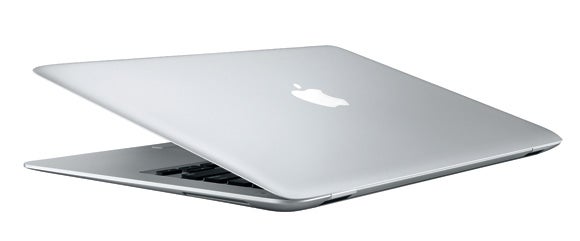 I just got a MacBook Air and have been enjoying having the world's lightest laptop. It's an amazing piece of engineering and while it appears to have some critical features missing (like a DVD drive or Ethernet port) the fact is that I never used those features on my older MacBook Pro laptop either so it's not anything I miss.
Frankly, with my Corsair 8GB flash drive, it's just a super-modern version of "sneakernet" and was a breeze to jump onto the new device and use it full-time.
Even better, it gave me an opportunity to really pay attention to what I change on a stock Mac laptop to make it work for me. And that's what this article is about. Let's call it Dave's Guide to Critical Mac Software…
The very first thing I did when I got the computer up and running was to run Apple's Software Update utility (Apple –> Software Update…. Quite a surprising number of updates, mostly to the Apple iLife suite (most of which I don't use), but I also jumped from 10.5.1 to 10.5.2 along the way. A reboot later, I again ran Software Update and this time it found a graphic accelerator update that was only applicable to 10.5.2, so I applied that. Finally, a third reboot and there was nothing in the update queue and I was ready to proceed.
First software download was Firefox. Yes, Safari's come a long way, but I like to have Firefox available too, partially for the Google toolbar and partially just because some of the sites I visit work better in Firefox. Second download was, needless to say, Google Toolbar. I'm not obsessed with it and generally eschew toolbars, but it's nice to be able to see PageRank on some of my sites, among other key features.
The first commercial software I installed was Microsoft Office 2008, mostly for Entourage, my email application of choice. With dozens of custom rules, over twenty different signature files and a 850MB mailbox (copied over with my handy Corsair flash drive in about 30 seconds), I'm virtually trapped in the app. Yes, I know that running MS Office on my new Mac is tantamount to throwing away my cool fanboy ID card, but what can I say? MS Word has helped me write many a book, Excel got me through my MBA program, and I've sent upwards of 100,000 messages in Entourage in the last decade.
Next up was Twitterific, a lightweight app to help monitor Twitter which, yes, I admit I have become addicted to. Damn those silly apps! 🙂 [oh, and you can find me on Twitter, of course, as DaveTaylor]
To get Twitterific to work, however, I also needed to download Growl, an underlying notification system for the Mac that is actually pretty slick. I just wish the latest version of Entourage used Growl if it was installed, but disappointingly, it doesn't.
I exported my Safari bookmarks on my older MacBook, imported them onto the new Safari, and then copied them automatically into Firefox (what a pain the a**, I must say). I then noticed something amusing in a Google AdSense block and wanted to take a screen shot, just to realize that I hadn't yet installed SnapzPro X, my favorite screen capture application. Easily solved, and here's the funny ad: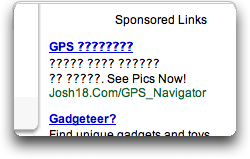 I can only hope that they aren't bidding too high on those ole' keywords!
Another application that I like that used to be included with Mac OS X but isn't any more is
GraphicConverter
, which meets a surprising number of my graphical and photo editing needs. I can't say enough about how great this app is, and at $34.95, it's a steal.
Some additional utilities that I quickly realize I need:
1Password
, which helps me keep track of the dozens of passwords and accounts I use on hundreds of different Web sites each week. (To export data from the old 1Password I chose File -> Export All -> 1Password Interchange File then saved the output to my flash drive. On the Macbook Air, I simply choose File -> Import…)
I also realized that I wanted to have a copy of my Address Book, and, again, a very similar export/import: To Export from Address Book, I choose File -> Export -> Address Book Archive… and on the new system I imported my address book with File -> Import -> Address Book Archive…
Fugu
, my favorite secure file upload utility that works great with SFTP and lets me safely poke around on my server even on an open, unsecure, wireless network. I'd use the command line
sftp
utility except that there's no way to set it to warn you before you overwrite an existing file (a pretty dumb limitation, actually).
The Unarchiver
is a smart replacement for Stuffit Deluxe, in my opinion, it's smaller, faster, and has a far lower-profile interface that doesn't get in the way. It can also work with ZIP, RAR, and many other unusual (and modern) file formats.
Adium
is the gold standard for instant messenger clients in my experience, and with its support for Yahoo, MSN, AIM, and Gtalk, it covers all the bases for the people I want to chat with. If it included Skype IM it'd be perfect, but that's not in the cards. Yet. 🙂
The Macbook Air's lack of a built-in DVD drive works well with my predilection of having saved movies on my hard disk (or on my flash drive), but I am not particularly enamored of Quicktime or DVD Player. Instead, a must-have app is the terrific
VLC
player, which can handle just about any codec or video format you can throw at it, and has a nice full-screen mode too. The Air doesn't have a huge disk, but it's plenty of space for a dozen of my favorite movies nonetheless.
Finally, the last app that I copied onto my Macbook Air was
Memeo LifeAgent
, my new favorite network backup application. Yes, Time Machine isn't happening for me because it doesn't support third-party network backup devices and since I have a 1TB LaCie drive on my local network, I want to live the wireless life and have it just work. WIth LifeAgent, I can, and then some. Even better, Memeo also offers online disk space for redundant backups of really important files, albeit at rather inflated prices (5GB of space is
$50/year
, versus how much space do you get with a Gmail account for free nowadays?)
Truth be told, there are a couple of additional apps I'm thinking about, including the new chocolate or peanut butter question of Parallels or VMware Fusion to give me access to WinXP and Vista, but with the set of apps I've listed here in this message coupled with my favorite few gig of photos and music, my MacBook Air is ready to go and man, is it slim.
How about you, dear reader? When you get a new Mac, what applications are on your must-copy list and which are easily jettisoned in preference to a clean, fast machine?