Last week marked the fifteenth time I've attended the always-amazing Consumer Electronics Show. With 158,000 attendees and 3,100 vendors exhibiting, it's a trade show like no other I've ever seen, and "massive" doesn't begin to describe it. In fact, this year I had a pedometer in my pocket and on the day I walked the most, I took 17,000+ steps, around nine miles. One day. Walking.
There are lots and lots of companies showing their wares in reasonably modest booths, 15×15 feet, 20×20 feet, and then there are the real consumer electronics powerhouses, companies like Samsung, Sony, Intel and Sharp, they have spaces that are larger than your local store. The Sony booth itself was 30,000 square feet and took a year to design and create.
So what was worth seeing?
While journalists are always looking for The Next Big Thing, the reality of consumer electronics is that it's marked more by incremental improvement than by dramatic leaps in technology. The super-thin OLED TVs? They were bigger this year than last. The iPhone cases? Do I even need to say that they're basically the same as they were two years ago, just redesigned for the iPhone 4s?
Within all of this incremental improvement there were also some really interesting additions to the world of consumer electronics as embedded technology, global positioning systems, and always-available Internet become more pervasive. Still, things get smaller and cheaper, and tech championed by the costly research labs of large corporations trickle down until they're being produced as low-budget commodities by companies whose names I can't even pronounce.
When I go through the show — and I check out the products from every single vendor — I'm not so much looking for the amazing but instead the interesting, the thoughtful, the things that catch my attention. A 72″ HDTV that's now available in an 84″ model? Not interesting. A TV that can help you find what you want to watch, however? That's interesting.
WIth that in mind, there were definitely some things that caught my eye at CES 2012.
Cobra's iRadar Crowdsourced Radar Detection System
Winner: Best Gadget
I own a radar detector but turn it on maybe once a year. In fact, the last few long drives I've taken I forgot to put it in the car, so it's not like I'm some crazy driver who loves to go fast and is one point away from having my license suspended. That's not what I find so darn cool about Cobra's second generation iRadar device.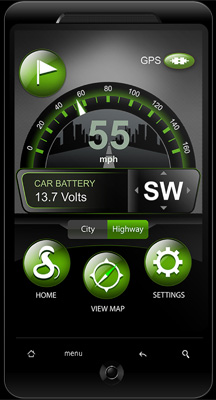 Last year, at the 2011 Consumer Electronics Show, Cobra unveiled the iRadar, a radar detector with no buttons, no indicator lights, a device that was completely reliant on you having a smartphone and used that to display speed, detected radar systems, maps, etc. Nice. This year, however, they upped the ante in a most fascinating manner: the iRadar software is now a shared community database of detected radar locations and types.
What does this mean? If you and I both use iRadar and I drive through an area where a radar gun "paints" my car as I zip past, I'll get the warning as I would with any other radar detector. But then my iRadar app will automatically share the location and type of radar in use with the rest of the iRadar user community. Fifteen minutes later, when you drive through that same area, your smartphone will warn you that I'd just a few minutes earlier detected a radar in use.
Crowdsourcing at its best. Using the distributed nature of thousands of radar detectors traveling about to paint an accurate and ever-changing picture of where the police are trying to capture speeding vehicles using various technology. Smart.
Even better: You can grab the app itself for free and have instant access to the entire reporting database, though you aren't really contributing to its success without the radar detector too. Links: iPhone version and Android version.
Now, is it legal? I suspect that somewhere down the road there'll be some law it turns out that Cobra is breaking by having the shared radar database, but until then, it's still extraordinarily interesting…
Lenovo "Yoga" Ultrabook
Winner: Best Hardware
As someone who owns both Mac and Windows-based laptops, it's always struck me that the Windows PC systems are less elegant and slower. Boot time on a Mac can be 20-30 seconds, but on PCs I commonly hear of people who have 2-3 minute (or longer!) boot times. Yes, PC laptops are a lot cheaper, but they're also less elegant and less attractive.
There's also a distinct trend in computing that we're all moving away from desktop systems to laptops and, for a lot of people, that migration continues with a leap from laptops to tablets, primarily the über-popular Apple iPad.
This year's Consumer Electronics Show reflected this with the introduction of the Ultrabook line of PC laptops. All designed to be ultra-light and boot ultra-fast, they go a long way to addressing the primary obstacles I've always had with PCs. In fact, the best of these devices are now easily as sleek and sexy as the Apple MacBook Air.
Most interesting among these is the Lenovo "Yoga" laptop, a device that, as you can see in the picture, lets you actually fold the screen all the way back so that you in essence create a tablet with the keyboard facing out on the back. It's touch sensitive, so it's an instant Win7 laptop.

I know that there have been previous generations of convertible laptops, and I even had a Gateway one for a while, but none of the vendors ever got the hinge right. Even HP's convertible PC laptop (where the screen rotates 180-degrees and closes so that it covers the keyboard) had a poor hinge.
By contrast, Lenovo's really nailed the complexity and required rigidity of the screen/keyboard hinge in its Yoga laptop, and everyone I saw who actually touched one got a gleam in their eye. Yes, it's that cool. Coming soon…
RCA Symphonix / BluWave
Winner: Best Health Product
I can't think of a more mundane product than a hearing aid. Yes, for old folk and those people who are starting to lose their hearing. Then again, with the amnipresence of iPods and heavy use of earbuds, I expect the next generation will have early onset hearing loss so these devices are going to be more common than you think.
The trick is to figure out how to create a hearing aid that lets you pretend it's something else so that you aren't embarrassed to wear it and therefore drive everyone crazy because you can't actually hear them talking.
Enter the RCA Symphonix. It's a hearing aid and Bluetooth cellphone headset in one.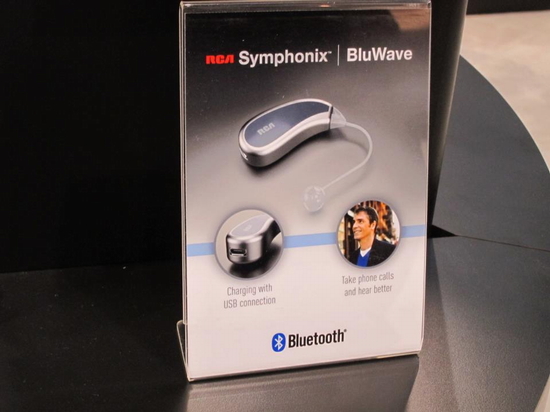 Brilliant idea. Now people who need a bit of assistance with their hearing can leave this clipped to their ear and no-one will ever know that they have a hearing aid on. Less embarrassment = more use = a genuine help for people who need it. Smart.
Samsung's Transparent Smart Window
Winner: Best Glimpse of the Future
This was a prototype that they were showing, a proof of concept if you will, but holy cow, what an amazing futuristic thing: an LCD computer screen that's transparent. Imagine having it as your bedroom window. Tap on it (or access it remotely via an app or voice control system) and it instantly turns opaque. Tap it again, and it's transparent. No blinds, no curtains, just a piece of glass with magical properties.
Far, far better, though, is that it can display anything you might put on your computer screen. The demo, as you can see in the embedded video, has a weather widget floating in the glass, along with a digital clock. Got an email from the boss? That could easily show up ready for you to quick review while shaving.

As with any other prototype, this isn't available to buy, even if you're part of the so-called 1%. It's more an astonishing "look what we can do" and a sneak peak at some technology that will absolutely be available in ten years or so. Very cool.
And more…
There were lots of neat things to see, and I certainly came home with some cool goodies, including a Samsung Galaxy Tab 10.1 and a Sony Bloggie camera that lets me easily live stream events with the push of a button, but CES is about increments, about the migration of tech from prototype and demo to expensive to commodity, and whether you're interested in smarter washing machines or a slick computer, it's well worth going. If you can get in and find a room for less than $400/night, that is!
And me? I'll be back next year…