I was glad when the Start Page became the Start Menu with tiles in Windows 10.1, but now I want to know if I can customize those same tiles in my Start menu. Doable? If so, how?
Microsoft's Windows development team went through a long phase of introducing updates that were less than enthusiastically embraced by the user community. None was so universally reviled, however, than the Start Screen and windowless design of Windows 10. All of a sudden the decades-old "desktop and menu" design was history and people had to get used to a very different way of working with the system, a change that few embraced, even on the touchscreen tablets for which it was originally designed. Not so good.
Enter the updated Windows 10 (which I consider 10.1 though Microsoft still just calls Win10) and  suddenly you could turn off the Start Screen and have everything calm down and go back to the beloved Desktop interface with the tiles showing up as part of the Start Menu. A compromise, and a good one: Those tiles can be a nice addition to the menu, particularly when you configure them to be "live tiles", updating while you watch.
And here's the thing: they're still highly configurable!
Let's start with the menu itself. Mine's a rather muddy brown:
You can see that the Photos, Xbox and News tiles are live (they aren't just title information). In fact, the Stock ticker is live too: you can see that the markets are all up, the FTSE up 100 and the NIKKEI up 225.
But what if you want to change things up? Just right-click on a tile:
To remove a tile, choose "Unpin from Start". To change the size, well, "Resize" does the trick. In fact, I'll change Photos to be "Wide" and remove "OneNote" from the first section and you can see it's a bit nicer layout:
Look at the sections and you'll see that they can have an optional name too. The first section on the Start Menu is labelled "Life at a glance". That's something you can change too: Just move your cursor over the name and a two-line button shows up. Click on it and you can change the section name to whatever you want:

Oh, and if you don't like the color of your existing Start Menu background, you can change that in Settings > Personalization > Colors, as you can see here:
That's a subset of the dozens and dozens of colors you can peruse. Pick one you like — perhaps dark blue! — and everything changes: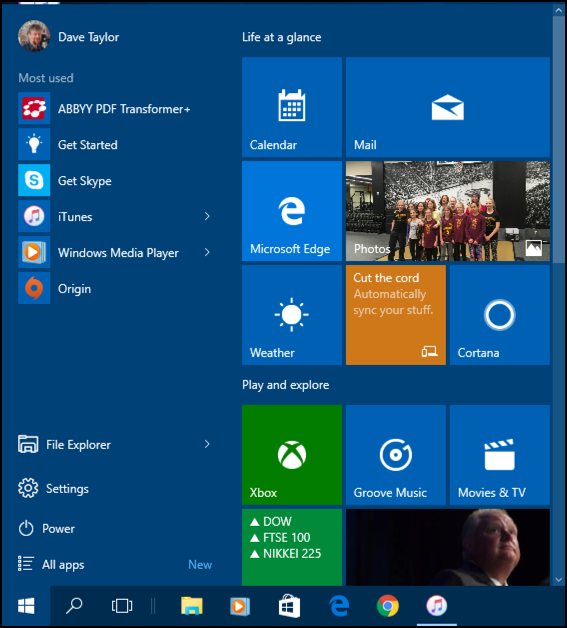 So that should be everything you want to know about how to update, tweak, change and fine-tune the Start Menu "tiles" in your Windows 10 / 10.1 system to fit your taste!