I am enjoying learning about the new features of Windows 11 (which I mostly like) and particularly like the widget window. Except it's tracking the wrong sports team. I'm a die-hard Raiders fan! How do I switch the sports widget to show me Raiders scores?
A number of mobile operating systems have a slide-over news and updates window, so it's interesting to see that migrate onto the Windows platform. Later versions of Windows 10 had something similar from the Taskbar, but Windows 11 ups the game by having a full Widget area with customizable content. Weather, stocks, sports scores, there's a fair bit you can add and customize, along with a newsfeed focused on your own personal interests.
Having said that, I am also aware that some long-time Windows users are a bit, um, change averse, and have promptly hidden all the buttons on the Win11 Taskbar that are new features and capabilities. That's okay too; that's why Microsoft makes it so easy to hide them (just right-click on an empty portion of the Taskbar and you can pick what icons to show and which to hide).
Since you sound like a die-hard Raiders fan, you're all about change. What city are they based in nowadays? 😆
HOW TO FIND THE SPORTS SCORE WIDGET
To get started, click on the blue and white Mondrian-esque icon on the Taskbar:

I've highlighted it above. If you don't have it on your Taskbar, go into Taskbar settings and enable it!
A click and about 1/3 of your entire screen will be occluded by the Widgets window sliding out from the left edge. Mine looks like this: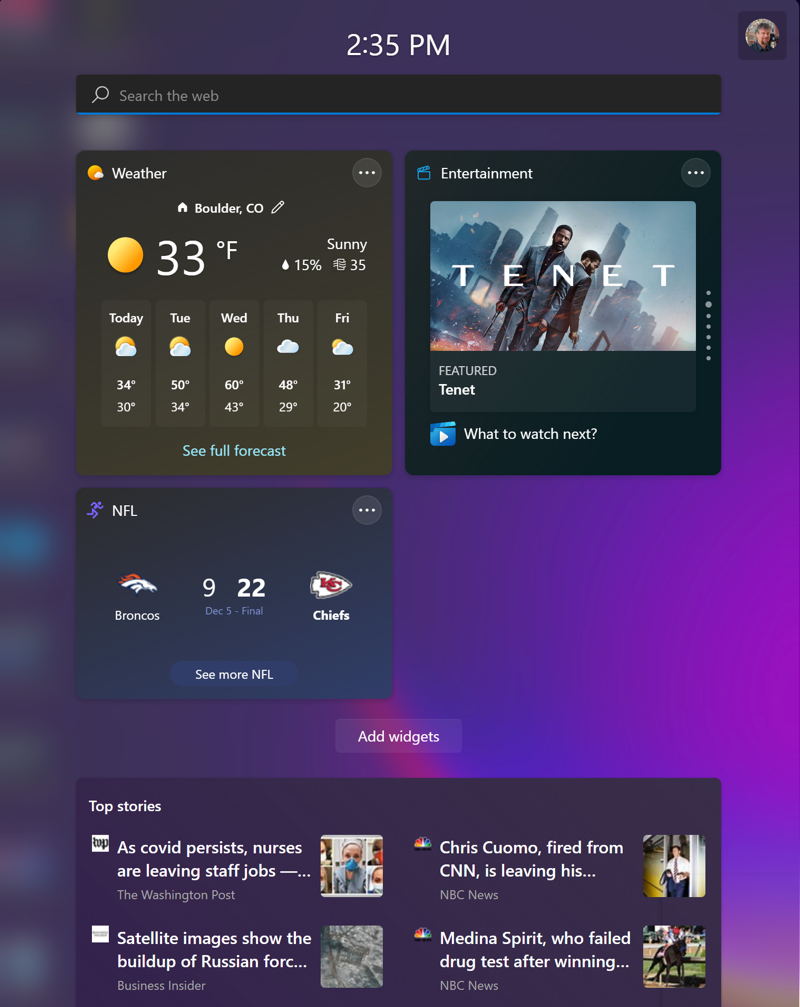 The window is split into three areas: The top portion is a handy search box, the main area are specific widgets that you've enabled or specified, and the lower portion, below the tiny "Add widgets" link, is a display of top news stories. At this point, widgets are only from Microsoft but I expect that we'll be able to install third-party widgets for this window at some point in the near future.
Notice here that my sports widget is showing NFL information, the score of the latest Denver Broncos vs. KC Chiefs game. I don't much follow football, however, so let's change that.
SET FAVORITE TEAM ON THE WIN11 SPORTS WIDGET
To change the team, click or tap on the "•••" link on the top right of the widget in question. A menu appears: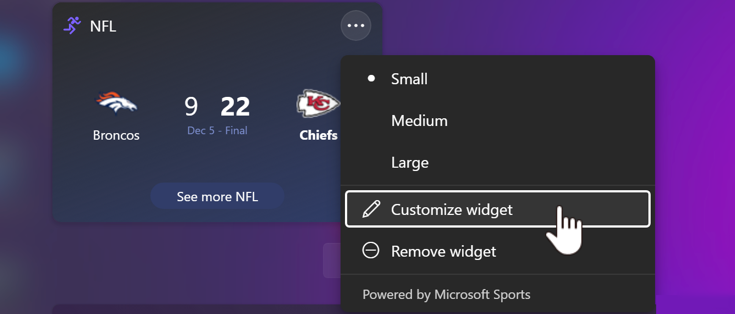 Not every widget has the same options, but this one offers both the ability to change its size and to Customize widget. Choose "Customize widget" and…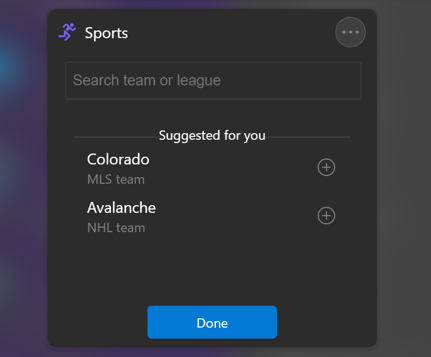 It's not a bad suggestion for it to be suggesting I might be interested in the Colorado Rapids MLS soccer team, but that's not what I'm going to enter. Instead, I'd like to get scores for my Tottenham Hotspur soccer team from England. It's part of the Premier League and as long as I know how to spell "tottenham", I can find it.
A click on "Done" and now the display is quite different: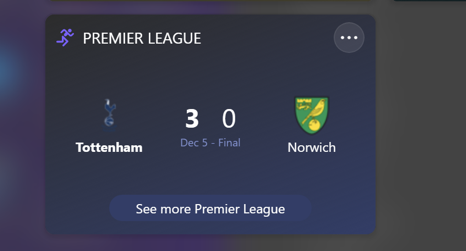 Notice especially along the bottom it says "See more Premier League". Helpful!
If I resize it to be taller, it gets even better, offering the last two games + the next game in the schedule. In fact, you can click and drag to rearrange things too, and even add a new widget like "Tips" if you want to keep learning about Windows 11. Here's my final layout: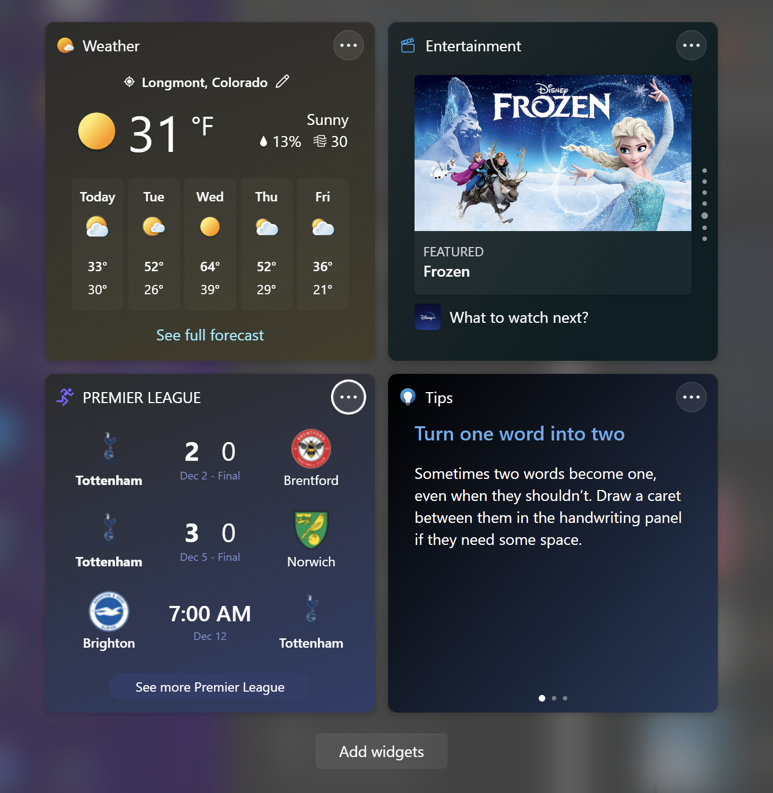 I think that's pretty cool, actually. I encourage you to experiment more with widgets and see what you can do to make it maximally useful for you too, not neglecting that big Raiders scoreboard to either inspire you or make you consider following a different team. Just kidding!
Pro Tip: I've been writing about Windows for many years and now have an extensive Windows 10 & Windows 11 help area. Please check it out to find lots of additional tutorials and guides while you're here. Thanks!