My Dock sits on the bottom of my screen, taking up space. I hate it. What can I do to move it somewhere else or hide it entirely?
There are a lot of things you can change to make the Dock more subtle or otherwise better fit your workflow and interface preferences, actually. I'm a bit surprised you hate it because of that. But perhaps you just don't know that the Dock's quite flexible in Mac OS X. 🙂
While some may suggest that the Mac OS X Dock is a rip-off of the Taskbar on Windows, I'd like to think that they were both inspired by the same basic concept from earlier graphical interfaces like the Xerox Dolphin, but, yes, it's possible I'm wrong. With a purely graphical interface, however, it is helpful to have easy access to programs and folders, as I expect you'd realize a few minutes after you completely hid your Dock from view.
What you can't do is disable the Dock entirely. But before we explore ways you can try to hide the Dock, let's see what kind of preferences are available for you to tweak it and tone it down.
To start, here's a standard Dock configuration, sitting along the bottom, taking up space: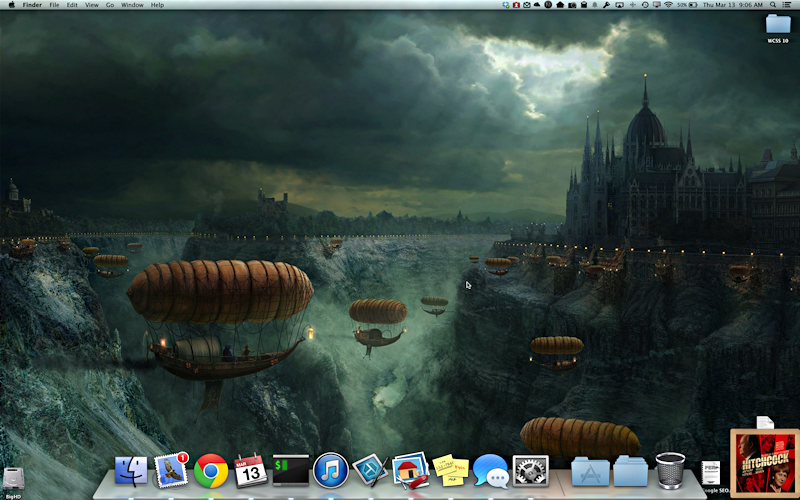 D'ya like that background image? It's Fantasy View of Budapest by Kornel Ravadits, and there's a terrific tutorial on how he used Photoshop to create it here: Creating the Fantasy View of Budapest.
But back on topic!
The easiest way to tweak and modify your Dock is to look for its menu on the Apple menu:
Notice that you can move the Dock to the left or right side if you don't want it on the bottom, and that you can turn on "hiding". I use Hiding, because when I'm working on a task the Dock is invisible, but a quick cursor movement to the bottom and it pops up, ready to go. Handy!
To see all the Dock options, choose "Dock Preferences…"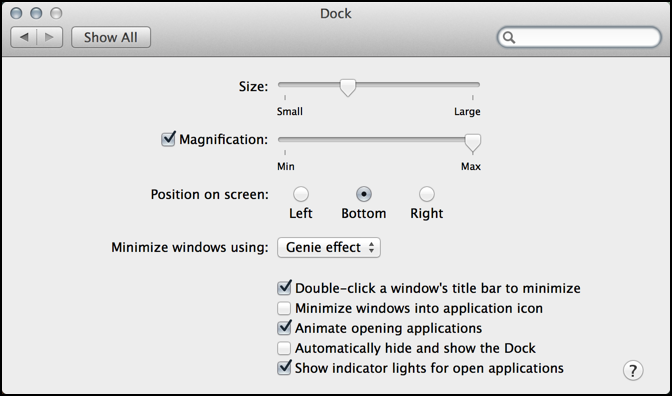 Here you can adjust the size (though you can also click and drag the divider bar in the Dock itself upwards or downwards to easily resize the Dock dynamically), turn on magnification and adjust how exaggerated it is, etc.
Have a close look at the check box options too. Some of them are darn useful!
What's magnification? This demonstrates:

Basically, the app icon that's under the cursor is shown biggest, with everything else smaller, depending on how far away it is from the cursor. This is particularly helpful if you make your Dock really tiny.
So those are all the options you have available. Between them all I encourage you to try minimizing the Dock, hiding it when you're not using it, and perhaps moving it onto the left side. Hopefully that'll be the beginning of a lovely friendship…