I head to Las Vegas every January for a massive technology and electronics circus known as CES (yes, that stands for the Consumer Electronics Show but they much prefer the acronym). It's massive. I mean, it's more massive than you can imagine; over 180,000 people attended the show this year, with over 4,500 vendors exhibiting their wares in booths ranging from a closet to a football field in a total exhibition space of 2.7 million square feet…
One of the highlights of CES this year was an evening event sponsored by Techlicious where I had a chance to spend some quality time with the Samsung SmartThings team, learn about the product line and hobnob with fellow tech journalists and experts. When the Techlicious team reached out and said they were heading to Denver for a dog and pony show with the Consumer Technology Association (the organization that hosts CES) I was most interested in joining them. To then find that it was at The Kitchen made it even more desirable: The Kitchen is a Boulder-based foodie restaurant and it's always excellent.
The event, officially known as the CTA Smart Home and Health Lunch and Learn, was terrific, mostly hanging out and chatting with representatives from the half-dozen companies that were participating. I knew of them all, but it was quite interesting to see many new products that weren't available back in January.
Here's what caught my eye…
I already have a Samsung SmartThings home security system installed in my house and it works very well, with its touch panel base unit and sensors scattered throughout the house. What really works great, though, is the smartphone app and I could easily unplug the base and never miss it (other than that its functionality as the actual communications base, that is!). Samsung was showing off the next generation of SmartThings and they seem to have not only understood my thinking, but gone beyond: the new SmartThings hub doubles as a mesh network wifi router system. You can get either a single unit for solid wifi for about 1500 square feet, or add additional units to extend it. Brilliant integration, really.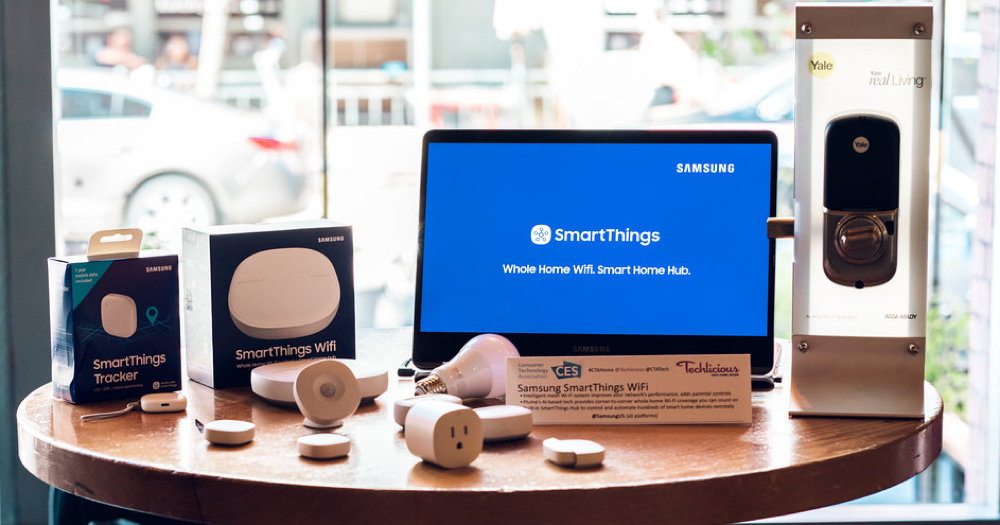 All the sensors have a new, streamlined look and lower price points too, which is great. As you can see in the photo above, there's also a new Yale lock that's part of the SmartThings universe and the exterior plate (not shown above) is both svelte and attractive. It might just need to show up on my front door, now that I think about it…
Another important part of a smarthome is the garage door. Not the little door you use to get in or out of your garage, but the big doot you use to let your car in or out! I have a Craftsman smart garage door opener, which is great, but it doesn't integrate with anything so I don't really see it as part of a smart home, per se.
That's where Senclo is trying to close the gap, with its line of Senclo Fi smart garage door controllers. They aren't the drive mechanism and chains that actually open the door, but rather a system that lets you control whatever garage door opener you have from within a smart home ecosystem.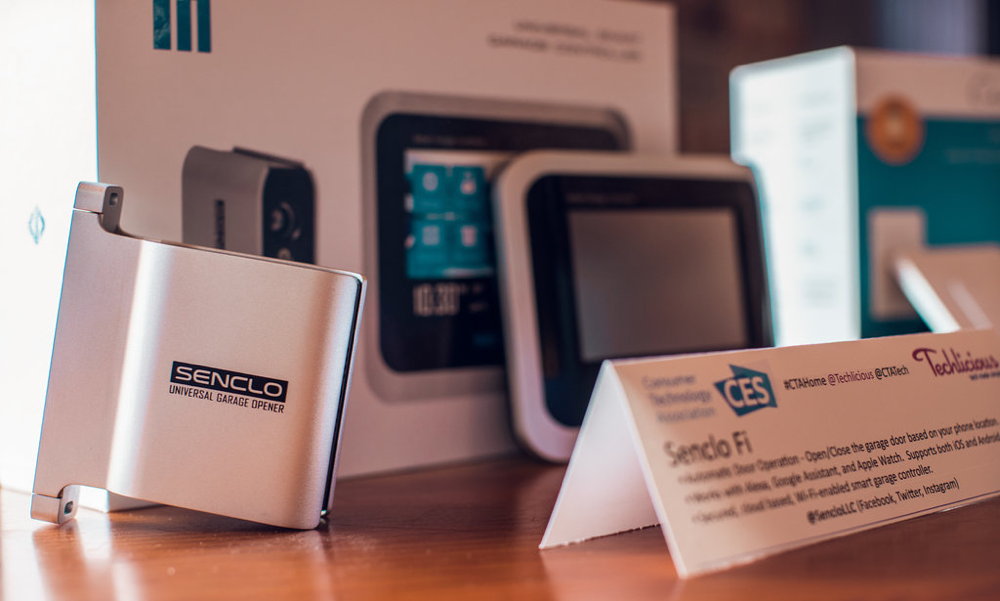 The big display screen unit is for homes or facilities with more than one garage door: if you just have a single door like most folk, then it's just the smaller unit you'll need to screw to a wall in your garage and leap into the 21st century.
Also notice above the useful signage for those of us that might not be entirely familiar with the product lines. In fact, I suspect I was the most tech oriented person at the event!
I've been working with Viome behind the scenes to analyze some biometric data and get a better understanding of my health, so I naturally gravitated towards Embody DNA too: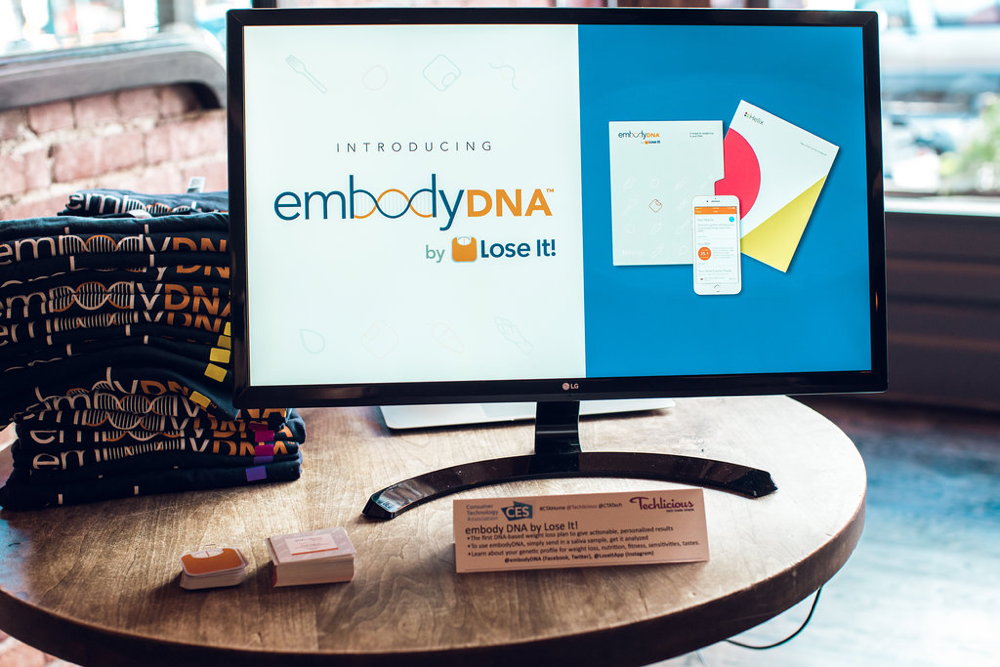 It's a fascinating idea, really; analyze your DNA to understand your health markers, then offer suggestions and ideas about what foods and lifestyle changes you can make  that'll actually work. Will it work? Stay tuned, I'm signing up!
Moving further around the table at The Kitchen, I had a chance to talk with the rep from AfterShokz. They were showing off their latest in bone conductive headphones. Seems a bit weird, but they are designed to rest in front of your ears so you can hear noises in your environment while also enjoying your music, podcast or audio book: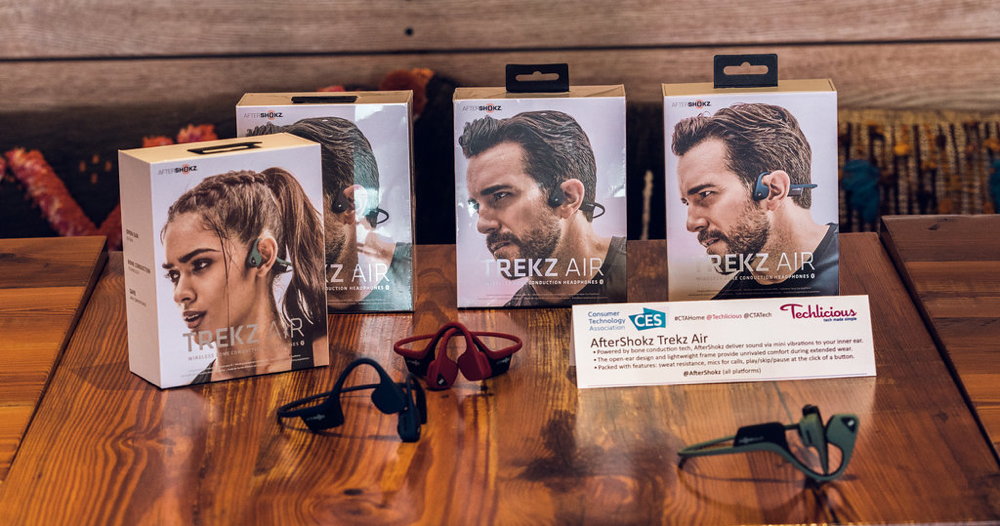 They work surprisingly good, odd as the concept may sound. This might be a "you have to try them to believe it", but as they were generous enough to give every attendee a pair of the new Trekz Air, I'll be reviewing them on my YouTube channel in the very near future, so stay tuned for that. I mean, you are a subscriber to my YouTube channel, right?
Disclosure: AfterShockz gave me a pair of Trekz Air headphones in appreciation for my attending the lunch event. FYI.
One other tech device caught my attention at the lunch, a device from Omron that looks like a biometric sensor but does a far more important task: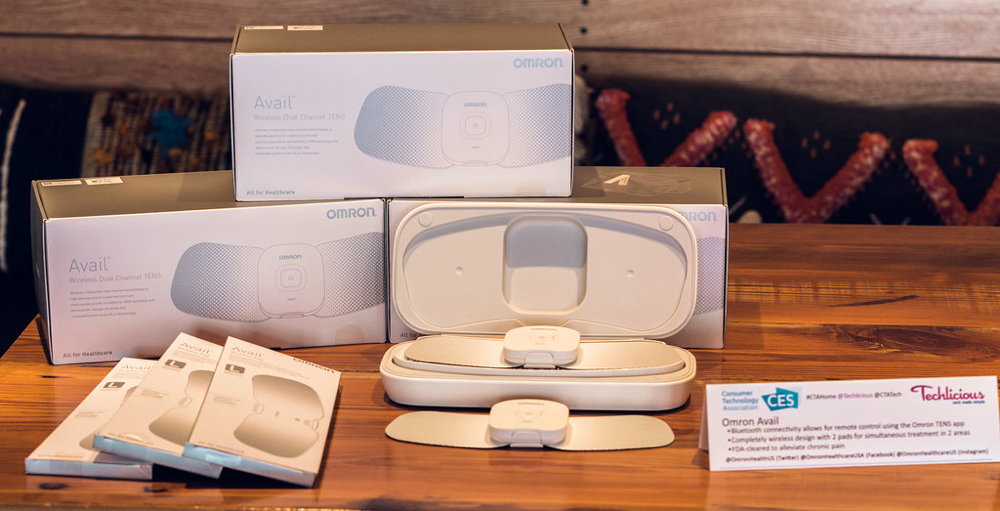 The above is the Omron Avail, and it's what's known as a TENS system. That stands for "transcutaneous electrical nerve stimulation" and it's a pain management blessing, whether you suffer from constant pain from an injury or just have achy calves from a run. I did't actually try it, but a few gals around me did and said that it was "tingly", which means it's working. If you have chronic pain, this could prove to be a real blessing once it's widely available.
During all of this, we mingled and socialized too:
After having a chance to check out each of the products and talk with the reps, it was time for lunch and, oh, what a delicious lunch it was. The menu: Savory Tart (asparagus, english peas, meyer lemon & ricotta), Skuna Bay Salmon Salad (cucumbers, olives, potatoes, dill & dijon vinaigrette), Pasta Bolognese (beef, lamb, port, tomato & parmesan), Grilled Asparagus (black pepper aioli & grilled onion), Cherry Tomatoes (marjoram, smoked sea salt & cotija) and, as dessert, Sticky Toffee Pudding (with pecans and vanilla ice cream). I know, sounds fabulous, doesn't it? It was!
Finally, props to CTA and Techlicious for both the event and the photographs that I have used for this article. It was a terrific – and darn interesting – event.