I have some clients that I need to bill on a monthly basis and it'd be terrific if I could use Paypal for this purpose. From what I can tell, however, you need a premium account to do so. Is there any way around it? I can create "subscribe" buttons for my site, but I'd like something a bit more graceful and professional…
You're close to the solution you seek if you know that you can create subscription buttons on PayPal, but most people don't realize that anything you can create with HTML from the site as a button you can also produce through the handy PayPal button creation tools as a clickable link.
I'll show you: Click on this link — https://www.paypal.com/cgi-bin/webscr?cmd=_s-xclick&hosted_button_id=62DMKTDNFMJRU — and you'll see how it takes you to PayPal and gives you the opportunity to create a recurring payment to me of a few dollars per month.
That link, of course, can be just as easily sent in an email, included in a Facebook fan page update, or even shortened with a service like Bit.ly and included in a tweet on Twitter. It's easy, once you know how to create it.
The trick, of course, is creating it, particularly when you realize that the URL information is actually encrypted by PayPal to protect the seller information.
So let's have a look. First off, log in to your PayPal account. Now look along the top and you'll see:


Go into "Merchant Services" and you'll see the main options:
There are more options, but it's "Create payment buttons for your website" that we're interested in, so click on that to proceed.
Now PayPal shows a long, complex form with a ton of different input fields. Take a deep breath. You can do this: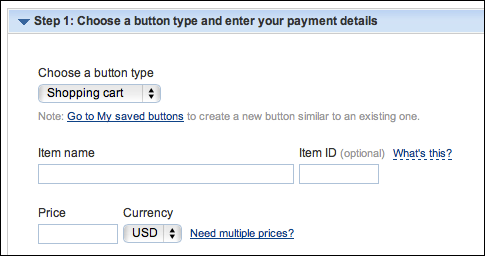 Start by picking the correct type of button:
Subscriptions
: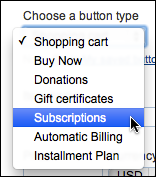 You'll notice that the information requested changes once you specify that button but I'll just show you the minimum required for your subscription / recurring billing link to work.
Start by specifying an item name. I suggest something description, as you can see:

Below it there's some stuff you can safely ignore, so move down to the following, where you specify how much your going to charge: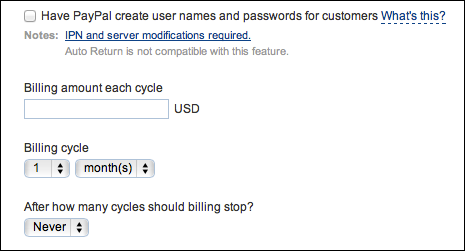 At the top of this area you can see that if you'd like, you can have PayPal create new account info for customers. For some customers that could be preferable to having the recurring billing come out of their main account, but for most people, it's probably unnecessary.
Below you can also specify the specific billing cycle (notice it'll support quarterly, annually, etc) and how many cycles until the cycle automatically ends. The latter can be useful if you have, say, "three payments of $39.99", which can be easily set up here.
Looks good? Scroll down a bit more, you're almost done.

This is a bit subtle, but if you're unsure about having people gain access to your PayPal account email ID, use the former option of "secure merchant account". If not, use the latter.
That's really all you have to do. Scroll down a bit further and you'll see there are entire areas that you can customize and fine tune, but for this purpose, it's unnecessary:

Simply click on "Create Button" and have it produce the HTML needed for you to add it to a Web page, like so:

What? That's crazy complicated!
I can hear you think.
Don't panic. Look at the tabs along the top. Click on
Email
and…

That's more like it. Just copy and paste that link into an email message that you are going to send to your customer or client, and once they click on it, they'll be good to go and the recurring billing will be initiated.
Again, if you want, try clicking on that very link. Don't worry, you won't have to pay me anything without a confirmation button or two having to be clicked. 🙂
Recurring Subscription Link from PayPal:
https://www.paypal.com/cgi-bin/webscr?cmd=_s-xclick&hosted_button_id=62DMKTDNFMJRU
.