I'm hoping you can help me out; I want to create a new group on MySpace for my MySpace friends so we can communicate more easily than leaving comments for each other. I heard it was ez but havn't figured it out. Can you help a gal out, DT?
You heard right: it is pretty darn easy to create a new MySpace Group, but before you do, you should have a quick peek at what's out there as there are quite literally millions of groups on MySpace. Really, it's pretty darn overwhelming, with 7,888 sorority/fraternity groups, 8.743 pets and animals groups, 28,028 entertainment groups, 98,982 music groups, a staggering 412,540 "other" groups and even 10,205 gay, lesbian and bi MySpace groups.
You can easily search for interesting groups, by the way, by going to top level category Groups and using a specific keyword or two. For example, a search for parenting reveals 571 parenting groups on MySpace. Who knew anyone on MySpace had time to be a parent? 🙂
To create a new group, however, click on the "Create Group" button on the Groups area, or just use my handy shortcut: Create a MySpace Group
You will now get a huge number of different options, so let's step through them a few at a time: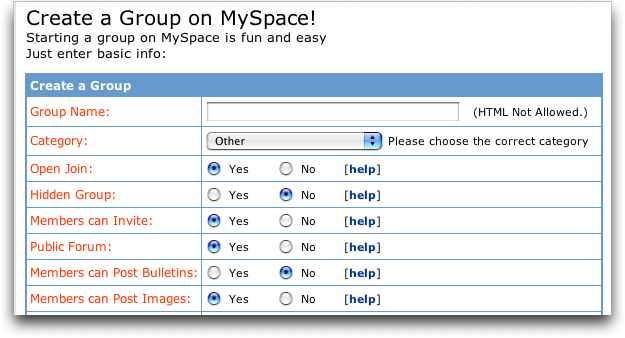 You can see why "Other" is the most common category here: most people never bother to categorize their group, even though there's a nice taxonomy of almost forty different choices. Please, help people out in the future, pick something other than "other".

Open Join
: Do you want people to be able to join your group upon finding it, or do you want to have some control over the membership? Choosing "Yes" for Open Join will leave it wide open, like a party with no guest list.

Hidden Group
: Do you want people to be able to see the group if they do a search that would otherwise match your group name or description or browse your category? If so, leave this as "No".

Members can Invite
: As you might expect, if you enable this, your members will be able to invite other members. In the real world, this can be a quick death to a party, but on MySpace, it might be an easy way to have minimal controls over membership without it being wide open.

Public Forum
: Can your members post bulletins, or just you, the owner/moderator? If everyone can, that's a "public forum". Confusingly, this seems to overlap with "Members can Post Bulletins", and the MySpace help doesn't clarify which is which either. Probably just a simple redundancy.

Members can Post Images
: Oh, you can imagine what that's going to be about, especially if you have a MySpace Group that's, um, "mature content". :-\
Wait, there's more:



Here's where you get to play "MPAA Ratings Board": is the content of your discussion board going to make a sailor blush or is it ready for your 80 year old granny to read? 🙂
MySpace likes to categorize the group by your location: you can either enter all the info requested here, enter some made up values, or skip it, depending on your desire for privacy. In your case, if it's for your pals, it might not be a big deal.
Finally, you are asked for three additional fields of information: Short Description, Description and requested group URL: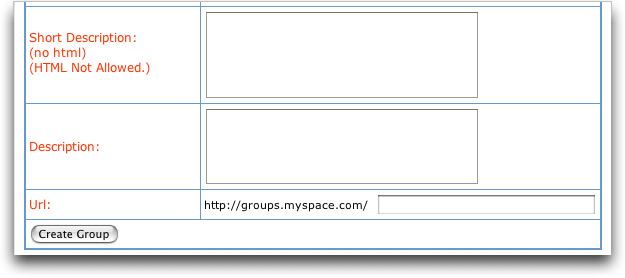 Here's where you might want to think just a wee bit about
findability
: if you'd like to have your group be easily found, make sure you use lots of synonyms and keywords in your description fields. That way when people search for "dog" or "canine" or "puppy", for example, they'd find your dog fancy group.
Finally, the URL needs to be unique, so try to pick one that's unlikely to have been used before, but is still reasonably mnemonic so your friends can find the group anyway.
Once you're done, click "Create Group" and you'll be invited to upload some photos: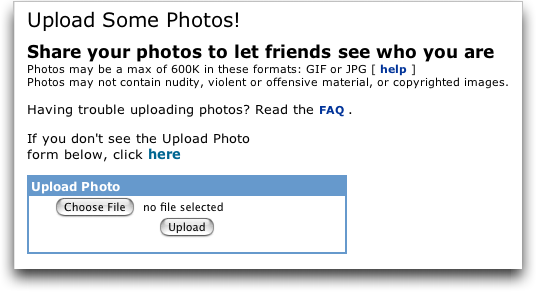 I didn't bother when I created a group, so it's rather confusing that there's no "congrats, your group has been created!" message here, but, yes, your group is created. Click on
Groups
on the top navigational bar and now you'll notice that on the left side there's a small four-option menu list: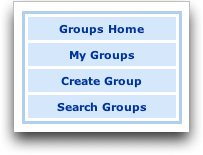 Click on "My Groups" and you'll see a list of all groups you've joined, including the one you've created: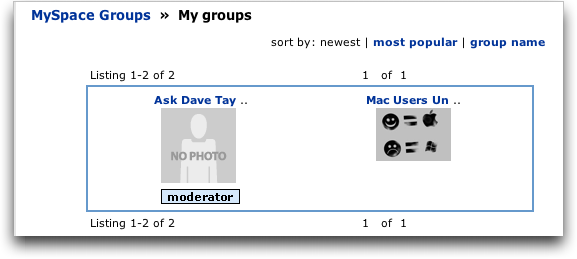 Me? I created
Ask Dave Taylor, The Fan Club
and you can see it on the left side, listing me as moderator.
That should be enough to get you up and running with your group. If more questions arise, please don't hesitate to let me know!
While I'm at it, I have a lot of additional
MySpace Help
here, and you can also become my friend by checking out my
MySpace profile
.