How do I create menu folders [ed note: actually you're talking about app folders on your iPhone / iOS 4 home screen] on my iPhone 4?
If you've seen Steve Jobs give his slick demo of what Apple now calls iOS 4, the operating system on the latest generation of iPod Touch and the iPhones, you might have both been impressed and a bit confused about exactly what he did because, well, it's fast and intuitive once you know what you're doing.
The trick is that you need to get the iPhone ready for you to rearrange icons (by tapping and holding on any app icon) then drag one onto another. After a second or so, they both are dropped into a folder, which you can then assign a custom name.
It might be easier to just show you, I suspect…
Here's a pretty typical iPhone app screen, with all my apps shown in a neat grid: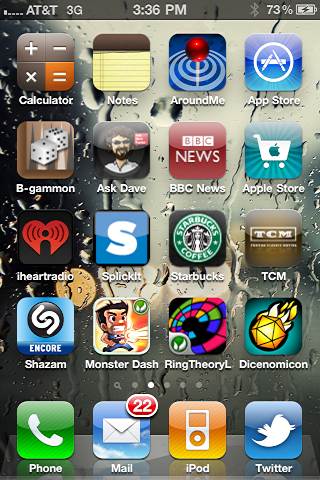 To switch to organizational mode, I simply tap and hold on any of the apps. Once I do, they jiggle and those apps that are able to be deleted (not all can: the built-in iPhone apps can't be removed) also get an "X" on the top corner too: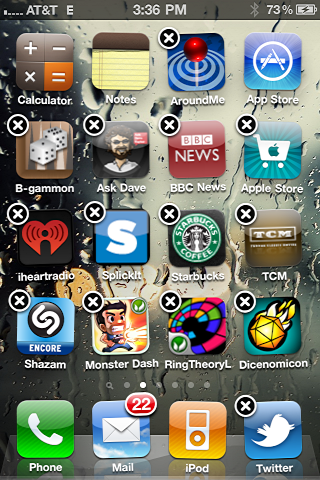 Now here's the trick: drag one of the app icons on top of another one. In this case, I'm dragging Monster Dash onto Ring Theory. After a second or so, it creates a folder and picks a default name based on the category of the apps: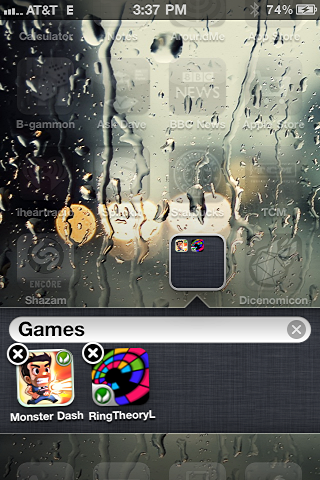 To change the name associated with this iPhone app folder, I tap in the text input field and the keyboard pops up: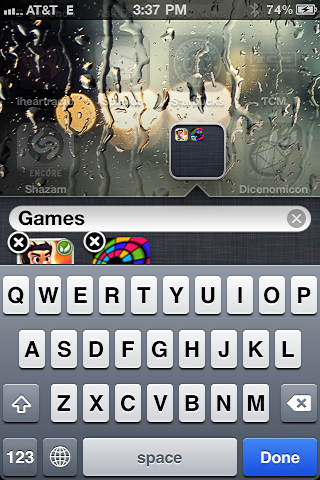 I'm good with it as is, though, so instead I'll just tap "Done" on the lower right. And here's my folder, neat as can be: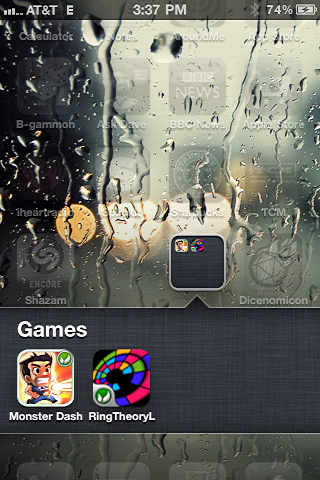 If I tap anywhere other than the subfolder area, it closes up and I see the usual set of iPhone apps displayed:
That's all there is to it! Hope that helps you organize your iPhone / iPod Touch apps in iOS 4.