Now that I have read your splendid tutorial on how to create a Facebook fan page (see How to Create Your Own Facebook Fan Page) I want to take the next step and set a custom URL shortcut for the page. Can I do that, or is it reserved for just the big guys in the fan page world? If so, what's the procedure, Dave?
Glad my tutorial was helpful. As you'll see from these other Facebook fan page articles, my fan page is not only a place where you can sign up as a fan of Ask Dave Taylor (and please do become a fan of Ask Dave Taylor on Facebook) but also a place where I experiment and figure out how to do things easily in the world of Facebook.
First things first, though. It used to be you needed a ton of fans to be able to set a custom URL for your Facebook fan page, but then late in 2009 they changed it to a minimum of 100 fans. Just before the end of the year people experimenting realized that the minimum had dropped even lower, and as far as I know, you only need 25 fans to be able to set a custom URL.
To start, log in to your Facebook account, then in a new browser window or tab, go to the following URL:
http://www.facebook.com/username
If you've already set a custom URL name for your Facebook account itself, it'll look like mine does:



As you can see, the custom URL for getting to my Facebook profile is "facebook.com/d1taylor" ("davetaylor" was already taken by the time I tried to get it, alas). Below it is what we want, though, "Set a username for your Pages". The first three words are the link. Click on 'em and…



Check out that pop-up menu to see what pages you have that are eligible for a custom URL:



You can see that I am an administrator of the South Africa Project too, but that's not what I want to work with, so I'll pick "The Ask Dave Taylor Fan Page". Now I can play around and try different shortened URLs to find one that works:



That doesn't work because they need to be a minimum of five characters long. Enter one that works, though, and you get a nice popup: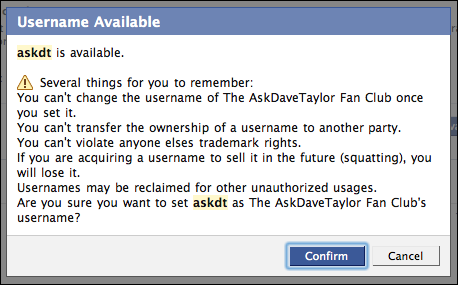 If you like the name you've specified and are cool with all the small print it displays here, then click on "Confirm" and you've just set a custom URL for your Facebook fan page, congratulations!

As for me, I found out through experimentation that someone else appears to have registered "askdavetaylor" as a shortcut, which is a violation of our registered trademark , so we filed a complaint with Facebook and waited to see what transpired. Therefore I didn't actually register "AskDT" after all, even though it appears I must have done so to get to this point in the process. Stay tuned!