I'm going to be loaning my Windows PC laptop to my brother but don't want him to mess with all my files. I know that Windows 7 supports multiple user accounts because I obviously log in to get to my own. How do I add a new account for him to use?
Smart solution to a common dilemma, whether it's a computer you're loaning to a relative (very nice of you!) or a PC that your kids use occasionally. Instead of worrying about them installing software, messing with your files and data and even reading your email, just set them up with their own user accounts.
Turns out you can do this quite easily on just about every modern operating system available, including Mac OS X, Linux and, of course, Microsoft Windows. Win7 makes it super easy too, once you know where to look.
Before you proceed I'd suggest that you spend a minute or two thinking about how many accounts you want to set up, what user names would be most easily remembered, and whether any of the users need to have administrative access or not. If you give them admin access on a Windows laptop, for example, they can change the configuration, add additional user accounts and install new software. If you just give them a regular user account (what I recommend) then they're just a "user" and can't do anything that an administrator would do. Makes your system safer and much more likely to return fully functional!
To get started, go to "Control Panels" from the Start menu. It'll look like this:

The option you seek is on the top right: "Add or remove user accounts". Click on it and you'll go to a rather confusing window that simply shows you the accounts that already exist on your Win7 PC laptop:
Look more closely, however, and you'll notice that the first text link below the box with the account icons is actually labeled "Create a new account". Sounds good. Click on it.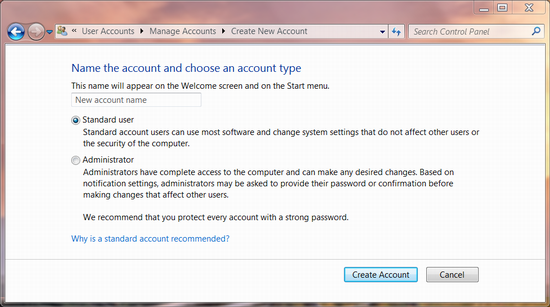 Now this is looking more like what you'd expect! As you can see, it lets you choose between a "standard user" and an "administrator". Unless there's some very special reason that the new account needs to have direct administrative privileges, I would strongly recommend that you always use "standard user". And 10x if it's a child who might otherwise experiment and install random stuff that could infect your system!
For this demonstration, I'm going to create a standard user account for my friend Ashley. I enter that as the new account name near the top, then click "Create Account"…
Her standard user account has been created, but there's no password. What the heck? Why Microsoft doesn't let you set up an account password at the very same spot is a mystery to me, but let's go ahead and add a password because it's just a good practice! To do that, click on the new account icon…
Lots to do here if you're motivated, including changing the icon picture, setting parental controls (that'd surprise your brother!), deleting the account entirely and what we seek: "Create a password". Click on that second option.
There you go. Enter a good password that's hard to guess and easy to type, something that your brother will remember, then specify a hint that'll remind him if he spaces out but isn't the actual password (which defeats the purpose of a password in the first place!)
Done? Click on "Create password" and you're good to go. Just remember to log out before you give the computer to him or he'll never know you created an account just for him.