My boss wants me to set up a poll to ask our users about conference venues for our annual user group meeting. On Google Plus. How can I set up a poll on G+??
Seems like an excellent use of the slick poll mechanism on Google Plus, actually, though as you seem to be intimating, it is an interesting question whether Google Plus is the right venue for the poll. Then again, there's nothing stopping you from having multiple polls and aggregating the data, gaining responses from people on Twitter, Facebook, even email (try SurveyGizmo for email surveys, by the way!)
As with any poll, however, less choices generally translate into more responses, so instead of listing, say, twenty possible cities where you might host your user group meeting, I suggest you start with a max of 3-4 possibilities, then you can send out a second poll to narrow down the choices. Of course, with a user group meeting, a great strategy is to analyze the zipcodes of everyone who attended the previous year's event and plot it on a map. Then you can ask "what big city is closest to the majority of people who attended?"
In any case, Google Plus makes it super easy to set up a poll and analyze the data as you go. Before you start, simply have a single photo or image you can use as that'll prove quite important. For our test, I'm going to poll people about ice cream flavors. Because ice cream is kinda like a meeting, right? 🙂
To start, simply go to Google+ and click as if you're going to enter a status update:
See those four graphical icons along the bottom? Left to right they're "photo", "Web link", "poll" and "location check-in". If you guessed that you want to choose the third, poll, you're right! Click on it and you're ready to go:
Except there's not much indication of how to proceed, unfortunately. That's okay, start by loading in the image you've saved, ideally an image that'll catch people's attention and cause them to read the text around it, the actual poll itself. You can simply click on "Upload photo", as shown:
Once you've selected and uploaded your image, it should look like this:
You can add additional photos by clicking on the blue camera icon, but one image works fine too. Now simply click in the first box labeled "Choice 1" and it'll reorient the input boxes and make it easy to add fields. Then type the choices in, clicking on "Add Choice" as needed to add the number of fields required. For me, it's three:
We're not done yet, however, because on Google Plus you sort of build the survey / poll instrument backwards. A click on "Done" and now you'll be able to actually specify the poll question itself:
Here's where you can tap a few formatting tricks on Google Plus: A word or phrase surrounded by asterisks becomes bold and a word or phrase surrounded by underscores becomes italic in the final display. With that in mind, here's what I end up with as my poll:
Pretty darn nice looking, actually, and now you can see how the image helps drive attention to the poll in the first place. Armed with this information now you can go and set up that poll for your own users and find out where the next meeting should be!
24 hours later, here's what it looks like with 25 responses logged: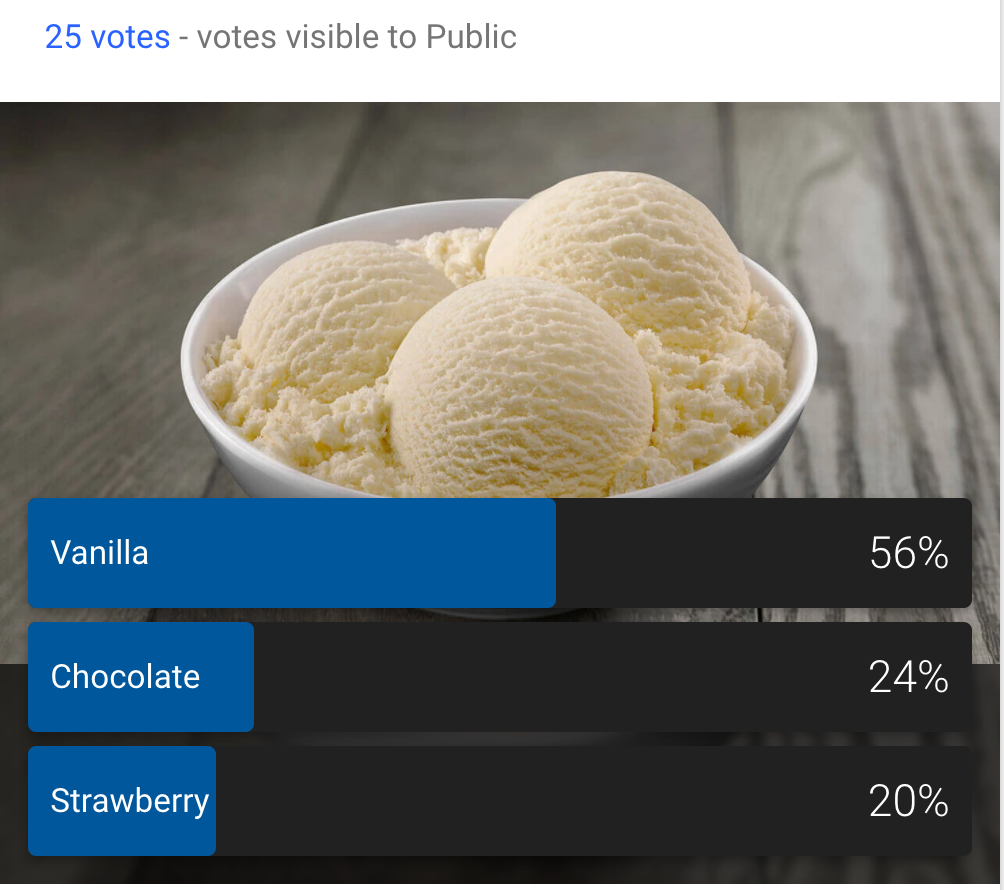 Pro Tip: While you're here why not follow me on Google Plus and check out all our Google Plus help tutorials too?