I'm constantly sending files to colleagues and would like to compress them to save space. I know that Windows 8 has support for compressed files, but how do I use them?
While a number of Win8 capabilities are tricky to work with, compressed folders are a breeze. In fact, you'll be surprised how few clicks are involved in creating a special "compressed" folder and dragging whatever you'd like to include within. Having said that, I'll also say that this feature hasn't changed much at all in a long time and works the same in Windows 7, Vista and probably Windows ME and Windows 3.1 if you're still running that. Well…. maybe not Windows 3.1. 🙂
I'll demonstrate how to create a compressed folder, but it's a bit hard to understand what it's doing: the system presents it as if it's just a regular data folder, but as you add things, they're automatically being compressed, and if you attach the folder to an email, for example, it's actually a file itself with the ".zip" suffix. Weird.
To start, go to your Desktop in Windows 8 (or any other version of Windows you might be running), and right-click on the background.
A menu pops up: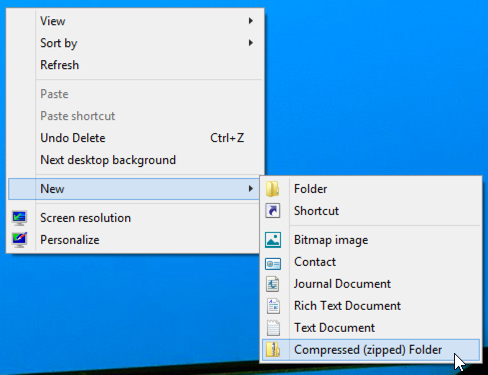 As you can see, the last entry under the "New" submenu is "Compressed (zipped) Folder".
Choose that and a new "folder" shows up on the Desktop:

Not a very creative name, so the first thing Microsoft assumes you want to do is rename it. Since the name is already selected, simply start typing in a better name like "Miller Project" or "Africa Pics". Or leave it as is by clicking on the Desktop.
Now you can drag files, pictures, music, movies, whatever you'd like into the folder and it'll be compressed as it goes. I prefer to put copies of files in the folder, however, which is easily accomplished by holding down the Control key while you drag things in. That looks like this in action: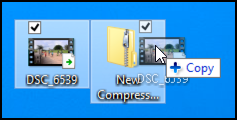 When you let go of the Control key and the mouse / trackpad, a tiny menu pops up: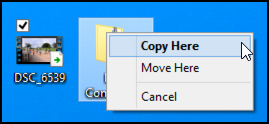 Choose "Copy Here" and add everything you want to the folder .
Easy!
At any point you can double-click on the folder to see how it's doing with the compression:
You can see that I've added a text file (which it confusingly says is a "3 File" type), two PNG images and a MOV movie. The third column shows the compressed size of the file, the fifth the original size and – most interestingly! – the last column shows how well the compression algorithm did trying to shrink the file down. The first data file was reduced by a whopping 90%, from 37K to 4K. Impressive. On the other end of the scale, Win8 couldn't compress the DSC00434 image at all, with the starting size and final "compressed" size the same.
Still, we went from a combined 38K down to a far more transportable 11K. Add another dozen files and the size reduction could be even more dramatic.
Note that this is also how you work with zip archives too, so if your boss says "zip it up and send it", this is the fast way to do just that, by creating a Compressed Folder. Want to extract something? Easy enough, just drag it out of the folder.