You're going to laugh, Dave, but my kids keep figuring out the simple four-digit numeric passcode I use on my iPad. They then log in and read my email, buy stuff, and generally raise Cain. It's awful. I don't want to lock up my device. Is there a way I can have a more complicated, harder to guess password or passcode on my iPad 3?
You're right, I'm laughing. Seriously, four digits = 10**4 or 10,000 possible combinations of digits for your passcode. Even if they can guess one password every two seconds — which would be pretty darn hard! — it'd take them 5.5 hours to try ever possibility, and I'm sure they'd tire of the exercise way before then. I mean, who wants to waste five hours trying to hack into mom's iPad?
Still, the reality is that people don't pick four random digits because if you forget them, you're kind of in a pickle, so you instead pick four digits that you know. The last four digits of your phone number, credit card, your Dad's phone number, or even your street address. Indeed, I believe that most passcodes and passwords are best used to prevent strangers from jumping onto your devices anyway. Still, take a simple four-digit sequence and swap digits or reverse the digits. If your phone number ends in 9113 then 1931 is an easy transposition, or 1139 simple "rotates" everything left one slot. Easy, fast to enter (don't let them watch you enter the passcode, btw, or the sneaky monkeys will learn your code anyway!)
But as it happens, the Apple iPad, iOS 5.x, does have a more sophisticated password capability you can enable that'll let you use a word, sequence of letters and digits, etc. Remember how there were 10,000 possibilities for four digits? A seven-letter word with mixed upper and lower case offers a far more impressive (26*2)**7 or 1,028,071,702,528 possibilities. That'll keep them busy! 🙂
To get started go to Settings and tap on "General":

What you want to do is disable "Simple Passcode", right there in the center. Slide that to "OFF" and you'll be asked to enter your own four-digit code (so your kids don't disable it, I presume, though if they can already hack your iPad it's rather moot):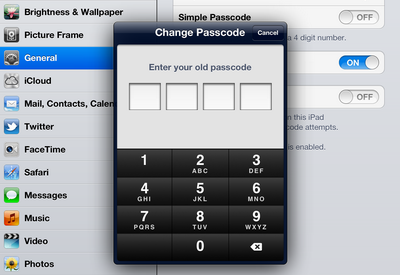 Enter that correctly and it'll prompt you for a new passcode that's not composed of digits, but can be anything you want. A word, a sentence, a sequence of punctuation marks. In fact, continuing with our math theme, if you use upper and lower case, digits, space, comma, tab, period, or any of the other 30-odd punctuation marks on a standard keyboard, a four character password would have an impressive 71.6 million possibilities.
Enter it once: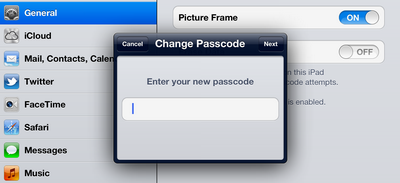 Now enter it again: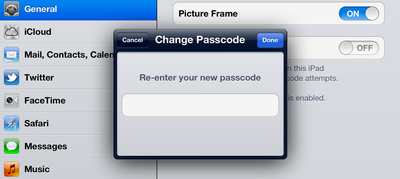 That's it. Now when your iPad is locked, unlocking it is a bit more daunting: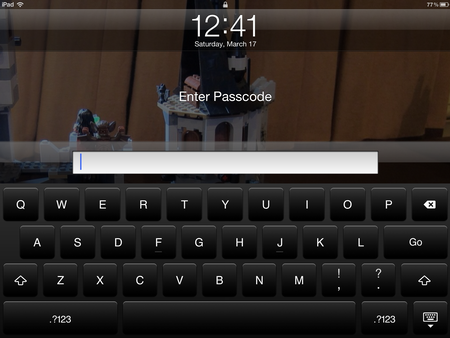 Good luck with your sly kids and your new iPad.