My buddy sent me a link to a shared Mac document in "Notes". I had no idea you could share Notes! How do I do that myself? Running the latest MacOS X…
Most people don't realize it but that handy Notes program that's included with MacOS X is quite a sophisticated application with many more features than it seems. At first glance, it's just for text and perfect for shopping lists, etc. But no! You can format text, add images, drop in an audio file or sketch and more. It stays in sync across devices too, so a Note you begin on your iPhone shows up just about instantly on your Mac too. And, yes, it lets you share…
The best case scenario with sharing a Note is that everyone has a Mac of some sort or an iOS device, because then it really is going to be joint editable and can be quite fun. Even a shopping list can evolve even as you're looking at the Note itself. For everyone else, the link produces a readable copy of the Note, so not quite as useful, but still pretty slick.
To start this demo, let's jump to a note in Notes that my daughter's been using to design her new bedroom. She sketched the design on an iPad version of the program but it shows up here on my Mac system too: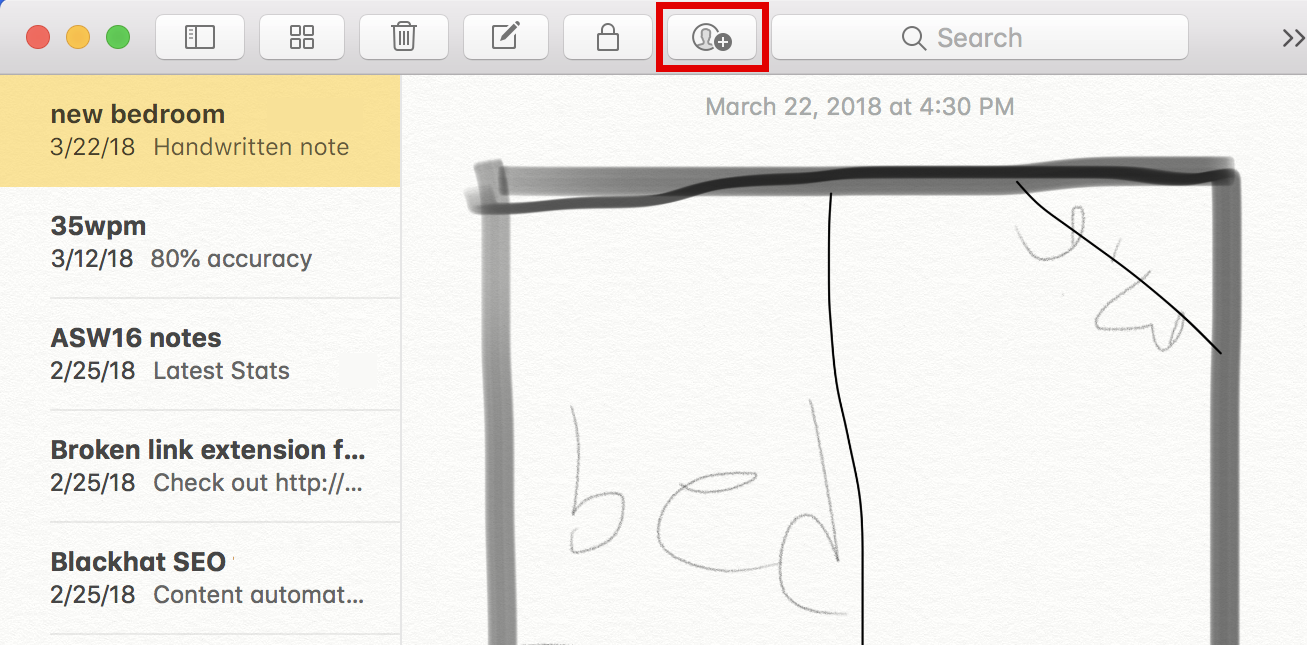 On the left you can see some of the other notes I have in the system, all neatly synced. To share this one, simply tap or click on the share icon. I've highlighted it above.
A window pops up: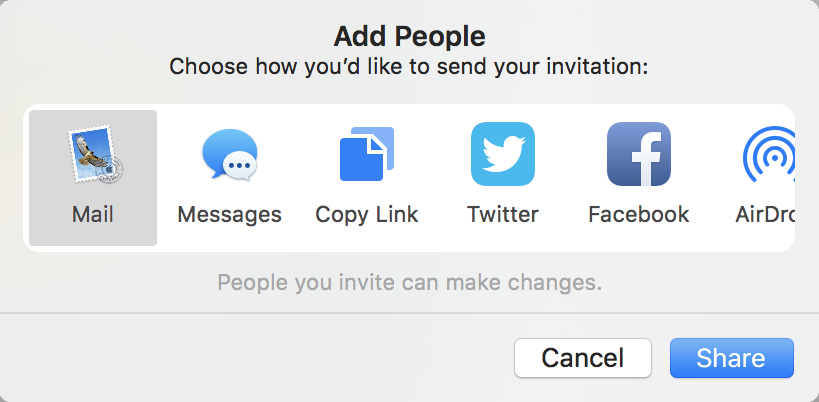 There are a lot of ways you can share a Note with someone, from Facebook to Twitter links, email to text messages. I'll do the latter, so tap on "Messages". It appears, ready to send, so I'll specify my friend Brian as the recipient: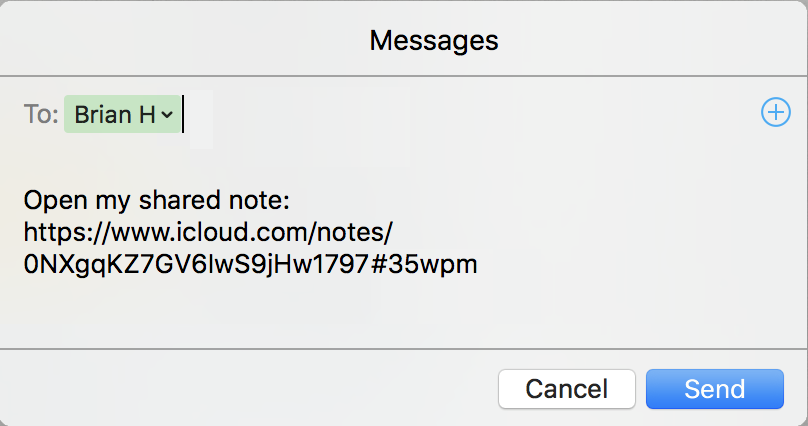 You can see upon examination that it's utilizing the icloud.com service that Apple uses as the cloud storage. That works. Brian simply taps on the link and if he's on a Mac or iOS system, it'll open up within the Notes app. For everyone else, it'll just pop open a Web page with the document shown.
On the receiving end, when Lamar shares a Notes document with me – a shopping list for a potluck – here's what I have pop up on my screen after I click on a link quite similar to the above:
After a few seconds it figures out what's going on and offers me the chance to open – or reject – the document that will appear in my Notes app:

I'm going to do it! A click on "Open" produces the desired result and here's the signup list!
Wait, what did I sign up for again? I'll have to scroll down to find out.
In this case, a click on the same share button produces different information:
One more trick that's super useful: Choose "Highlight all changes" to ensure that you can differentiate who typed what into the document. It gets much more colorful: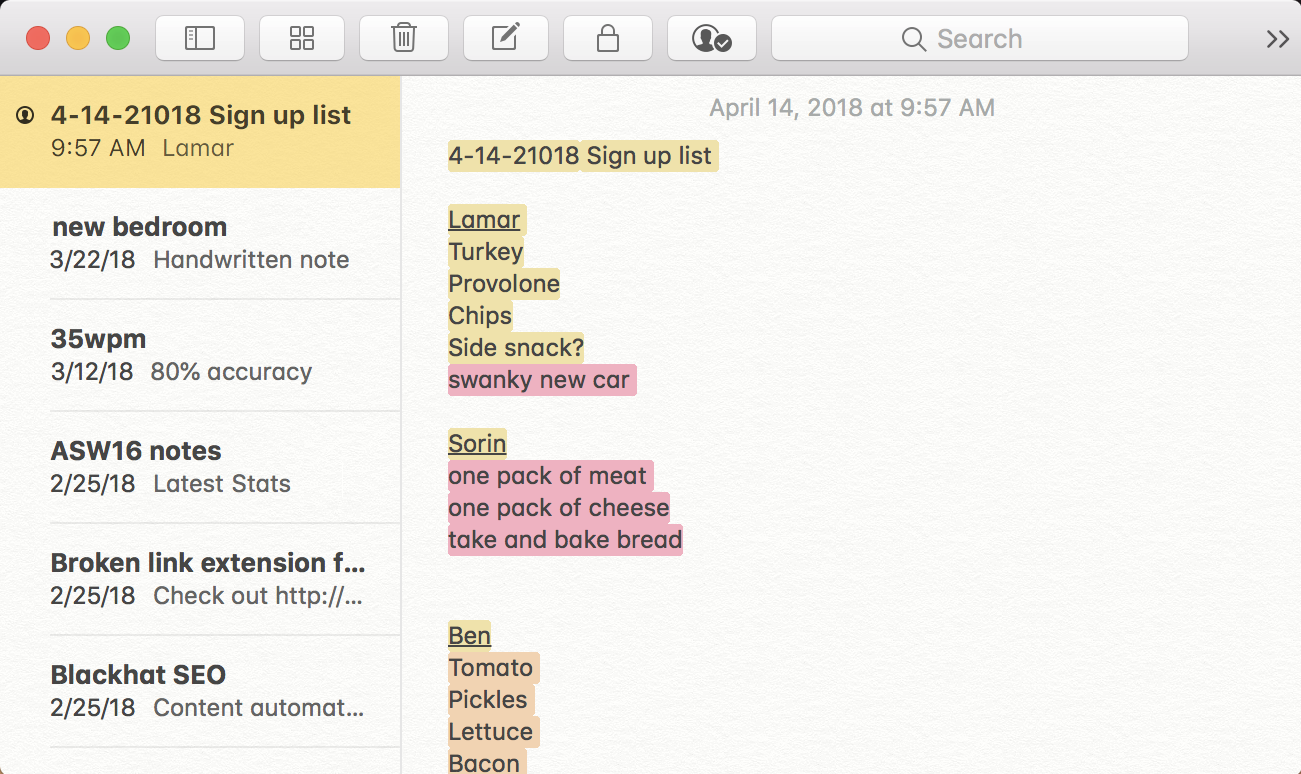 If you're really paying close attention, you'll notice that the colors used for highlights are identical to those shown adjacent to each user in the shared view. That's pretty slick for a program most people figure isn't really good for much at all!
So definitely check out Notes on your Mac or iPhone. You'll be surprised at all it can do.
Pro Tip: While you're here, I invite you to check out our extensive Mac help tutorials too. Thanks!