Earbuds have been quietly evolving in the last decade or so. From mediocre sound and fragile wires, companies have tried a wide variety of different designs to figure out the consumer's sweet spot. With the incremental improvements in Bluetooth connectivity, wireless now accounts for most of the latest audio gear on the market.
But it turns out that wireless audio encompasses quite a variety of design forms, from full size headphones without wires to earbuds connected to a collar you wear around your neck (but is wirelessly connected to your audio source) to earbuds connected to each other with a wire that rests behind your head. The hip and trendy units, however, eschew all wires entirely and are basically just the earbuds and nothing else at all: all the circuitry is jammed into the tiny little units.
Apple dominates the category with its expensive AirPods, paired white earbuds with a 2″ extension that rests over the bottom of your ear. With a few hours of battery life and a small external charging case about the size of a container of dental floss, they are remarkably popular, and relatively expensive at $159. If you're not a fan of Apple products, however, they're not a great choice.
Enter the Crazybaby Air 1S, competing truly wireless earbuds for sports and active listeners. Let's start with a photo of the earbuds in their charging tube:

When closed, the tube is just a bit over 5-inches long and the earbuds themselves have a recessed button that gives you some level of control over functionality. Left and right work differently, however, so you might want a cheat sheet handy when you're first getting the hang of it. Left controls phone calls: one push answers or hangs up on a caller. Right controls music: one push for pause/play, two pushes for next song and three pushes for previous song. What you can't control is volume, that's still controlled on the music source itself.
One feature the Air 1S have over the Apple AirPods (I have both) is that because they tuck into your ear, they're better for active sports like running. Apple created "Find My AirPods" as a feature in Find My iPhone because people kept losing their earpieces. You can see in this photo, however, that the Air 1S stick neatly into your ear: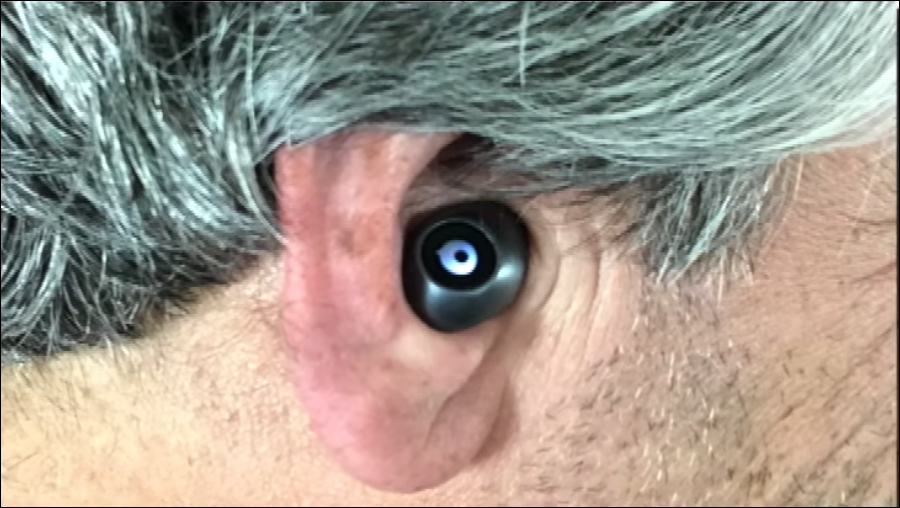 Contrast that with this closeup of the earbud units themselves:
As you can see, they're quite small and have a simple design. The button on the edge is slightly recessed too, and there are 3 different size eartips that are included, along with three sizes of sleeves if you want them to have even more protection from the environment.
Handy tip: With any product like this, always take the time to try different size eartips before you settle on your favorites. It can make a remarkable amount of difference in the quality and richness of the music and the comfort of the fit!
Battery life with these is comparable to the Apple AirPods: approx 3 hours of regular listening on a charge, then you can put them into the charging tube and recharge them three times, for a total listening time of up to 12 hours. This is naturally affected by how loud your music is, so if you really jam out with your volume set to 11 (Spinal Tap soundtrack?) then you'll get less battery life.
You can also take phone calls with these and it's an interesting experience because Crazybaby utilizes its "3D virtual surround sound" tech to aurally position the caller in front of you, rather than in your right ear. It's weird, actually, and the first time I experienced it I thought my phone was on speaker, not using the Air 1S at all. Once you get used to it, though, it's surprisingly effective. Unfortunately, the person on the other end of the phone call reported only acceptable audio quality when I was speaking.
And, finally, there's the audio quality itself. I was impressed with the Air 1S audio once I switched eartips to match my ears. A solid sound with just enough bass to let me forget I was listening to a tiny speaker and a surprising soundstage thanks to the 3D surround signal processing. Don't like the EQ? There's an app that lets you adjust the sound for both iPhones and Android phones. Also note that these do not have any meaningful noise cancellation, so if you work in a noisy environment, these can mask the noise with loud music, but it won't subtract any background distractions. This is also true of the Apple AirPods, of course.
Tip: I created a video review of these too, if you'd like to watch it:
There are also some downsides to the Air 1S, however, not the least of which is the oddly designed charging tube. This is quite inconvenient, particularly since there are no indications on the tube of orientation. It's easy to open up the tube upside down and if you were on a subway, say, have a casual bump cause you to have one or both earbuds fall to the floor. (they are held in by a magnet but it's not super strong). The tube is also really big compared to the Apple dental floss unit, the latter of which easily fits into a pocket.
Is it fair to compare these to the Apple product? Yes, because they're priced identically. In fact, you can find the Apple AirPods for $144.00 (for example, on Amazon.com) and the Crazybaby Air 1S are currently priced at $159.99. For more than the Apple product, that makes these not a great purchase unless you really dislike Apple. If the price dropped to, say, $99, however, these Air 1S would be a good deal and a strong competitor to this growing segment of audio gear. We'll see what happens with the price over the next few months! 🙂
Disclosure: Crazybaby sent me a pair of the Air 1S for the purposes of this review.