Sure, happy to help, though if you've gotten through that first article you should probably be able to figure out this last step, particularly if you have enabled the Bluetooth menu. Why? Because the bluetooth status menu itself has a "Send File…" option: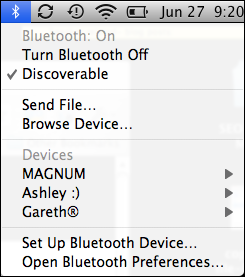 Still, let's go through the more standard path to accomplish this task because if you're like me, you do your very best to minimize what shows up on your menu bar. For me, it's an aesthetic thing, but that is, as they say, another story!
Once you've
paired your cellphone with your Mac
via bluetooth, the next time you go to the Bluetooth system preference, you'll see that device listed. Make sure you've selected it and you'll get all sorts of geeky incomprehensible information: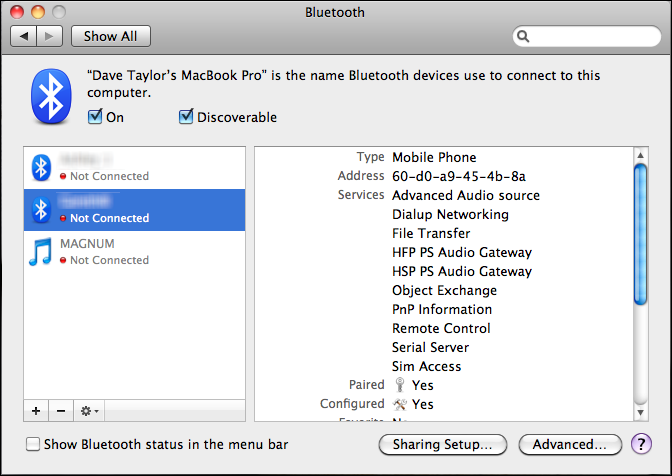 That's fine. ignore it all. Instead, on the lower left corner click on the little gear wheel:
Ahhh, there's that "Send File…" option again. Choose it.
Now you need to find the file (or files!) you want to copy from your Mac to your cellphone. Note that there's a useful file search function in the top right of this window, so you can simply type in part of the filename and it'll show up in the search results, as I have done here with "break your".
Select the file, then click on "Send" in the lower right and…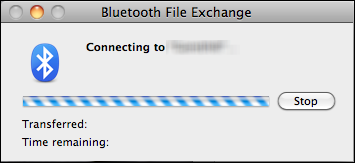 Quickly replaced by the actual transfer occurring:
I will warn you that Bluetooth is pretty cool, wireless, etc, but it ain't fast. In fact, if you're sending anything of any notable length then you might be waiting for rather a while as the transfer inches along. No worries though, as long as there's room it will work eventually and you'll have copied content from your MacBook, Mini, iMac, whatever, to your cellphone via Bluetooth!