I'm not just a big fan of Google Calendar, I also have a number of additional organizational calendars I occasionally view too. Sometimes, though, I want to copy events from a shared calendar to my private calendar. Is there any way to do this in Google Calendar?
I found myself in an identical situation just a few days ago and with a bit of poking around I am glad to report that I did indeed find a way to copy events from a shared, read-only calendar to my own read-write calendar. It's a bit tricky, but let me see if I can illustrate it here.
Before I do, I have to say that if you are an organization with any sort of calendar, be it a school, non-profit, charity, or government organization, it's a great idea to add all the events to a Google Calendar and then make it shared. In fact, you can search Google Calendar for shared calendars quite easily: type in a description of the organization or event you seek, then click on "Search Public Calendars".
One of the calendars I subscribe to, and occasionally check by having it shown on my regular personal calendar, is for TechStars, where I'm a mentor and fan.
A few days ago I noticed that some of the sharp folk from Yahoo were coming into town to talk with Techstars and I really wanted to move that onto my personal calendar so I wouldn't forget. Here's how it looked when I included the Techstars calendar: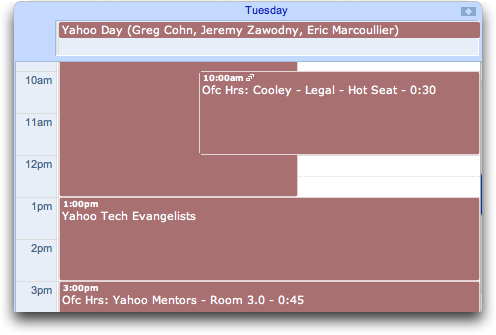 The event I wanted to copy across was "Yahoo Tech Evangelists", so I clicked on it to get a detailed event view: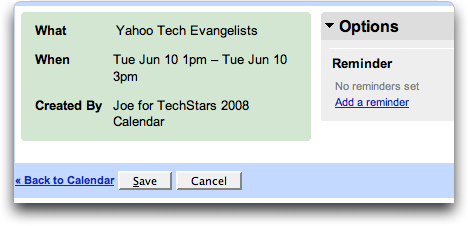 The key spot to look for is the "More Actions…" menu just above the Options area on the event display. Click on it and you'll see just what we need: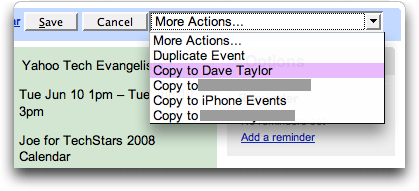 My personal calendar is, ingeniously enough, called "Dave Taylor" so that's what I choose and then a moment or two later I was looking at the "usual" Google event display for owned events:


Finally, I clicked "Save" after ensuring everything was as I preferred and saw this:


That's exactly what I want. Now, when I uncheck the shared Techstars calendar and just display my own, the event is still there, with minimal effort!