I'm impressed with the HD video camera built in to my iPhone 4 and use it a lot to record short videos. Problem is, they don't end up in iTunes so I can't copy them to other devices, watch them on my AppleTV, etc. I know that AirPlay is supposed to help, but that seems really complicated. What I want is a way to copy a video to the "movies" section of iTunes. Is that possible?
I have the same situation, actually. I take videos of my kids with my iPhone (doesn't everyone?) and want to import them into iMovie and ultimately save them as movies within iTunes since it gives me great flexibility. What I wish is that when I'm looking at the video on my iPhone there was a "move into 'movies'" or similar, but it ain't that easy.
It's possible that the solution I came up with is a bit more complex than necessary — in which case I'd love to hear about how others are accomplishing this — but my basic approach is to copy the movie from the iPhone onto my computer, import it into iTunes, then select it to sync with the iPhone next time I synchronize them.
Of course, for short video clips you can actually email them to yourself, which I find a fast and easy way to share media take on the phone. I do that all the time with photos as a fast way to get them into the cloud without having them publicly visible (e.g., MobileMe).
In fact, let's start there.
So here's a video I've taken and what I see when I select Share –> Email Video:


Time for plan b!
What I like as an easy application to copy photo and video content from the iPhone to your Mac is "Image Capture" (find it in Applications on your computer, it's part of Mac OS X). Plug in your phone then launch the app and you'll see all your videos show up as part of the available content: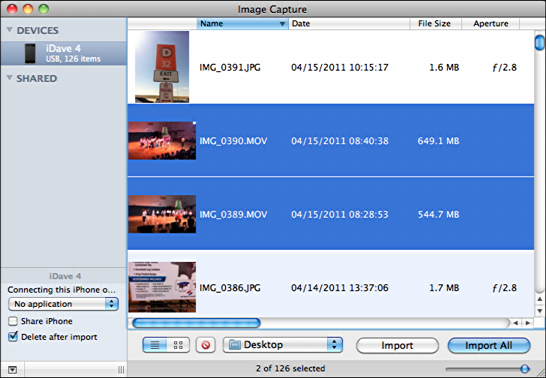 All you have to do is select what video segments you want to copy, double check that on the bottom it's putting them in the right place (it defaults to "Pictures", so beware), then click on "Import" to copy them onto your computer.
Once it's done, simply click and drag them all onto the iTunes window: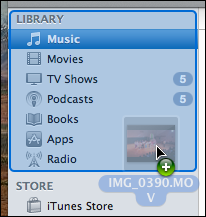 If they're relatively short you won't see this, but if they're big files, you'll get a progress bar on the copy:


Now they show up in "Movies" on iTunes, just as you'd hope: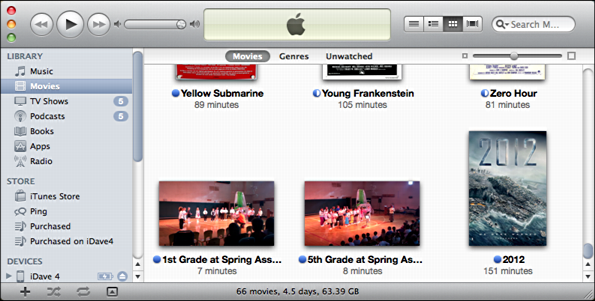 At this point you can do whatever you want with them, including copying them to your Apple TV, iPad, whatever.
Since I want to copy them back onto the iPhone and play them through the HDMI adapter on a big HDTV unit, I'll actually click on my iPhone on the left side, then on the "movies" tab along the top so that I see all my iTunes movies — including the new segments — and can check the box adjacent to each one to sync them:


Looks good. I sync my iPhone with my computer and the videos I've taken (and could have easily cleaned up with iMovie along the way) are now listed in the Videos section of the iPod app:


With the right cables, I can then play that directly on any HDMI-friendly device too, including a friends' HD television. Neat!
Finally, as I said at the beginning, there might be easier ways to move a video from your "Photos" library to the iPod "Videos" library, but I haven't figured it out.