I'm trying to figure out how to make a copy of a (yes, legal) DVD disk on my Mac and am stumped. I have Roxio Toast 7 Titanium, and I can see that it has a "Copy" mode and works with DVD data, but I can't figure it out!
I was recently copying some DVDs for my wife and after realizing that my PC had a DVD reader but only a CD burner, decided to switch to my Mac instead. After trying, and failing, with Disk Copy, I too fired up Toast Titanium, figuring it was the perfect tool for copying a DVD disk. I got it to work, but it's sure not obvious, and I have to say that the documentation doesn't make things much clearer either!
The first step is to launch the program then click on the "Copy" tab on the top:


then the "DVD" option just above the big record button: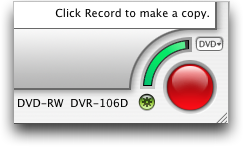 then on the top left, choose "Disc Copy":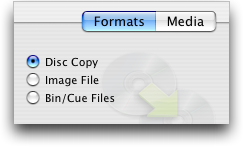 Lots of choices, but here's how it should look once you've made all the right selections: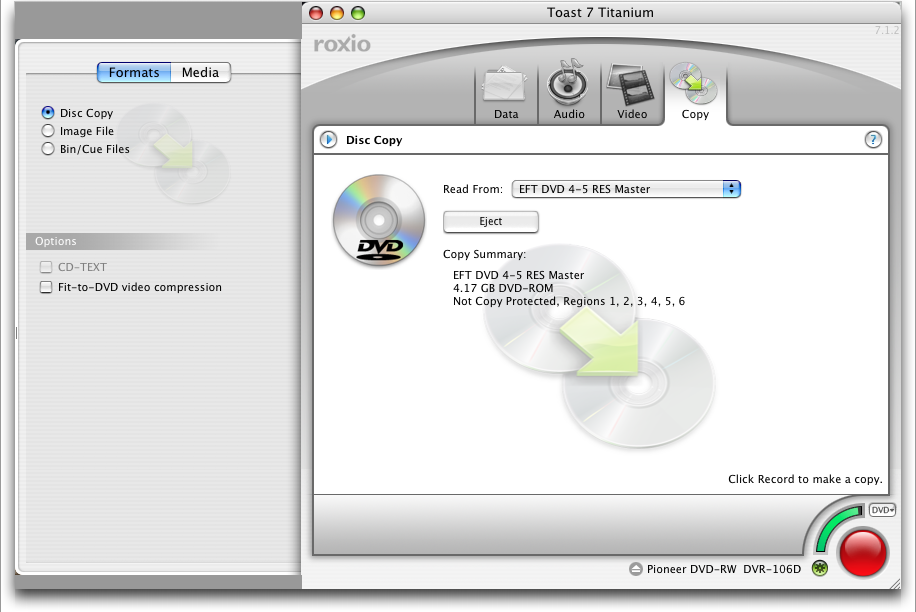 click for full size screen image

When you're ready to start your copy, put the master DVD into the drive and click on the red record button. Yes, I know, it made me very anxious that I was going to overwrite the disc somehow, especially since the next thing you see sure makes it look like it's going to try to burn the disk, not read it: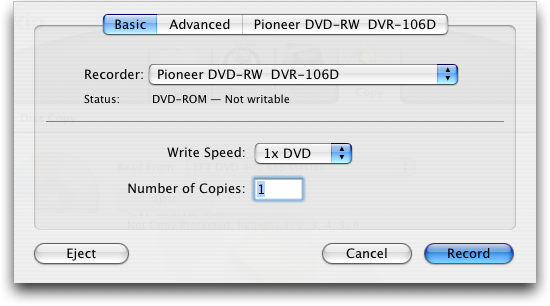 Again click on
RECORD
(trust me, this'll work) and you'll now see that Toast 7 is indeed reading the disk, not trying to overwrite it:



This can take a while as it copies the entire contents of the disk into a temporary storage area (which means you need at least 4GB of space on your hard disk to do this operation). Finally, though, it'll complete and tell you:



Now it looks like a successful copy, doesn't it? Phew!
The original DVD will have been ejected from your Mac, so you can simply put the recordable media on the tray or slip it into the drive. No need to press any buttons on most Macs as it'll automatically detect it and start writing the data back onto the disk itself.
This process will take a wwhhhiiilllleeee… often an hour or more, during which you receive scant feedback other than the slowly filling progress bar:



Eventually, though, that'll be done too, Toast 7 Titanium will "bing!" happily, eject the blank disk and you should have a successful copy of your original master DVD disk. Oh, and while I'm showing this, it's worth mentioning that this is exactly how you copy a CD too, whether it's a data CD or an audio CD. I just don't understand why, when you're in "copy disc" mode, the button isn't labeled "read original source" rather than "record".