I know I can go to the Apple iTunes Store and buy movies to download onto my iPhone at a rather painful $10-$15 per movie but there are two problems. First, the selection is extremely limited, and, worse, I already own tons of DVDs. Between my Mac and PC, surely there's some way to copy one of my favorite movies onto my iPhone so I can watch it on the go?
If there's one subject that both gives the movie industry the heebie-jeebies and demonstrates what a raw deal us consumers get with modern digital media, it's copying movies for use on other platforms. After all, if you just bought a DVD disc for $20 or more, it seems quite reasonable and legitimate for you to be able to view and enjoy that on any device capable of playing it, from your laptop computer to your iPod Video to, yes, your iPhone. However, ask the Motion Picture Association of America and they'll promptly brand you a pirate ready to be sent to jail or at least sent to the end of the plank, and beyond.
The problem is that it's too darn easy to copy someone else's DVD and thereby amass a library of movies that you don't actually own. Definite problem and it unquestionably is affecting sales of DVDs and therefore the revenue stream of movie makers, production companies, motion picture studios and even actors worldwide. So here's my solution: don't copy other people's DVDs. Only copy your own.
Okay, with that disclaimer in mind, I have to say that hands down the easiest and best way to copy commercial DVD movies and repurpose them for your Apple iPhone is to get a Windows PC (or run Windows within Parallels on your newer Intel-based Mac) and use a great piece of software called Clone DVD Mobile and its companion security cracking utility AnyDVD. Together they're about $50, but if you convert four of your DVD movies to work on your iPhone, you'll find that you've just paid for the software and, a big bonus, the movies are much smaller than the iTunes Store versions too, as you'll see.
I'm going to show you how to convert a commercial DVD, The Adventures of Buckaroo Banzai: Across the Eighth Dimension!, for the iPhone with the apps mentioned, all installed within Windows XP on Parallels on my MacBook Pro. It works. No kidding. 🙂
Interestingly, when I put the movie DVD into the computer, Windows XP promptly says that I don't have the proper decoder (video people call that a codec) to play the movie, but I ignore it and just launch Clone DVD Mobile and select the output device, which is iPod Video, but soon I imagine there'll be a specific "iPhone" setting too:


Next step is to find the DVD on your computer – usually it's D: or E: – and select it. Since the DVD reports to the operating system its own name, you'll probably see a folder called something like I do, "BUCKAROO_BANZAI", with "VIDEO_TS" and "AUDIO_TS" folders therein. Select the top-level movie and it'll let you pick what tracks and chapters you want to include in the converted video file: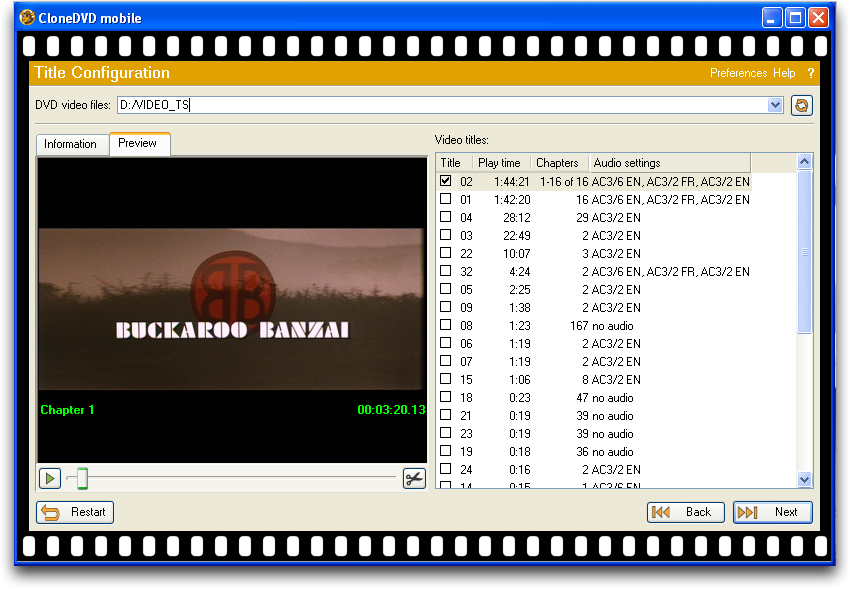 The next step is to select audio and subtitles, or, like me, to make sure that they aren't included in the resultant movie. What's nice with this is that if you have, say, an English language movie with other audio tracks, you can easily and permanently switch the movie to Spanish, French, German, Italian, whatever else might be available. This can be particularly helpful if you have Asian-language videos with dubbed English as an alternative audio track. Here's how that looks:


Now it's time to pick an output file name and, most importantly, an output format. Notice the slider: you can have higher or lower quality video encoding and dramatically change the size of the resultant file here. I opt for slightly lower video quality ("20" on the scale, the default is 23) at 428×320 which should look great on the iPhone and my iPod Video, but won't be very attractive on my big computer screen. I can live with that! The resultant file size is 782MB, compare to the 1.4GB filesize for a similar length movie (
Enemy of the State
) I downloaded from the iTunes Store. That means I can have two movies of my own in the same amount of space as one purchased from the iTunes Store. Since we don't yet have 1TB iPhones, that's darn important!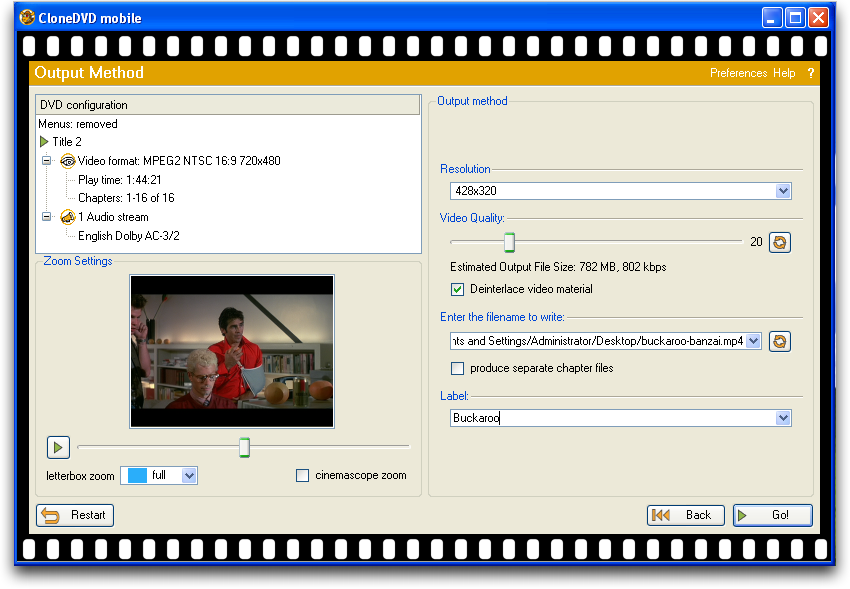 At this point you can also adjust the letterbox zoom, which I always do. I don't mind a little bit of letterboxing so that I'm close to the original image aspect ratio, but with a screen that's less than 4″ in total size, losing 40% of the image to letterboxing is not good. Want to see the movie as you would on TV? Choose "cinemascope zoom".
Ready to go with all your settings? Click "Go!" and sit back, it's going to take a while…


The program estimated 55 minutes to encode this 1:44 movie, but I clocked it at a little less than two hours. Since I was running in the Parallels virtual machine, I think that's still pretty darn good, actually.
Once it's done you'll get a notice that it's post-processing to prepare the video file for iTunes playback:


And, finally, your new video file is ready to copy and go!
Almost. Now you need to find it and copy it from the Parallels PC world to the Mac so you can add it to iTunes. No problem, though, as Parallels conveniently mounts the C: drive as a shared device in Mac OS X, so it's easy to open it up: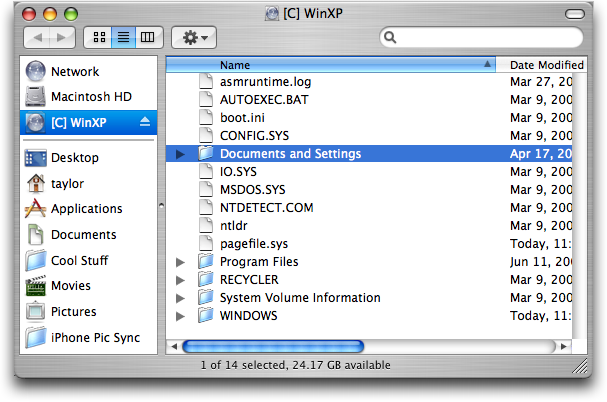 Navigate to
Documents and Settings
–>
your account name
(I am using Administrator for this example) –>
Desktop
and there it is:


Just about done. Just drag and drop the movie onto iTunes and in a few seconds you'll see that iTunes is copying the movie into your iTunes library:


Now plug in your Apple iPhone and go to the "Video" tab. You'll see your new movie shown, along with any other movies you have in your iTunes library: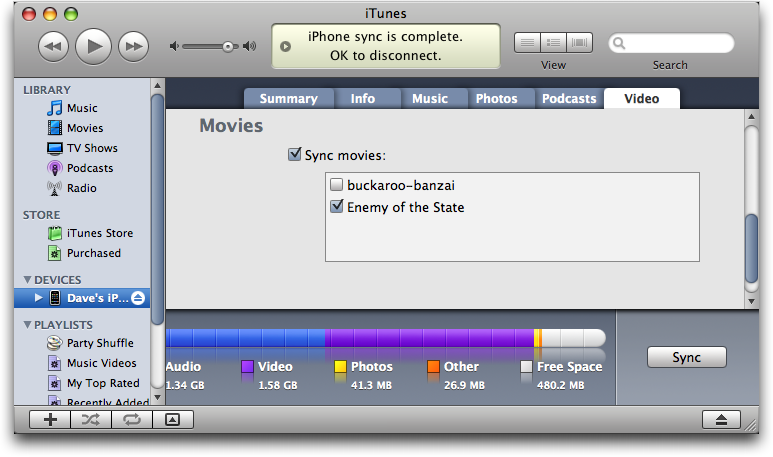 Unselect the movie or movies you have on the phone now and then select the new DVD file you created, press "Apply" and let it copy data across for a while. When it's done, you've got your commercial DVD movie neatly and conveniently on your Apple iPhone.
If your iPhone is paired to your PC rather than a Mac, then this process is even easier because you can just create the mp4 movie file in Clone DVD then drag and drop it directly onto iTunes for Windows and sync there. Really, it'd be 95% the same.
And as for me? Since I've been writing
iPhone help
tutorials for the last ten days, I think it's time to sit back and enjoy Buckaroo Banzai, because, well, wherever you go, there you are. 🙂