Seems so darn tedious to have to go into the Music app every time to control my iPhone playlist. Where else do play/pause/next/prev controls show up on an iPhone 11 running iOS 13?
A very fun question because it's clear the Apple engineering team has been asking this very same question as iOS has evolved; and there are cool new options in iOS 13 that weren't in iOS 12 too. But I'm surprised you haven't noticed that the lock screen on your iPhone shows controls if you're actively playing music, which makes me think your phone is never locked? If so, that's a bit risky from a privacy perspective and I encourage you to reconsider, particularly given that your iPhone 11 has face recognition which makes unlocking it as easy as looking at the screen.
Anyway, you can set up your phone as best suits you, of course, so let me show you some of the cool and innovative ways that you can control your music. But before we even get there, a lot of wired and wireless Bluetooth audio devices offer controls too, so don't forget that pause/play and next/prev might well be tucked behind a button or tap on whatever you use to listen to your tunes!
As I said, the first place you see a music player is on the lock screen, allowing others to pause your music even if you're not around and the phone's locked: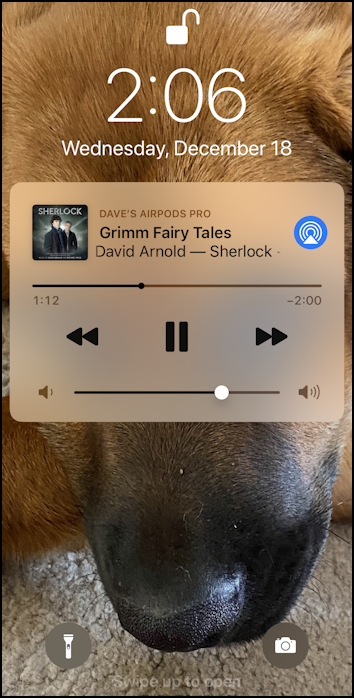 This is a very convenient controller, of course, and it offers an easy volume slider along the bottom, a visual cue that you're listening via Bluetooth (the blue circle), the track, Bluetooth device (see it in a lighter font? "Dave's Airpods Pro"), remaining time and much more. Nice.
Once you're unlocked and using your phone, you can swipe inward from the top right corner and bring up the shortcuts screen which, yes, offers a music player too!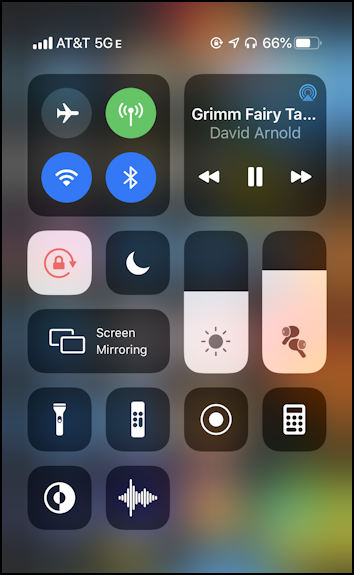 In this instance, you can also see the unique graphic for the AirPods Pro superimposed on the volume slider too. Tap on it and you'll be able to easily enable or disable active noise cancellation! Handy.
If you do a swipe downward from the center of your screen, you'll bring up search. Which can sometimes show some audio controls if that's something you've done recently. For example: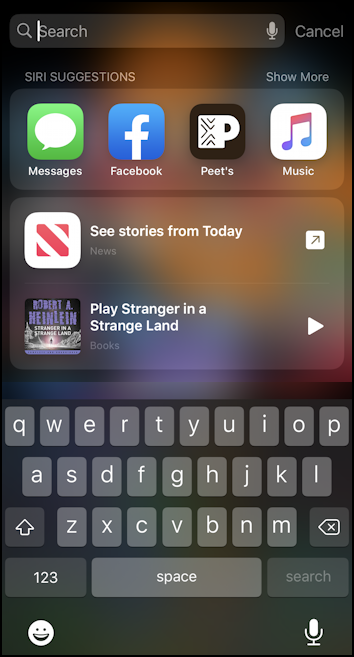 In this instance it's offering to resume playing the classic sci-fi audio book Stranger in a Strange Land from the Books app (yes, audio books are now in Books, now that iTunes has been split up).
You already know that if you pop open the Music app you'll also gain a small controller window at the bottom: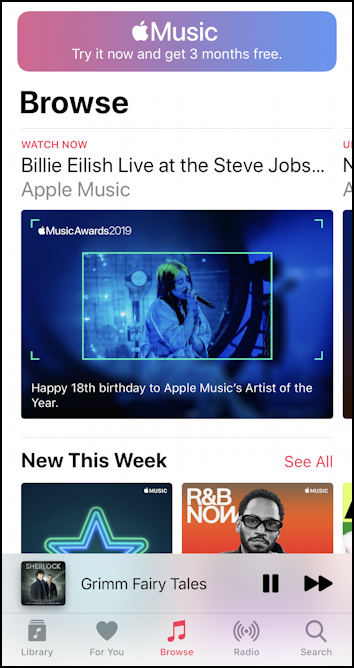 Can you see Grimm Fairy Tales with a pause and forward track button? Yeah, pretty minimal. But tap on the song name and you'll get a nice full-screen display: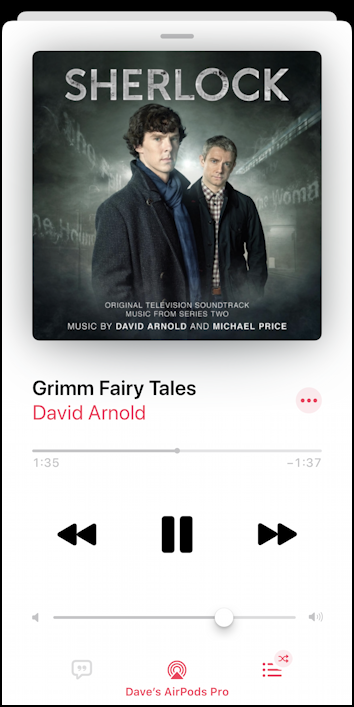 If you're listening to an album, artist, genre or playlist, tap on the three dot-line button on the lower right. It'll bring up a list of upcoming tracks if you want to edit them, skip a track or jump straight to a favorite: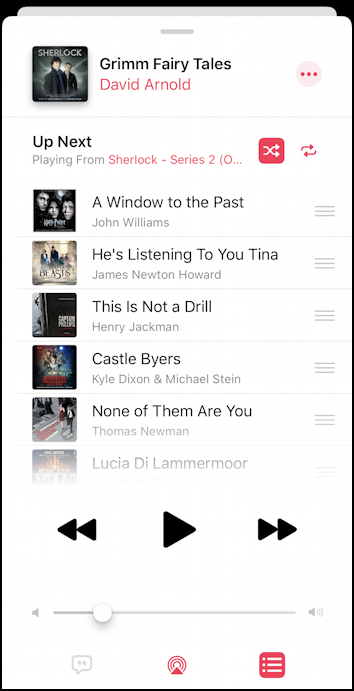 Tap on the "•••" on the top right and you can get more info and options related to the current track too: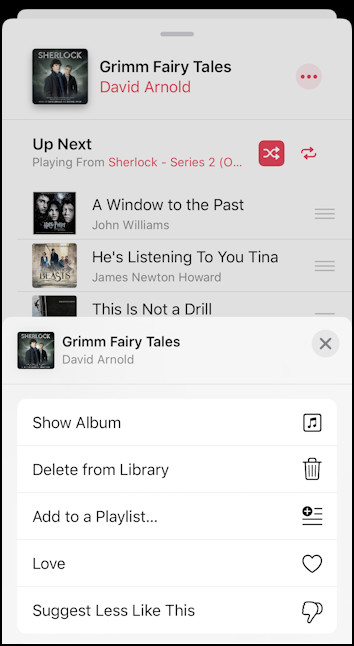 Finally, want to go back to the main track view? Simply tap on the album cover art and you'll be back where you started. That's about all the controls I know – particularly when coupled with your audio device – but don't forget that Siri can manage music too, so "siri next track" or "siri pause" work fine too!
Pro Tip: I've been writing about the iPhone since I got the first iPhone 1. Please check out my extensive iPhone help library for tons of useful tutorials!