I have a bunch of WMA format audio files on my Mac and really want to put them on my RCA Lyra MP3 player but it only supports MP3 format. Somehow, I need to convert the audio from WMA to MP3. How?
There are a bunch of audio conversion programs you can use to accomplish this task under Mac OS X, actually, including Music Man and Sound Grinder, but my favorite tool is the Australian-produced Switch for Mac, which also has a Windows version available.
I will note up front that I am assuming you have a legal version of the audio file that you seek to convert rather than it being an illegally downloaded copy. Why? Because it's hard to imagine musicians continuing to produce music if we're not paying for their art any more, don't you think?
Just something to keep in mind as we proceed.
Now, converting the WMA files with Switch is darn easy. First, download the application from their Web site and you'll find that it pops right up on your desktop. Launch it and you'll see: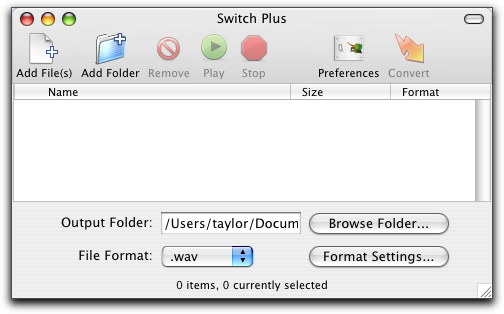 If you have a folder full of music, click on "Add Folder", then select the individual files that are in the appropriate input format (in my case, it's WMA).
Then click on "Browse Folder…" to pick the output directory, specify the audio output format from the long list, and click on "Convert":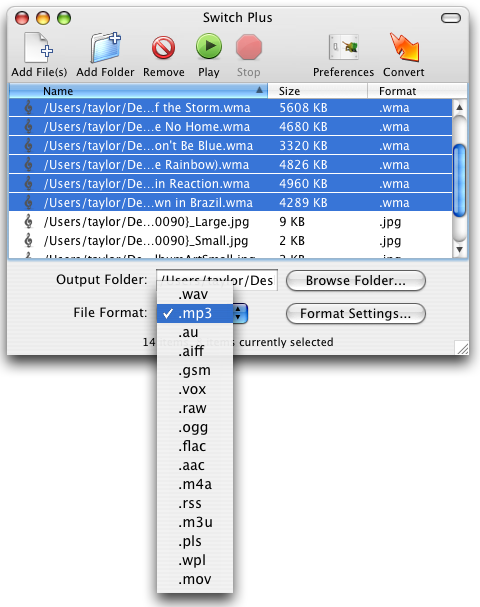 That's all there is to it!
Hopefully that'll get things converted so you can enjoy your Lyra MP3 player.
Update
: Experimenting with this again, I have learned that in many situations you need to download the utility
Flip4Mac
before
Switch
can work with Mp3 audio files. You can do this – for free – by
downloading Flip4Mac directly
.
Disclaimer: The Switch link is an affiliate link. You get a nice discount on the software license and I make a few pennies off the transaction too, helping keep the lights on here at AskDaveTaylor. FYI.