Just bought an Amazon Kindle Fire and it's very slick, but I want to drop my own movies onto it, not just be trapped having to buy them – again – from the Amazon store. I already know how to rip my DVDs into "AVI" format for portability across devices, but how do I turn an AVI movie into something that the Kindle Fire can play?
I have a brand new Kindle Fire too and it's been an interesting experience trying to figure out how things work after spending a few years exclusively on the Apple iPad. There are a ton of differences in the user experience — and Amazon's got a ways to go for the Kindle to be a useful general purpose Android tablet — but the FIre's surprisingly capable once you figure out how to make it work properly.
The first thing to realize before you drop your own movies onto the device is that it doesn't have much space. In fact, if they sold it by featuring the memory capacity, no-one would buy it, as there's just a smidge over 5GB of available space and no way obvious to expand it with an additional SD Card or similar. Considering my iPad has 64GB of storage, that's a huge difference.
Still, a typical two hour movie can be reduced down to about 800MB so that should theoretically give you space for 3-4 films if you don't load it up with music and photos, since it all taps from the same space.
To convert an AVI movie for the Kindle Fire or any other Android Tablet, presumably, you'll need to produce something that uses the H.264 format and is in MP4 format. The screen on the Kindle is a higher resolution, but it autoscales for 854 x 480 video so that's the target we'll use.
To accomplish the task, I'm going to use the terrific multi-platform utility Handbrake. Yep, you read that right. If you're on a Windows system, you can use the same program with the same settings to get your movie working on the Kindle Fire too. Nice. I'll use a Mac, however, so the UI itself is slightly different.
To start out, locate your AVI movie source and launch Handbrake. I'll use my own rip of the terrific Pixar movie Cars 2, as you'll see.
On the top bar you'll want to click on "Source":


Find and choose your AVI source file, then look on the right side of the same bar for the "Toggle Presets" button:

When you click on it, a small window slides out on the right with a long list of Apple devices you can use as the target format. No Kindle Fire, yet, but we can work around that!
Choose "iPad" under the "Apple" option, then look on the main window to see how all the defaults have changed for the output video format. There's one setting that you
must change
for the resultant video to work on the Kindle Fire, and that's "Large file size":
If you read the pop-up closely, you'll see that Handbrake warns you of incompatibility with this particular setting too. Just uncheck this box.
Now double-check the output directory and filename . It's smart to know where it's going to end up so you don't have to hunt for the Kindle Fire-ready movie! 🙂
If you're thinking I've done these sort of conversions in the past and then had to hunt for the output file, well, you'd be correct. 'nuf said on that topic!

Everything looks good, so click on the "Add to Queue" button on the top bar, then the "Show Queue" button adjacent to it, and you'll see something like this: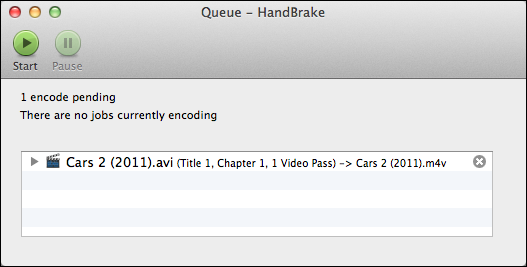 Press "Start".

This conversion will take a while. In fact, each movie you convert generally takes about 50% of the running time of the film, based on my experience. Have patience and it's a splendid time to go get a cup of coffee, do some laundry or pop by the gym for a quick run.
Eventually, though…

That's the hard part done. Now, how do you get the movie onto your Kindle?
Copying A Movie Onto the Amazon Kindle Fire
Turns out that if you have a standard MicroUSB connector, you can plug your Kindle Fire directly into your computer and it shows up as an external drive. At least, once you turn it on (plugging it in isn't sufficient to wake it up, one of the many usability differences between it and the iPad) and unlock it if you have a lock code.
On the Mac it's "KINDLE" and there's a lot of interesting stuff to see:
As I'm demonstrating in the image above, your newly converted
m4v
video file can simply be dragged and dropped into the "Videos" folder.
Once it's done copying you can unplug the Kindle because the last few steps are all on the device, we're done with the computer at this point.
First thing to realize — and it's a weird design decision — is that the "Movies" app isn't where you are going to find your own video content. That's exclusive to content you buy from Amazon and there's not even a link to "your own video library" or similar.
Instead you need to go to the "Apps" area and look closely. There's a "Gallery" app for viewing photos and that's where your video content will show up.
You can see the app dead center in this Kindle Fire screen shot:
Tap on it and you'll see a stack of whatever pictures you've downloaded onto the device (I have 49) and whatever videos you've copied onto the device too: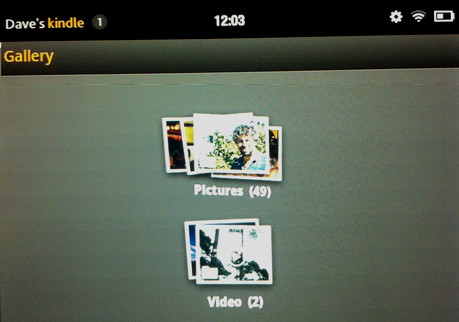 Tap on the stack of video stills and you'll see what movies are available:
Which is which? Who the heck knows. Another point where the Android user interface is completely underwhelming, particularly compared to the beautiful iPad display with its movie posters and preview information.
Still, it's not that hard to tap on a video icon and find out it's the wrong film. Just go back and tap on the other one, right?
In my case, the second video is
Cars 2
and it looks
great
on the Fire: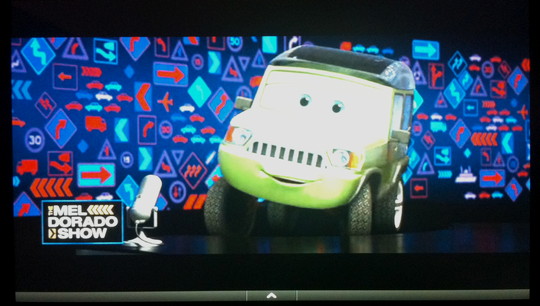 That's all there is to the process. A bit of work, but I always queue up a number of videos to be converted and let Handbrake work overnight. Then you can very easily copy everything in the background and your Kindle Fire's ready to roll!