I just finished up a 35 slide deck in Apple Keynote for a conference presentation next week and just learned that because they're using a TV projector they want all the slides in HD mode. That's 16:9 widescreen. How do I convert all my slides?
First, the bad news: It's going to be a pain to convert all your slides. The way that Keynote converts from the default 4:3 layout to a 16:9 layout is to add a bunch of empty space on both slides of each slide. So the slides you thought were all nicely laid out are going to end up looking pretty weird and all jammed up in the middle. In fact, you'll most likely end up going through every one of your slides cleaning things up.
If you haven't started a presentation, it's easy to pick a widescreen oriented template, which makes everything easy, but that conversion? Not so pretty.
So you don't have this problem in the future with Keynote, let me just point out that when you choose File > New this window pops up, showing the available templates and themes: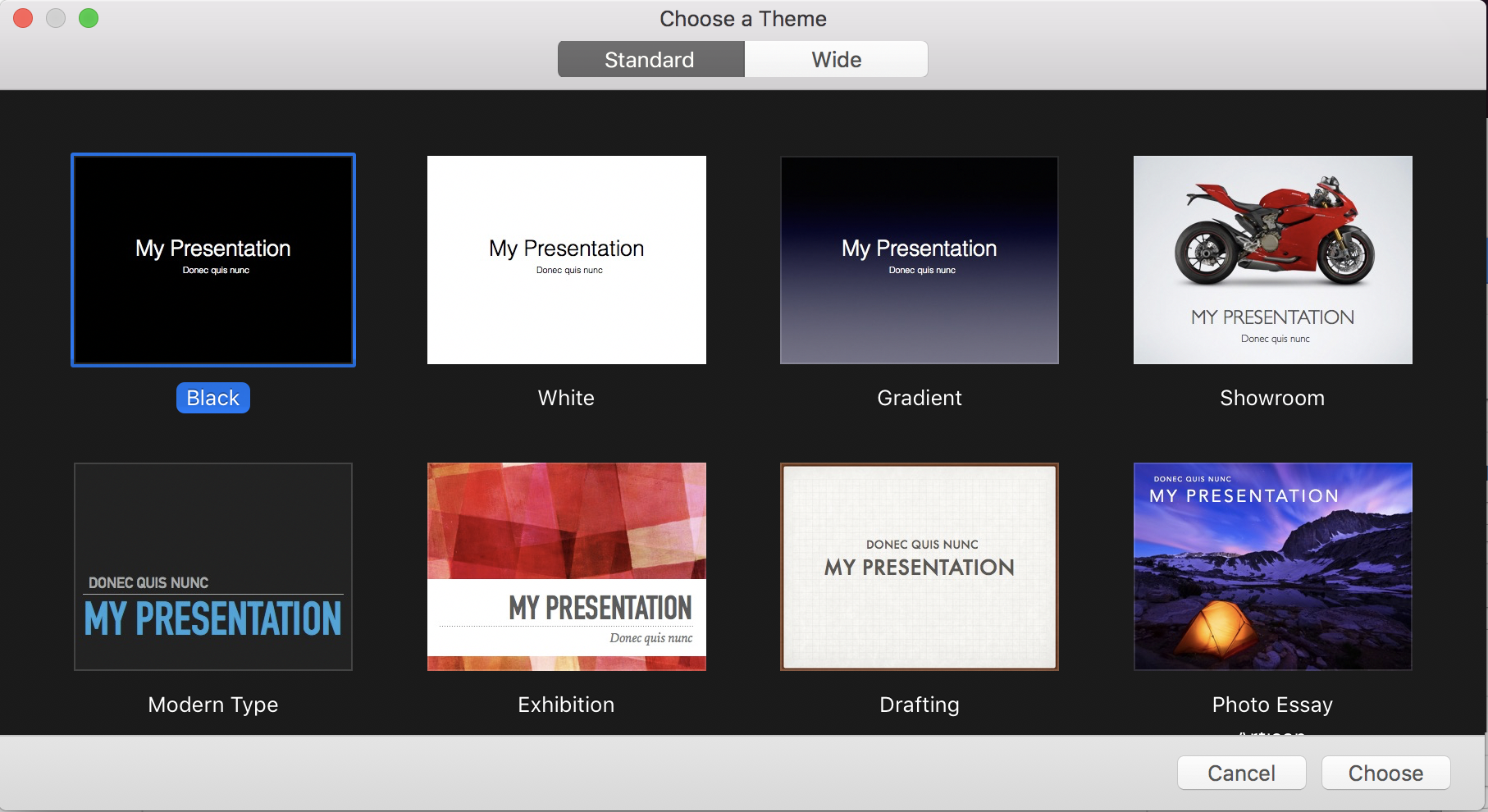 If you're like most people, you pick you favorite and click "Choose" so you can move forward. But look again. See at the top "Standard" and "Wide"? Ahhh, the lightbulb goes off! Yup, a click on "Wide" at this point before you pick a theme and it's all easy sailing from this point forward.
But you already have a deck you've created, so let's look at how to convert an existing presentation from 4:3 to 16:9 in Apple Keynote. Your probably facing something like this:
I know, your presentation has actual slides with actual content, but the basic edit view is similar. What you want to do is tucked away on the rightmost edge of the toolbar:

A click on the "Document" button and you'll see the overall layout and settings for your slide presentation:
One thing to notice is that you can change themes (but you can't change it automatically from a 4:3 to a 16:9 theme, unfortunately). Still, not all is lost! Look at the bottom entry. Here's a close-up:

Again, the bell goes off. Yes, this is how you switch from "standard" 4:3 to "widescreen" 16:9 for an existing Keynote presentation. And that's all there is. Now you'll just want to go through your slides one by one to ensure that they are all laid out as you desire and that things haven't been messed up.
Next time, pick "Wide" before you choose a theme and it'll be a lot easier! 🙂