My boss sent me some images in TIFF format to add to our company email newsletter, but the program can't read TIFF images. How can I convert them to JPEG or PNG on my Windows 10 PC? I don't have any fancy graphics programs.
You might be tempted to think that after all these decades of computers with graphics and with billions of customers, all these companies would have gotten together and figured out a single unified graphics format. They haven't. One reason is that different formats offer a different balance of compression and fidelity (smaller size produces lower image quality but faster network transmission) but there are also a lot of licensing issues, where companies have to pay fees to include some image formats.
The most popular image formats nowadays are still JPEG (Joint Photographic Experts Group) and GIF (Graphics Interchange Format), along with PNG (Progressive Network Graphics), but plenty of others still exist too, including HEIC (High Efficiency Image Container) and, yes, TIFF (Tagged Image File Format). As you've learned, your PC is pretty adept at opening up all these different image formats, but it's not at all obvious how to convert from one to another.
And yet, it's surprisingly easy once you know which program you need to utilize. Let's have a look!
OPENING UP A TIFF IMAGE IN MICROSOFT PHOTO VIEWER
Since your PC doesn't show file suffixes in most situations, you can hover your cursor over the file icon to find out more about it. Here's my TIFF file info, utilizing the album cover of a great old Tomita electronica album: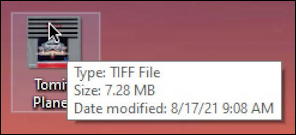 Double click on that TIFF image and odds are good it'll open with the default Windows app for the format, Windows Photo Viewer…
The problem is that Windows Photo Viewer is really good at letting you enjoy slide shows, but it can't do much of anything else. So we're going to just quit the program and open up the TIFF image with something else…
Tip: If you double click and it opens Photos, you're good to skip straight to the next section. Photo Viewer has an interesting history in Windows because it was included with Windows 7 and Windows 8, but is not technically part of Windows 10. It's part of most people's set of utilities because they upgraded from an earlier version of Windows to Win10. Now you know.
CONVERT IMAGE FORMATS WITH MICROSOFT PHOTOS
Right-click on the TIFF image icon and a menu will pop up that has lots of options, notably including "Open With…". That will let you choose Microsoft Photo Editor (aka "Photos") instead of the Viewer default:
As shown, choose "Photos" from the list.
The image will promptly appear again, but this time the surrounding feature choices are quite different:
At this point, you can edit, create new content, crop, zoom in, and lots more. What's not obvious, however, is the wealth of features and capabilities available from the "•••" link on the top right. Click on it and a menu of additional features and capabilities shows up:
I've highlighted "Save as", but notice that immediately below it is "Resize". Another super handy capability!
Still, we're just converting image formats…
CONVERTING A TIFF IMAGE INTO PNG ON A WINDOWS PC
Choose "Save as" and a File Save window will pop up, as usual. But I guarantee you'll be bewildered by the zillion choices when you click on "Save as type" at the bottom. Here's a subset of the choices offered:
In this instance, I'm going to save the Tomita album cover as a PNG (progressive network graphic) image. Choose ".png", give it a different name (or leave it as the same, Windows can handle two different file formats with the same base name), click Save and done!
Now I have two of what appears to be the same darn file on my Desktop:
I can use the same cursor-hover-over-icon trick to find out which is the PNG image:
That's it. Same image. Same file size. But in PNG format instead of TIFF format. Now you know, you can proceed with your newsletter design and production. Good luck!
Pro Tip: I've been writing about Windows 10 for years and have an extensive Windows 10 help library. Please check it out to find lots of additional tutorials and guides while you're here. Thanks!