When I post comics and clipart on Facebook it always shows up as if it's an animated GIF. But it's not. How can I convert a GIF image into a PNG image for the Web?
For reasons I cannot explain, once Facebook added support for animated GIF images, it seems to have lost the ability to differentiate between an image that has multiple frames (e.g., is animated), and one that isn't. Which is really annoying because there are still millions of GIF images throughout the Web and it's not unreasonable for you to be inspired to share one!
Earlier versions of Windows had a simple program called Paint that would let you easily convert images, but Windows 10 got rid of Paint and replaced it with a far more sophisticated – and therefore more complicated – program called Paint 3D. Great if you want to build 3D models on your Windows PC, but a bit of a drag for simple tasks like converting a GIF to a PNG. Still, doable. Here's how…
First off, a few quick definitions:
GIF = Graphics Interchange Format and while it supports multiple frames for animation, it also supports single image files.
PNG = Progressive Network Graphic and it's the technological successor to GIF and JPEG (Joint Photographic Experts Group) (don't worry, there's not a quiz!) that offers the best of both formats. When in doubt, always try to use PNG. And pronounce it "ping" to sound cool.
With your Windows system, simply right-click on a GIF file and choose "Edit with Paint 3D":
When I do this with the GIF version of my GoFatherhood dad blog site logo it looks like this:
Unfortunately, Paint 3D has an interface only its programmer could love, one where everything's hidden and tablet friendly. See the square just below the filename on the top left? Click on it and you'll suddenly see a completely new screen with all the File and other command options:
As you can see, choose "Export file" to save the GIF image in a different format. Then scroll down to the "Save as file" section and you'll see three image formats shown:
If you're guessing that you choose "2D – PNG" you're correct! Nice! Click on that and you'll be prompted to enter a new filename: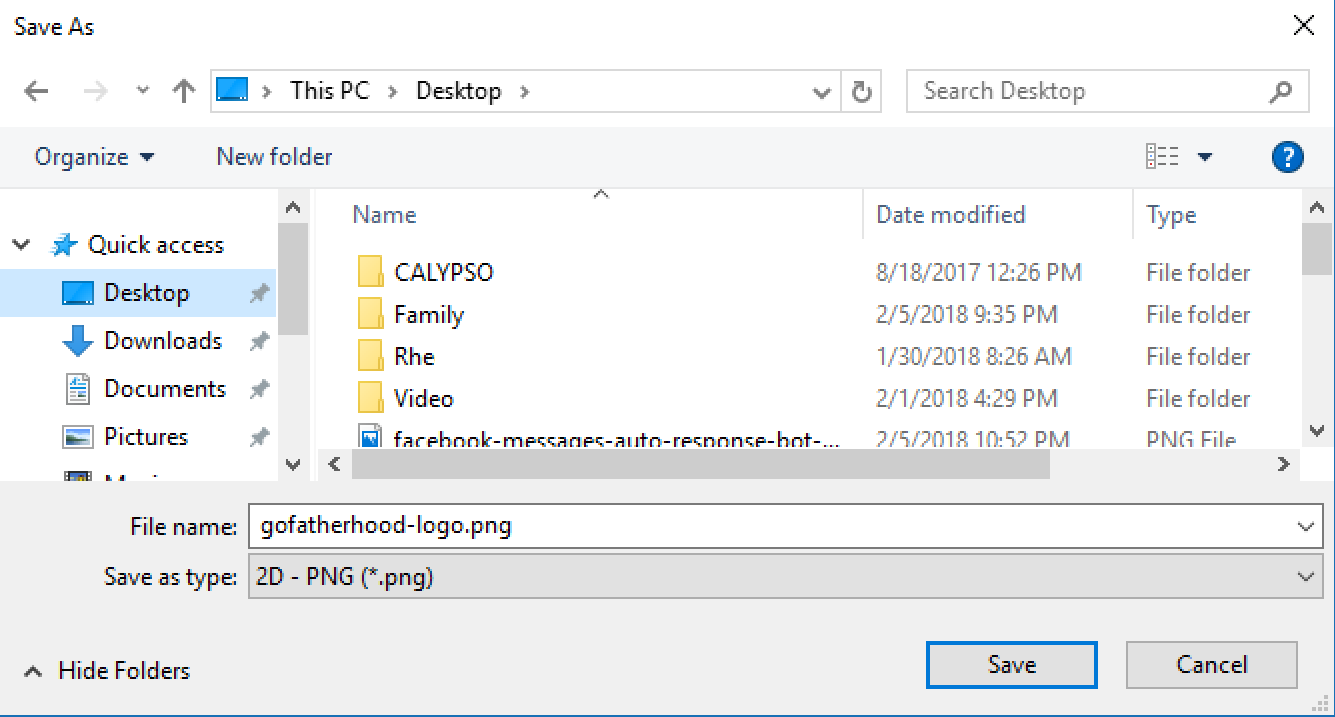 You can see on the very bottom "Save as type: 2D – PNG (*.png)". Ensure that's selected and click "Save" to save the GIF image in PNG format.
Done. That's it. Nice. Why Paint 3D has such an unusual interface I cannot explain, but now you know how to navigate it!