I have a library of movies I bought through the iTunes Store that I'd like to now be able to watch on my new Kindle Fire HD tablet. Problem is, the Kindle doesn't have iTunes, so how do I convert my movies so they're Fire HD friendly?
Your question arrives at an opportune moment because I've been wanting to review a video file format converter for the Windows platform called M4VGear DRM Media Converter that offers to do just what you seek, remove DRM (digital rights management) from M4V video files that have been purchased and downloaded from the iTunes Store.
M4VGear sent us a full product license for the purposes of this review, so you won't be able to convert a full, feature-length movie without paying for the software, but let me step you through it first so you can see how easy it is to work with. To start, I bought a really interesting short movie called Elysian Fields from the iTunes Store [tip: You can learn more about this trippy, historical sci-fi movie here if you're curious: Elysian Fields]
Download and launch M4VGear and the main screen is easy enough to understand:
What might not be obvious is that the program knows how to read the iTunes database itself, so if your movies are also on your Windows 10 (or Win8 or Win7) system, a click on "Add Files" immediately lets you peruse your iTunes movies without having to figure out where they're squirreled away in your file system.
I'll click on "Add Files"…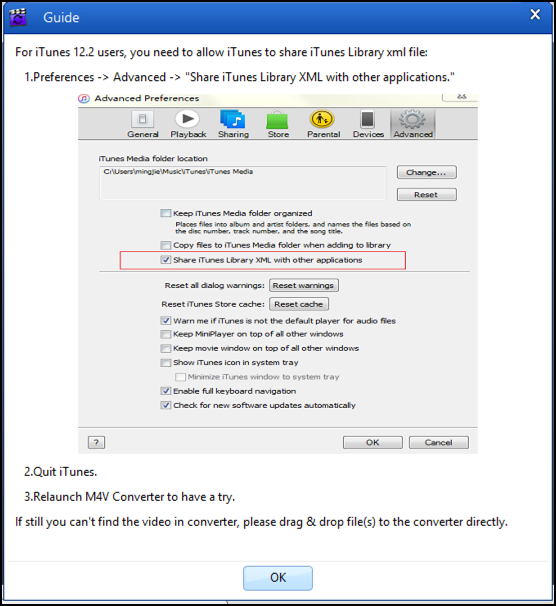 Oops. I was wrong! Turns out that while the program can read your iTunes movie archive, etc, you need to go into iTunes itself to enable shared access. The instructions are on the warning screen, but it's easy anyway.
Open iTunes for Windows (which you'll need to use M4VGear, but why would you want to use the program without having iTunes in the first place?) and click on the tiny icon on the top left of the iTunes main window: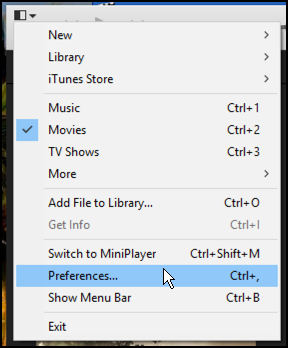 Choose "Preferences…" as shown, then click on the "Advanced" tab: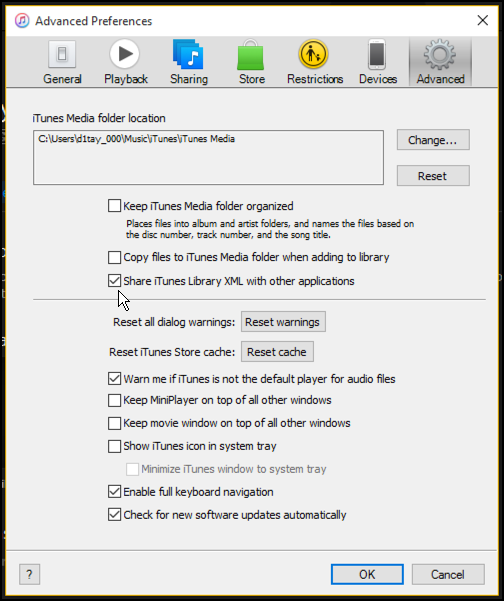 There's that pesky setting! Click on "Share iTunes Library XML with other applications" then click OK.
Now you can go back to M4VGear, click OK to get rid of the instruction window. Before you add the movie to convert, however, a handy tip: Pick your output file format first.
To do that, click on the "Convert to:" menu on the lower left. A menu of choices pops up, including the Kindle Fire HD (which is listed under "Android Devices":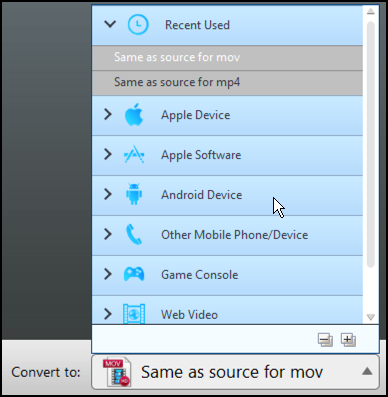 Within the many, many Android devices listed are a bunch of Amazon Kindle units, including the Kindle File HD.
Select it and now you're ready to proceed, so click on "Add Files" on the main window.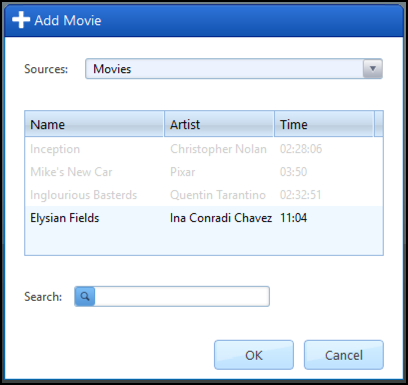 The movies shown that are greyed out (like Inception) are movies that are part of my iTunes library but aren't actually on this particular computer. They are instead in iCloud. I could download (and convert) them, of course, but let's select the 11:04 Elysian Fields movie instead.
A click, and it's ready to convert:
Now's a good time to double check that everything is set up properly for the conversion, including which video content you want, whether you want the main audio or an alternate (typically different spoken language) audio track, and especially check the icon to ensure that the output format is what you seek.
Let me highlight that M4VGear can retain all subtitles and multiple audio tracks if you prefer and that it's a lossless conversion, so there's no cost in quality or data from the conversion. Darn helpful, particularly if you're converting a subtitled movie.
Ready? Click "Convert" and get a cup of coffee. It'll take a while…

And then, finally, it's done:

At this point I recommend you click on "Open Folder" and drag the converted movie onto your Desktop so you can find it later when you're ready to copy it to your Kindle: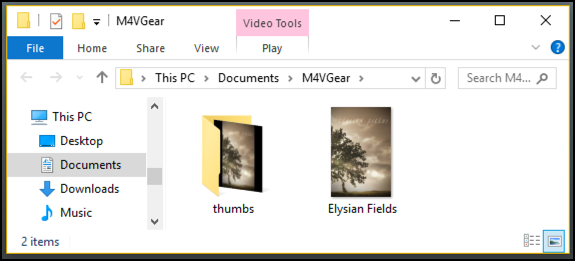 You can also just double-click on the movie, because now it's in a Windows friendly (MP4) format. It'll pop up in the standard Movie Player: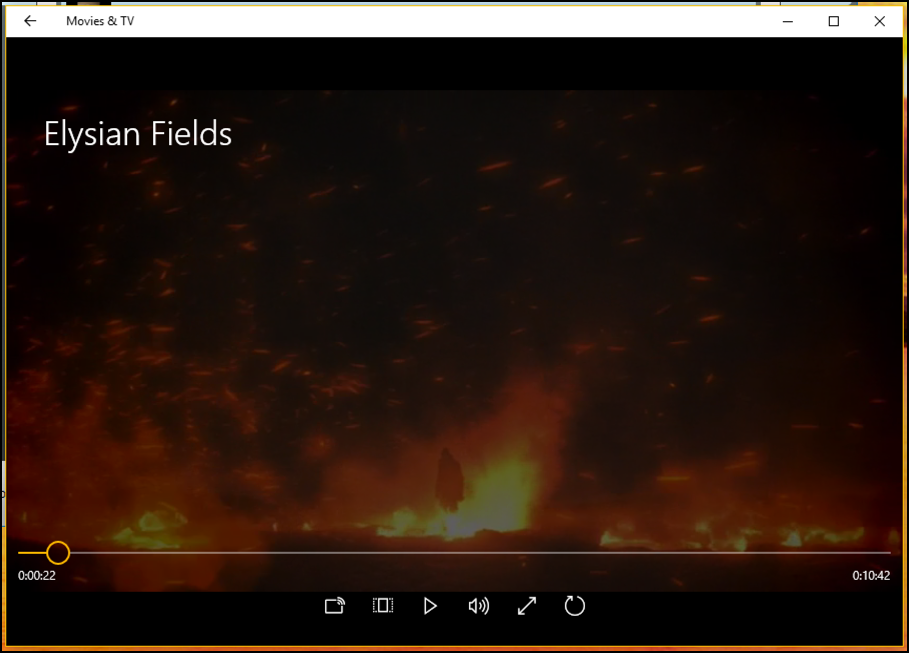 That's it. Done. There's a lot of power and a huge number of settings you can fiddle with in the M4VGear program, but at its most fundamental, it's a breeze to work with: Pick your output format, pick the movie or movies to convert, click the "Convert" button, and walk away. It's not lightning fast (it's a slow process to convert and resize simultaneously) but I just did something else while it was chugging along.
On my slow Windows 10 PC it took about 10min to fully convert the 11min movie, so that suggests that a two hour movie would take, well, two hours, but that depends a lot on whether you're just removing the DRM (the default output format result) or whether you're also resizing things along the way. Indeed, if you're just removing the DRM and choose "Same as Source MP4" or "Same as Source MOV" you should see up to 20x speed, a 2 hour film should take about fifteen minutes to convert!
I'm a big proponent of buy once, watch anywhere so it's with that spirit that I share this DRM removal tool. It can also be used to rip off movies from iTunes, of course, and that's a really bad idea muchly because it defrauds the artists and production teams from their rightfully earned income from your consumption of their movie. So don't do it.
You can learn more about M4VGear by going to their Web site, and you can download the program for Mac or Windows, depending on your preference. The license costs $44.95. Don't miss the M4V how-to video on YouTube too, and check out Elysian Fields while you're clicking on links too.
Disclosure: M4VGear sent us a free license for the purposes of this review. The opinions and commentary, however, are all my own.