After switching over my Facebook account to always use an encrypted connection [see Connect to Facebook Securely with SSL] I would like to do the same with other sites I visit. Gmail supports it [see Secure Gmail Connection], but what about Twitter? Is there some way to connect to Twitter with a secure, encrypted SSL connection?
As recent as 48 hours ago I would have said "No, sorry, you're out of luck with Twitter" or, perhaps, "use a third party client and hope it encrypts its data", but just yesterday Twitter announced an enhancement to its surprisingly slick Web-based interface that lets you force a secure connection each and every time you connect.
Why is this important? Because if you aren't using a secure connection it means that every time you send or receive data while visiting Twitter.com that you're sending both your account login and password as part of that data exchange. (easy way to tell, if you're curious: while having one window in your browser open to Twitter.com go into another window and change your password. If it doesn't send the data to be verified each time, you can still use the existing window without a problem. If it does, it'll log you out and ask you to re-enter your account credentials)
Obviously, a secure connection is, well, more secure. By establishing a Secure Socket Layer (SSL) connection, the information sent between your browser and the server at Twitter is encrypted so that even if hackers were to hijack the data stream (think "wifi monitoring tools") they'd get unreadable junk. That's good.
Enabling this sort of secure connection with Twitter turns out to be delightfully simple…
Go to Twitter.com and log in to your Twitter account. Then on the top right, click on your name: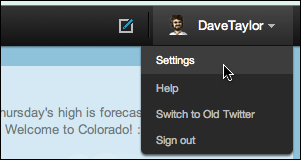 "Settings" is what you want, and once you get to the settings page, scroll all the way down to the bottom to find…
That's the option. Click on the checkbox adjacent to "Always use HTTPS", then click on "Save".
They're smart, those Twitter folk! To change your account settings, you need to verify that you're the account owner. Enter your password to prove it, and…

Now look at the address bar in the Web browser. It'll have changed and now show a secure connection has been established:
Good stuff. And there's really zero reason not to establish a secure connection with any and every site you use on a regular basis. Thanks for making this option available, Twitter!