I'm so excited about the new iOS 4.3 update from Apple for my iPhone 4! Now I understand that even as an AT&T user, I can set it up to work just like a mifi personal hotspot and let me connect other devices ("tether") so they can get on the Internet through my iPhone Internet connection. Cool! How do I set this up?
Before we go any further, the bad news: you have to subscribe through AT&T to the "hotspot" service and it's probably going to run you $15/$20 month for this capability. I can tell you that I had a $30/mo unlimited data plan, and after talking at length with the AT&T folk, decided to switch from unlimited to a measured plan so I could also have this tethering personal hotspot service. I had been paying $30/mo, but the new plan, with its data cap of 4GB/month (which, btw, is a huge amount of bandwidth) and personal hotspot support, is $45/month. To me the extra $15/mo so I can have Internet access on my iPad 2 or MacBook Pro — or even offer that my friends can tap into my Internet connection if needed — is well worth the surcharge.
Was it a mistake for me to step away from the unlimited data plan? I don't think so, and before I did, I had them check back six months and analyze my monthly data usage against the 4GB cap. Turns out that the busiest month I had it amounted to just over 1GB total, still a vast way from the 4GB cap. So I think I'm good.
The remainder of this article makes the necessary assumption that you've called AT&T or gone onto their Web site and set up this service for your phone too. If you don't want to do that, I'm afraid I don't have a path for you being able to enable the personal hotspot.
The first steps are going to take place on your iPhone 4, and I have to say that I'm not 100% sure that you'll see a new Settings screen like I do: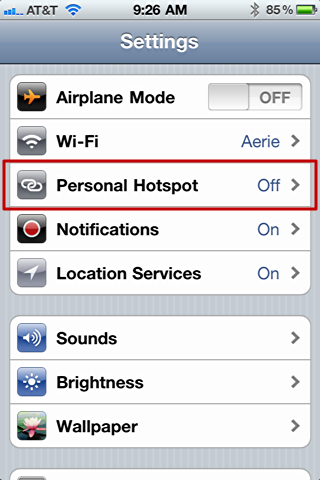 If you don't see "Personal Hotspot" front and center, simply move down a bit to "General", tap on it, then tap on "Networking" and you'll find the same button.
If you do have "Personal Hotspot", however, just tap on it so you can set things up: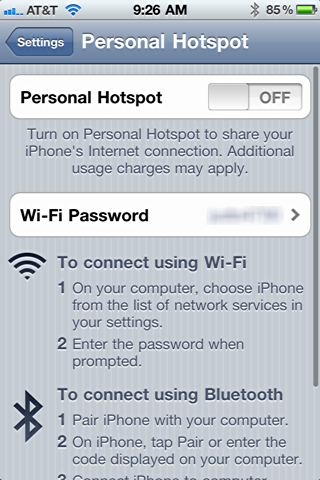 Quite easy, really, and one of the most informative and helpful settings screens I've ever seen on my iPhone! Tap on the ON|OFF slider and you'll enable your Personal Hotspot:
Now let's jump onto a computer where you want to use the iPhone as a wifi hotspot.
On my MacBook Pro, I simply click on the wifi icon in the menu bar:
My phone shows up as the name of the phone (the name I gave it in iTunes): "iDave 4". I choose that and, as we'd hope, it prompts for a password: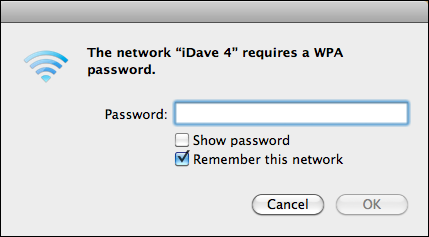 I suggest you click on "show password" so you can confirm that you type in the password that the Personal Hotspot feature has generated on the IPhone itself. My phone produced a password that's four letters followed by four digits, easy enough…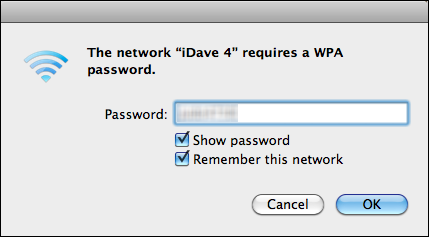 Click "OK" and you should be connected and online via your wirelessly tethered iPhone. Nice!
Meanwhile, on the phone, here's what happens when you have someone tapped into your hotspot (note the very top blue status bar):
Neat enough. Now, how will it affect battery life? Don't know yet, but I have to say I don't anticipate it being much of a problem…