Kind of a weird request, but I'm wondering if there's a way to minimize my logins when I'm at an Internet Café so that I can log in to one service, like Gmail, and be automatically logged in to Facebook?
Oh boy, I'd be careful with this one, my friend! As soon as I see "Internet Café" and realize that you're talking about using their computer, not your own, I have a vision of black clouds and lightening bolts of danger, keystroke loggers, spyware, and identity theft. To be fair, they're not all like that, but my counsel to you is that you need to be very, very leery of those rows of computers, and even more so in far-flung places as you travel about. With the right kind of malware and such even SSL connections won't protect you. Heck, even using your own computer might not be complete protection from trouble arising, but that's another story.
I was skeptical that there was any way to be automatically logged in to Facebook if you've already logged into your Gmail account, but I figured that it was worth some investigation, and indeed, you're right and there is a way to do just that!
Keeping in mind my earlier caveats about your security and privacy, here's how to set it up…
Log in to your Facebook account and click on "Settings" –> "Account Settings" on the top right. You should end up here:



Near the bottom of this page is what we seek:



Click on the small "change" link and a menu will magically appear:



Choose "Google"…



(aside: isn't it weird to think that you can connect your MySpace and Facebook accounts? Somehow it seems like two incompatible worlds colliding!)
A bit tedious, but now it'll show you "Google" and you still have to take another step:



Yup, that's right, click on the "Link New Account" button.
A new window pops up and asks for permission to link your Google Gmail account to your Facebook account: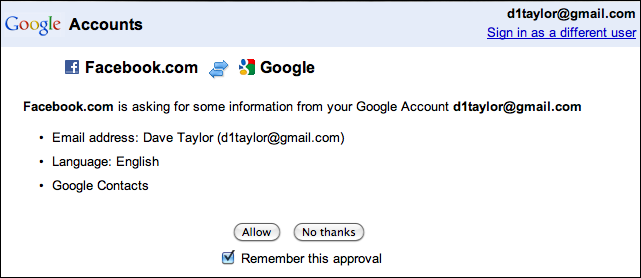 Looks good? Click on "Allow" and off ya go:



I'm still not entirely sure this is a good idea but you asked and now you have an answer. Perhaps you (or anyone else who has done this) can share more of why you think this makes sense and isn't a potential risk?