I notice that now on MSN.com there's a bar that includes social media channels like Twitter and Facebook. Nice. How do I connect them with my own accounts, however?
Let's go back to a time when companies had "home pages" and people would have to decide what site they'd have as their starting point each time they opened up a Web browser. Now it seems like more people just live in their email programs, whether it's Yahoo Mail, Gmail or something else, but these companies with starting pages haven't given up, they've kept evolving their offering.
And one of the companies that has the greatest captive audience is Microsoft with its many versions of Internet Explorer for its many versions of Windows. Almost all of them by default use MSN.com as their home page, and the MSN team has quietly been doing some pretty interesting things on that particular channel.
Most notably, their integration with non-Microsoft social media like Twitter and Facebook. Oh, and Skype, which is actually a Microsoft product, though most people don't realize that anymore.
Here's what the top of the MSN.com home page looks like if you're logged in to your live.com account:
You can see just below the search bar that there's a list of popular destinations, including Outlook.com (where I have two new email messages), Skype, Office, and, most importantly, Facebook and Twitter.
Click on one that's not hooked up, like Skype, and it'll tell you what you need to do to proceed: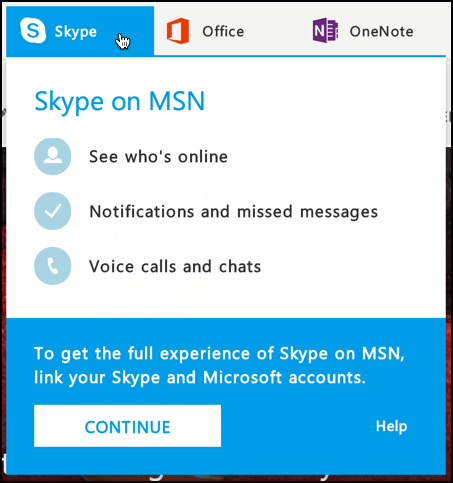 But let's proceed with Facebook instead, since more people want to pay close attention to Facebook than Skype in my experience.
Simply click on the Facebook entry along that navigational bar:
To proceed, guess what to do. Yes, click on "Sign In".
The result is a pop-up window…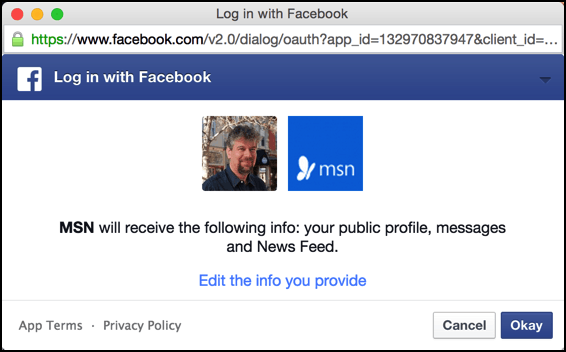 It's not a bad idea before you proceed to click on "Edit the info you provide". Doing so lets you fine tune what permissions you're granting the MSN.com application: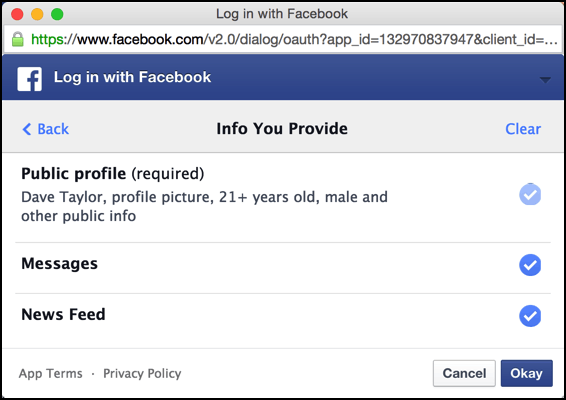 Nothing that makes me too anxious, so I'm just going to click on "Okay".
If you'd rather it didn't have access to, say, your private communications with other Facebookers, uncheck "Messages" before you proceed.
Once you click, you'll find there's a second level of permission requested: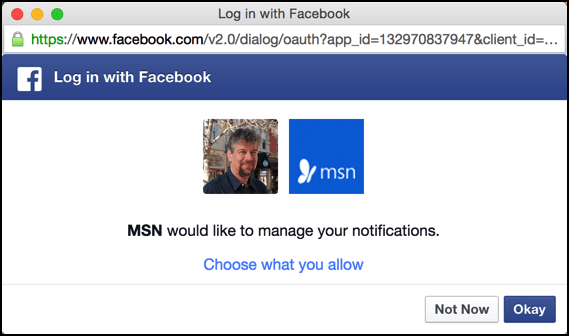 You can "Choose what you allow" but you'll find that there are no options, so just click "Okay".
Not sure you want to grant this permission? You might not want to connect Facebook and MSN.com in that case, because opening up the proverbial kimono is kind of what this is all about! 🙂
You do. Okay. Good, click "Okay" and it's connected.
Now when you click on "Facebook" it's a bit more interesting:
Notice the lower portion especially, where you can access messages, notifications and, if you get cold feet, sign out of your Facebook account. But also notice the "(2)" adjacent to "Facebook" along the top. Turns out that it'll keep a running tally of new notifications so even with this window closed, you'll be able to keep up on new things happening on Facebook with your community.
While we're here, let's peek at what the Twitter window looks like once you've hooked it up with MSN.com: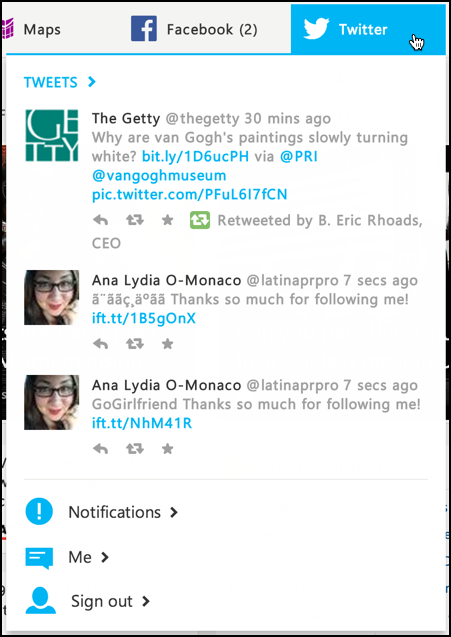 Again, very nice, and helpful too!
While you're getting everything working, don't forget that the tiny gear icon on the top right opens up a menu with lots of useful and interesting options: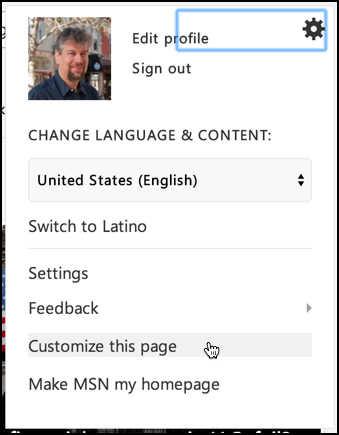 (the blue box? Something's not rendering properly. Ah, gotta love the Web!)
Notice in particular "Customize this page". Well worth exploring, but I've run out of room in this tutorial so that's as far as I'll go.
Now you know not just how to set up MSN.com with your social channels, but why it's a very nice implementation that makes the home page even more appealing to many.