I know you can setup Google's Gmail service so that when you send mail it appears to be from an account other than your Gmail account, but I don't know how to do that. What I want is to be able to use Gmail from the road and send messages that look like they're from my office, not a public service. A tutorial would be greatly appreciated.
The more I dig into Gmail, the more I'm impressed with its capabilities, actually. Heck, I can even just go to the regular Gmail page on my WAP-enabled cellphone and navigate through my messages to see what's new. Very cool.
What you're talking about involves just a few clicks on Gmail once you're logged in. Start by clicking on "Settings" on the top right of your Gmail page:



Now you'll see all the different Gmail settings:



Click on "Accounts" and you'll be in the right place. It's the "Send mail as" block:



Click on "Add Another Email Address" and you'll get a pop-up window that lets you specify a new name and address (the name part is particularly nice if you go by, say, "Nicholas" at work and "Nick" with your friends):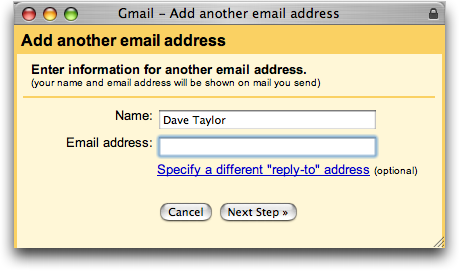 With this two-field configuration, mail you send from Gmail will look like it's from whatever address you specify, but when people reply, they'll be replying to your Gmail address. If you'd prefer that they reply to your regular mailbox (what we mail geeks call the "Reply-To:" field), you'll want to click on "Specify a different reply-to address" and you can then specify the email address you want to have their response sent to.
Add that or not, click on "Next Step" and you'll then have a chance to verify that you really own that address and are able to use it as your masquerade address: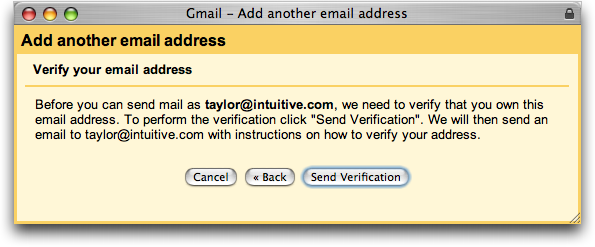 Click on "Send Verification" and a few seconds later you'll get a message asking you to confirm that you really want to use that address in Gmail:
You have requested to add taylor -at- intuitive.com to your Gmail account. Confirmation code: 9354038
Before you can send mail from taylor -at- intuitive.com using your Gmail account (d1taylor -at- gmail.com), please click the link below to confirm your request:
https://mail.google.com/mail/f-4bc6450b-taylor%40-intuitive.com-fe130d09b6ac34
So, finally, you'll be able to verify your desired configuration change by going back to Gmail's Settings area, where it now shows:



Click on "verify" and you can enter your verification code (or, of course, you could always just click on the link in the message sent in the first place. Either way):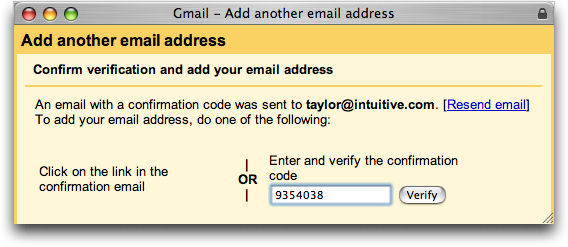 That's all there is to it. Now, when you compose a new message you will have the option of the two different From addresses, rather than just the Gmail address: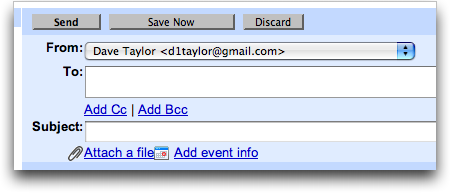 Hope that helps you get Gmail configured for your liking.