I've just bought my Mom a new PC desktop computer and it's running Windows 8. So far she seems to like it, but she's been complaining to me that everything's too small. Is there a way to make things bigger in Win8 and otherwise configure it for a senior citizen?
I'm impressed with your Mom. A lot of senior computer users I talk with have nothing good to say about the jump from Windows 7 to Windows 8. Turning that start menu into a start page is a big deal if you've spent years learning how to navigate a regular Windows interface, for sure. Still, go Mom! 🙂
As with most modern graphical operating systems, Microsoft Windows 8 has a lot of things you can do to make the interface easier for people to navigate, whether the issue is that things are too small, lack contrast, or even that the cursor gets lost on the busy, vibrant background wallpapers. Heck, you can set it up so that the system reads out the labels of buttons on individual windows if you'd like. Might be a bit of overkill, though, and I know that the last thing I want is for my computer to be talking to me all the time.
The easiest change of all, however, is to simply lower the screen resolution. A lot of modern screens can run at 1280, 1600 or higher resolutions (I'm talking about the horizontal resolution of the screen, of course, with a commensurate vertical resolution. My Win8 system I have set to 1920 x 1200) and while that's great for detail work, it generally makes everything smaller. Change it to 1280 x 768 or even 1024 x 768 and suddenly everything's bigger, the windows, the buttons and even the cursor. Hardware geeks hate this solution, but it's fast and easy and might just meet your Mom's needs.
Failing that, let's look at a few of the different settings available. Start by right-clicking on the Desktop background to bring up the context menu:
Choose "Personalize" to get to all the many settings that can be helpful in optimizing your Mom's computer screen.
First and foremost, here's what you see:
As you can see, a good first step is to choose a high contrast theme (if you don't see these automatically, scroll down a little bit as I've done). The black and white option that's #4 is pretty austere, so I'd try something else first, perhaps combination #2 for good contrast.
On this same screen notice "Change mouse pointers" on the top left and "Ease of Access Center" on the lower left. Both will be useful, but let's start with mouse pointers. Click on "Change mouse pointers"…
There are third party applications you can download that change your mouse pointers but don't use any of them. Ever. They are a well known vector for your computer to be infected with spyware and other bad malware, so never, ever succumb to the "cute" cursors. Cute = bad. Well, you know what I mean.
In this case, click on "(None)", the menu just under "Scheme" and you'll see that Microsoft's put some effort into this: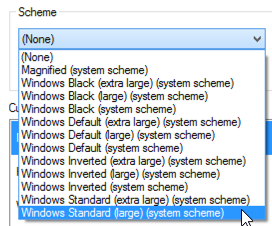 Ironically, it's hard to read this particular menu, even in Windows 8 itself, but the last few options are like the one highlighted: "Windows Standard (large) (system scheme)". That's a good place to start, so choose "(large)" or "(extra large)" right above it.
Click "Apply" to try it out and if it's good, click "OK" and go back to the Personalization window.
This time click on "Ease of Access Center" and you'll find that there are even more options and chances for senior users or anyone with a visual or other impairment:
I'll stop here with the tutorial but there are a number of other things you can explore here, particularly if you scroll down a bit where it shows "Explore all settings", including options for configuring a computer with a display, without a keyboard, without a mouse, etc.
Between all of these, I bet you'll get your Mom happy with the new system in no time. Good luck!